Sex toys. In the spirit of Valentine's Day, I said it — and now you're reading it. A couple weeks back, on Jan. 26, I attended my first ever Pure Romance party.  
My first thoughts upon receiving the (Facebook) invitation was — what even is Pure Romance? So naturally, I googled it. Upon my eyes was a site with the following tabs: "Hot List," "Lubes and Creams," "Sex Toys," "Lingerie" and more.
I had just been invited to a sex toy party.
To go into more detail and a little history, according to its site, "Founder and Chairwoman Patty Brisben started Pure Romance from the basement of her suburban Ohio home in 1993. Using the latest sexual health education, the best in must-have beauty products and the hottest bedroom accessories, Patty empowered, educated and entertained the women at her parties — helping them fulfill their desires while offering them the chance to own their own business and achieve their dreams exactly the way she did."
I had been to jewelry parties before where a consultant came in and showed off products at a host's house, so I had an expectation of what was to come. However, it wasn't going to be jewelry passed around and on display, it was going to be "the hottest bedroom accessories."
I did a little more digging on the site and came across some interesting products. Nevertheless, it caused me to wonder a little more about how this was all going to play out. Were we going to try the lubes and creams? Were we going to physically hold a vibrator? In that moment, I truly felt like a lost fifth grader back in Family Life Education.
Before the date of the party, the consultant posted pictures on the Facebook event page here and there to get everyone excited. One of them encouraged us to post words that had "ch" in them for extra raffle tickets. I went with chinchilla and cheetah girls.
On the bright side, I wasn't going into this experience alone. My close friend was hosting the party, and I knew most of the girls attending — and, always a bonus, there was food.
The night of, I arrived early to catch up my with my friend (the hostess). She had previously been to a Pure Romance party and said it was super fun, so she wanted to host one herself.
A little time later, two consultants came and set up, and the party was underway.  
The beginning started out with a small speech from our consultant, Jessie Harmon, and then the products came out one by one. In addition, we were all given catalogues to make it easier to follow along and see all the products available, opposed to the few that Harmon picked to talk about.   
About six cookies in, I was having an enjoyable time. Everyone was laughing and talking about everything in front of us, amused by the products. Bath and beauty merchandise were the first to be passed around and tested. That's right, we got to smell and taste things.
"Coochy," a shaving cream, was one of the first bath products promoted. I think the name speaks for itself and what it is used for. Harmon said it is a bestselling product.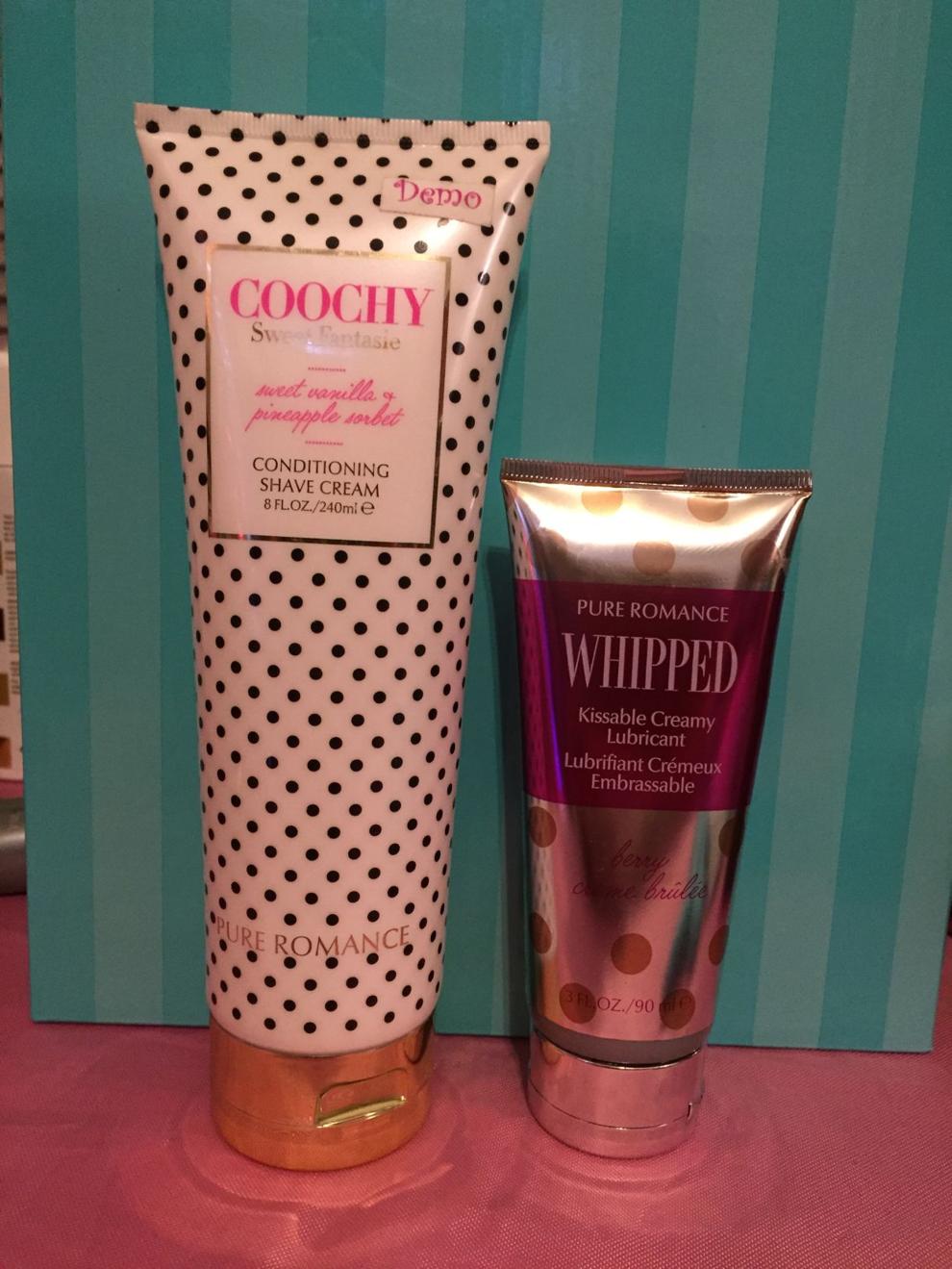 "Body Silk" was another product following the bath and beauty category. As the catalog read, it is a "rich and luxurious body creme." We got to rub it on our elbows (weird, I know) so we could feel its ever-present smoothness — and yes, it indeed was pretty luxurious.
One of the more interesting products that stood out to me was "Basic Instinct," a perfume kind of product. Now I say "kind of" because our consultant referred to it as a sex attractant. That stood out to me, being single and all these days.  
Why would someone ever identify a product as a sex attractant? It is because it's filled with pheromones, a chemical hormone that is said to increase your natural appeal.
After another few showings, we moved onto lubes and creams — this meant it was time for some taste testing. I'm not going to go into much detail to save you some awkward reading and me some awkward writing, but yes, I was shown some products that were very much meant for licking.
However, "Sensations" was a neat chemical reaction to learn about. Basically, it is a warming lubricant. That means when there is friction, or if you are trying to seductively breathe on someone, it warms up. Plus, it comes in three flavors: strawberries and whipped cream, cotton candy or buttered rum.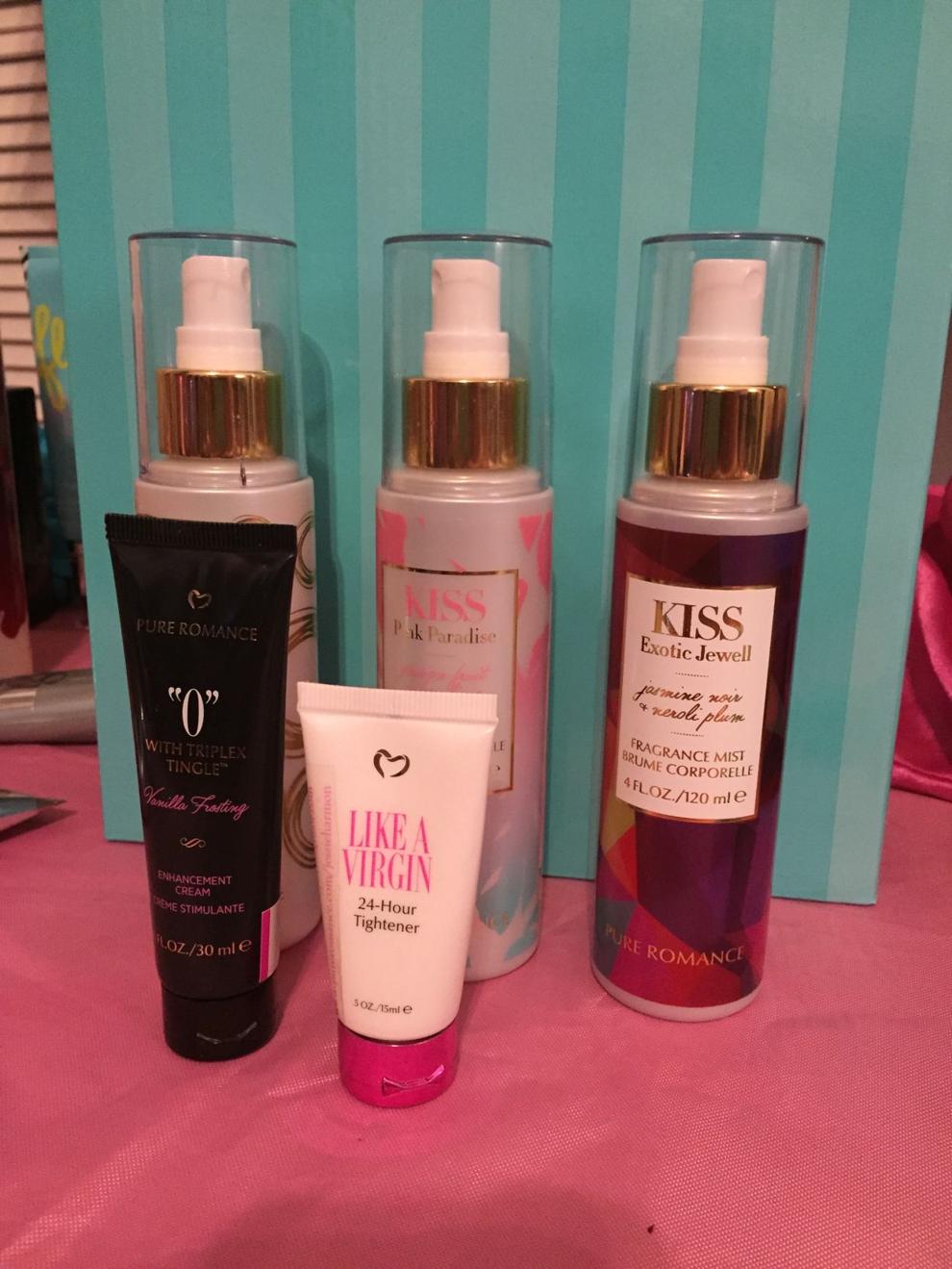 Then it all came down to the reveal of the toys. My fifth grade self came back to life in anticipation. I finally got to hold, touch and poke people with a vibrator.
First of all, who knew there were so many shapes, sizes and speeds? I definitely had no idea. In addition, the entire showing was not awkward at all and was actually really entertaining. Harmon did a great job explaining all the toys and making every girl there feel comfortable.
I was expecting myself to be timid during the entire showing, focusing on eating rather listening, but I totally came out of my shell. I think my favorite part of the entire party was the extra opportunity to earn raffle tickets by shouting out "Jessie Harmon" every time she said penis.  
The party came to a close with a short showing of a few pieces of lingerie and then girls went off in a separate room to buy whatever their hearts desired.  
Was it what I expected? Not at all. I thought it would be an awkward experience in which I would go home and wash my eyes out afterwards. In reality, it was a great girls' night in that had me walking out the door in laughter. 
Ladies, if you ever get the chance to attend a Pure Romance party, I highly recommend it. Men, you are not allowed at these parties, but you should encourage your female significant others to attend.  
All of the products can also be bought online and delivered right to your door here at school, because why would you dare send them to your house at home?