Walking into Harvey's Barber Shop, there is a feeling of liveliness that resonates from the staff and customers. From the conversations to the family members of the staff hanging around, the barber shop has placed an emphasis on creating a special aura for itself.
Anthony Harvey, the owner of Harvey's Barber Shop, has created a thriving barber shop with incredible staff, a lively environment and affordable haircuts. 
The shop, located right on Main Street in downtown Blacksburg, opened up in August of 2002. Located across the street from Moss Arts Center, it is close to Virginia Tech's campus, which leads to a lot of customers.
"When school is in, I can do 15 to 20 (cuts) a day," Harvey said.
Harvey grew up with a passion for giving haircuts. Growing up in Roanoke and Bedford, his interest in hair began when he was a little kid. He started cutting hair when he was 14, and from there he went on to attend the Virginia Hair Academy in Roanoke.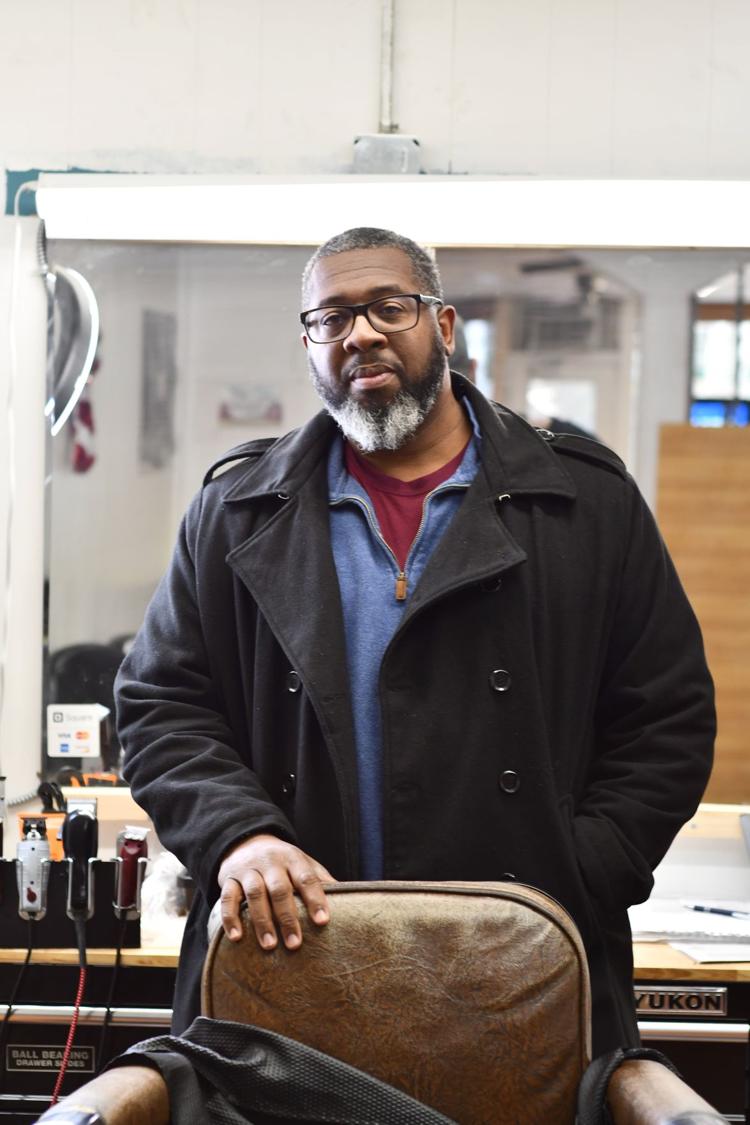 When Harvey came down to Blacksburg to open up Harvey's Barber Shop, he wanted to make sure that there was a good environment.
"You can sit around, hoorah, talk, have a good time, joke with each other; but, just because you're doing that stuff, it doesn't mean you have to curse or be disrespecting each other. You should just be having a good time," Harvey said. "I want this shop to feel welcoming and have none of the craziness that would make people feel uncomfortable."
Part of the way he helps build a good environment is through his staff. The highly skilled staff members give quality cuts, but also have a great attitude with the customers and the rest of the staff.
"In a barber shop you can have five people, but if you have one person that's never happy or finds the negative in any situation; that's going to weaken everybody else eventually," Harvey said.
Harvey aims to hire highly skilled barbers. How does Harvey find the perfect fit for his shop?
"If I do try to find a barber to work in this shop, I wouldn't say I have high standards of what they know how to do, but I'm going to look more for if you're open to learn more different styles of cutting because that is the way you find a good barber," Harvey said.
One important component that Harvey recognizes is that each of his barbers have their own way of cutting hair; he wants to make sure that they can adjust when needed.  
"I don't want them to sugarcoat anything for me. I don't want them to cut like me. But are you willing to bend a little bit?" Harvey said. "That's what I've been looking for: an open person that's willing to do better."
Harvey has worked with so many different people that it's hard for him to keep track of how many haircuts he's given. The shop offers both walk-ins and scheduled appointments from Monday to Friday; he even cuts on Sundays after church.  
"With the athletes, professors, townies, regular people and kids, it's hard to keep count of how many (cuts) you're doing," Harvey said. "You might keep count for the first five to 10 but then eventually, you'll be so focused on keeping them happy that you'll forget all about it."
Harvey's passion for cutting hair and caring for the comfort of his staff and customers has helped make Harvey's Barber Shop become the long lasting business it is today.
"I think that right there helps me stay in business, you know. Listening to the customer, even if it's a difficult haircut, learning different ways to execute the haircut. That right there kind of sets me aside from other barbers," Harvey said.