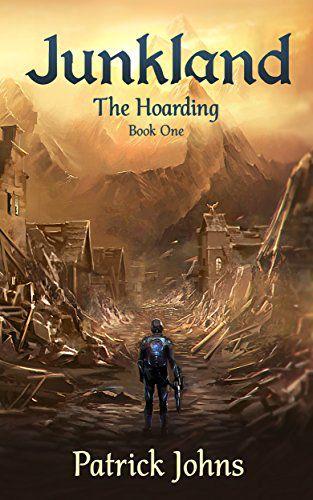 A medieval love story with an apocalyptic twist, "Junkland," released Tuesday, Nov. 7, is sure to appeal to a whole variety of audiences.
"Junkland," the first of three novels in "The Hoarding" series, was written by Virginia Tech graduate Patrick Johns. After graduating in 2015 with degrees in industrial and systems engineering and mathematics, Johns desired to get back in touch with his creative side.
Available now on Amazon, "Junkland"is the culmination of Johns' passions for powerful love stories and epic fantasies.
According to the book's description,"Jahrys Grent, a young boy from Palor, has only one dream: to become a knight. While he works in his father's shop, he daydreams of fearless knights from tales long ago. He longs to save a princess from treacherous outlaws, overthrow cruel kings and explore the lands beyond the Farrest Sea and the Western Mountains."
Conflict arises when the Hoarding arrives. These invaders, who are from another world with unknown technology, wreak havoc on Jahrys' city, which forces him to rise up in the face of adversity.
Johns said his initial desire to write a substantial story was sparked two years ago when his parents took him to see "Aladdin"on Broadway. This is Johns' all-time favorite show, and he left that night with a longing to write a story with a similarly powerful punch.
Shortly thereafter, Johns found inspiration from an unlikely source. While in a stairwell, his attention was captured by an emergency light.
"I was walking in a stairwell one day and saw this emergency light, and it kind of looked like 'Wall-E,'" Johns said. "I took a picture of it and that's where I got the title of 'Junkland.'"
On the cover of the book, the back of the robotic creature is visible as he stands facing the ruins of the city.
"Junkland" is the first novel of a trilogy. When the initial idea for the story came to Johns, he figured it would be no more than 50 pages. However, as the plot developed more, he realized it was enough to fill three novels.
The first book focuses mostly on Jahrys' story and the romance between him and the aforementioned princess, while the trilogy as a whole focuses more on the Hoarding and the mystery behind who the invaders are.
Johns included maps in the first pages of the book that he drew himself. A prominent question that hangs over the story concerns what lies behind the mountains, depicted in the background of the book cover and in the maps.
"I want it to be real and professional," Johns said of his story. "It's an epic fantasy with multiple characters' points of view. I wanted to show people where the mountains were … how big and important they were. It helped me, too, because I was able to know the locations exactly."
According to Johns, this is a book for everyone, especially teenagers and older. There is romance, drama, mystery and humor.
To other aspiring writers and dreamers, Johns shared a sentiment based on his experience with self-publishing a novel.
"I really believe you have to dream, believe and pursue," Johns said. "You only get one life; enjoy it. Don't do work that's just mediocre. Writing this book really taught me that you've got to believe in yourself."
Two years and 12 drafts later, "Junkland" is available to the public. Johns' website contains links to purchase his book as well as his profile and blog.