This fall, the school of performing arts is putting on a production of Paula Vogel's "How I Learned to Drive." The story centers around a girl named Lil' Bit and her journey through life with a sexually abusive uncle, Uncle Peck. Her mother and grandparents are the three other major characters that offer the audience a peek into Lil' Bit's family dynamic.
Despite the play only having five main characters, there's a lot more effort than meets the eye when it comes to putting on this production. As one might expect, the first part in the process is selecting the play.
"I was actually proposing this (play) what is now about two years ago," Associate Professor and Director of "How I Learned to Drive" Susana Rinehart said. "I definitely think about what would be –– for a variety of reasons –– challenging for our students who are going to do it right. And then I think about 'what is a piece of theater that I think is really valuable for our community?'"
While sexual assault isn't a new occurrence, Rinehart explained that because it's such a hot conversation topic right now, the play's themes are more relevant than ever.
"I think for people your age, there's a whole set of questions of 'this is not OK,'" Rinehart said. "It's like so many other major issues that are combusting right now."
After selecting the play, the auditioning process begins. Since the show was set to start at the beginning of this year, roles were cast at the end of last semester. Junior criminology and theater double-major Morgan Blackwell –– who plays the lead role, Lil' Bit –– knew as soon as she saw the script this was a production that she wanted to be part of. 
"I've always had a passion to speak out about survivors' stories," Blackwell said. "There's been a long history of hiding these things and it just continues as a cycle because no one wants to talk about it and it ends up hurting more and more people. Once I heard about this story and read the play, I felt like it was something I had to do."
Even though there are only five main actors, there are more than five characters in the play, meaning some of these actors had to learn to play different roles from scene to scene. They all rehearsed together for four hours a day, six days a week to get the dynamics down to a science.
"We tried to find times to hang out and decompress from the rehearsal process, because it's kind of heavy," Blackwell said. "We've definitely grown close and we're always talking every day."
While the cast was rehearsing, the production teams were hard at work to create the scenery.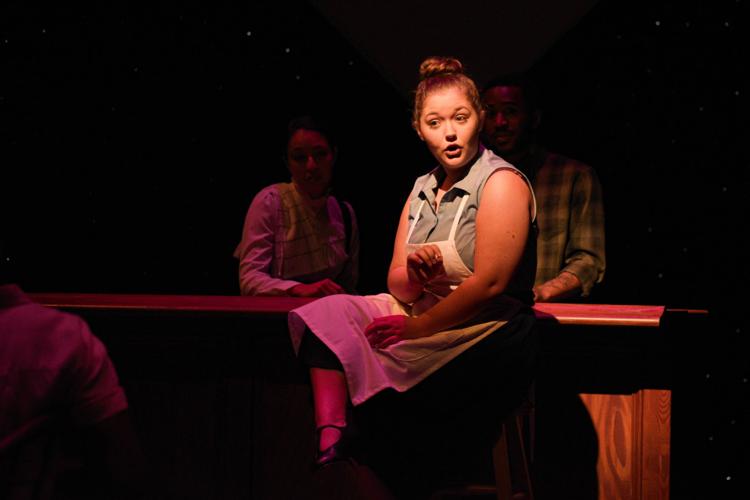 "We're in rehearsal and that's the cast and the stage management team," Rinehart said. "And then I'm off and I'm having a meeting with just the projections team and we're talking through the entire script and just literally brainstorming imagery. I meet with a sound designer and I go through it and talk about what we're looking for."
From creating car sounds to projections of stop signs, starry backgrounds and fishing ponds, the production teams are enormously important in this production. The scenery is constantly changing behind the actors, even if the same furniture elements remain on the stage for nearly the entirety of the play. And then there's the challenge of making all of it accurate for the time period. 
"Where you're having the research is enormous," Rinehart said. "It's like, 'hey, it's 1965. What is a cutting-edge song for 1965?' Everything has its prongs of research."
Even though all of these teams are equally important in the process of developing the production, Rinehart revealed that they didn't actually start working all together until one week before opening night. 
"As you're putting all the pieces together, you're looking at 20 different things at the same time," Rinehart said. "There's the 'Oh, that actor has to come in one step sooner and that projection needs to be three beats later,' and it's like this incredible organism."
Both Blackwell and Rinehart praised the way Paula Vogel wrote this play. Not only did Vogel manage to put together a multitude of moving parts, but she made the topic of sexual assault timeless without sugarcoating it. 
"She (Vogel) made sure you had to sit with the uncomfortable grayness of the situation," Blackwell said. "When it comes to sexual assault, it's not an easy thing. And that's what she wants to show: that this is the complicatedness of it all and we need to talk about it. We can't just act like it's not there."
Rinehart's favorite part about putting on these productions is seeing the students' journeys throughout the process. But on Oct. 1, opening night, she was overcome with another feeling of gratitude for the people sitting in Squires Studio Theater with their eyes on the actors. 
"I felt this incredible appreciation of the audience," Rinehart said. "In the moment, the willingness of human beings to go, 'sure I will allow myself to feel something,' I feel like might be the difference between us making it. If we can have the capacity to feel empathy and compassion for somebody else's experiences, I think we're going to be okay."
"How I Learned to Drive" will be playing in Squires Studio Theater through Oct. 9. Tickets retail at 12 dollars for a general audience and 10 dollars for students and seniors.