There's no shortage of environmentally centered clubs around Virginia Tech's campus, but even though they may be similar, each club finds its own niche. Students for Sustainable Practice has found its place on campus in advocating for more environmentally friendly practices to the Student Government Association (SGA) and to the university.
Students for Sustainable Practice recently underwent a name change, and with it came "different objectives," said Sam Gittelman, a member and graduate student who studies environmental policy and planning. Originally called Students for Clean Energy when the club was founded in 2009, this club began as a way to protest the tons of coal used by the university for energy. When met with opposition from the Virginia Tech administration, they regrouped and revised their mission statement.
The new mission statement is as follows: "We, as members of Students for Sustainable Practice at Virginia Tech, will act as a liaison group between our student body and the university administration — to build awareness, contribute to our collective ongoing education, and facilitate the implementation of research projects related to sustainability on our campus. Through collaboration with the students of various majors, faculty, staff, and administration, we aim to invent and establish a more sustainable future at Virginia Tech."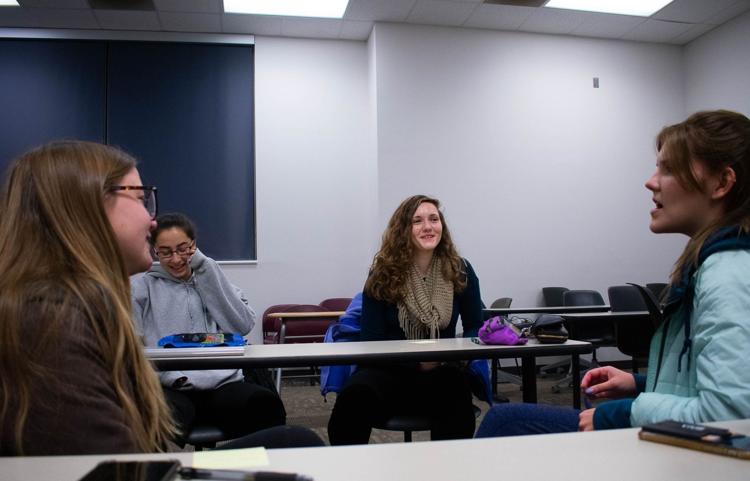 With a new focus on education and innovation, the club has grown into a strong showing of ecologically minded individuals fighting for a cleaner future. The focus this year is on a series of workshops with a common theme each month. November's theme is "Activism," and the discussion was led by Gittelman.
The meeting on Nov. 12 opened with an icebreaker asking members of the club how they have experienced activism — was the experience too aggressive or too passive? Gittelman then went on to define activism as "showing the world an ugly truth and forcing them to pick a side." Different examples of how people have shown activism were given, starting with a YouTube video that Gittelman pointed out has no "call to action," which is one of the most important aspects of activism. Another more effective and aggressive example was given in the form of the Earth Liberation Front and eco-terrorism. Closer to home, protesters of the Mountain Valley Pipeline were the last example.
After the meeting, I spoke with Ezra Lapidus, one of the vice presidents of the club and a junior in the environmental resource management program. He explained the club's involvement in the Green RFP (Request for Proposal) Program, which is hosted by Virginia Tech and allows student organizations to propose projects that support sustainability to the school. In this way, Students for Sustainable Practice acts as a liaison to the Office of Sustainability. One such project submitted by the club in 2016 is the solar tables you can see around the different quads on campus.
Within the club, they host events such as documentary viewings and workshops. They also write legislation to present to the SGA. One of the more recent legislations that passed will implement a compost system at Virginia Tech to replace the previous system of shipping compost offsite. This legislation is currently being processed by the SGA.
Joining Students for Sustainable Practice is simple, and they're always looking for new members throughout the year. They meet weekly on Mondays, and more information about the club can be found on its GobblerConnect page.