Forty-nine hours after Rabbi Zvi Zwiebel stepped out of the Chabad Librescu Jewish Student Center to discover nearly 100 leaflets bearing hand-drawn swastikas scattered across the lawn, hundreds swarmed to the Graduate Life Center Plaza to stand in solidarity with the Virginia Tech Jewish community.
Attendees wore everything from yarmulkes to hijabs to Greek Life baseball caps — signs bore slogans such as "We (heart) our Jewish neighbors," "Love trumps hate" and, interestingly, "The Force bonds us all together" with a hand-painted Yoda.
Several Blacksburg notables sat behind the podium. Virginia Tech President Tim Sands, Angela Simmons of the Division of Student Affairs and chiefs of both the Blacksburg and the Virginia Tech police departments faced the audience while the HokieBird waddled back and forth through the crowd giving high-fives and taking copious selfies.
Zwiebel opened the rally by addressing the hate crime that occurred on Saturday afternoon.
"I've been here eight years in Blacksburg. Never have I witnessed such a thing. And never did I expect to witness such a thing. The Jewish community in Blacksburg has only felt love for our neighbors," he said. "Me personally, for it to happen in the place where I live, is even more surprising and shocking."
After taking time to reflect on the incident, Zwiebel developed a solution that he believed would prevent such a thing from happening in the future.
"A moment of silence," Zwiebel said. "If at the beginning of every class, if we can start with a moment of silence to reflect on a higher being, to reflect on the purpose of this world, reflect on what we could do to make this world a better place — I sincerely believe that the … (event) wouldn't have happened."
Zwiebel encouraged everyone in attendance to visit the Moss Arts Center on April 24 to listen to a speech from Holocaust survivor Rabbi Nissen Mangel. The event is held in honor of Liviu Librescu, a Virginia Tech professor and victim of the April 16 shootings, whose actions saved 10 lives that day.
Zwiebel has previously stated that he believes there is a connection between the announcement of the speech on Friday and the appearance of the swastikas on Saturday.
Virginia Tech's president was the next to take the podium. He addressed the growing national conversation over First Amendment rights at universities. To lump hate speech and threats under the umbrella of freedom of speech, Sands said, is a fallacy.
"This idea that, 'Oh, the First Amendment protects me, I can do whatever I want at Virginia Tech' ... it's just not true," Sands said. "If that freedom is threatened, we have the ability to take action. We have our student code of conduct; we have other principles that we live by here. And they have teeth in them."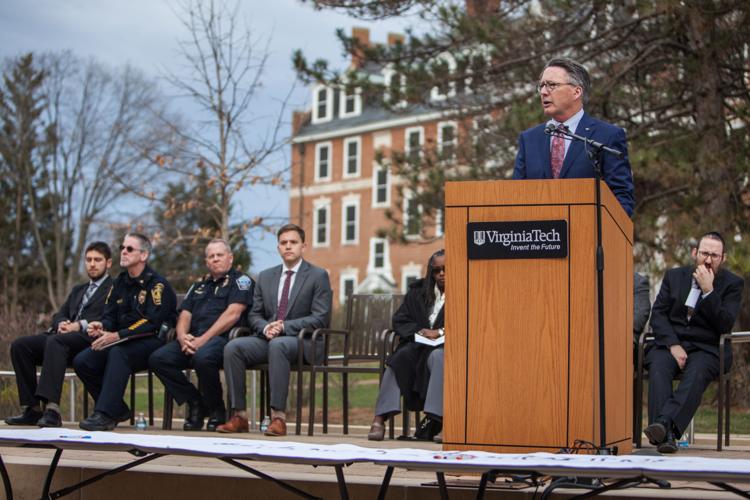 Virginia Tech Police Department Chief Kevin Foust delivered arguably the most fiery speech of the evening. He discussed the oath he took when joining the force, and how that oath bound him to uphold the Constitution of the United States.
"We have many rights under that Constitution. We have the right to worship in any manner we choose, we have the right not to worship at all. And we have the right of freedom of speech," Foust said. "But when speech is used to threaten, when speech is used to intimidate, I believe the people who do that have forfeited their right under my Constitution for that type of protection."
Foust pointed out at the hundreds of faces in the crowd.
"This is community. And when you dump your ignorant trash on a lawn up the street, you're dumping it on my lawn and your lawn.
"I see Muslim standing with Jew. Standing with Christian. Standing with Buddhist. Standing with Hindu. Standing with atheist. Standing with agnostic. Standing with the straight, standing with the gay. Standing with independents. Standing with Democrats. Standing with Republicans. Standing with Americans," he said.
Foust asked the perpetrator what he or she hoped to accomplish, if fear or intimidation was his or her goal. If so, Foust said, you have failed.
"You will never make us afraid. You will never win. Dylann Roof did not win. Adolf Hitler did not win. Osama bin Laden did not win. The KKK did not win. James Earl Ray did not win. And you will never win either. We are Virginia Tech, and we will always win," Foust said.
Andrew Peck, president of the Jewish Student Union, was the last speaker of the evening.
"This is just not how Hokies behave. It's just not. We should not allow the few bad acts to tarnish all that we've done," Peck said. "Seventy-plus years ago, Jews were blamed for the bad conditions that were existing in Germany. Today, other minority groups are being blamed for the bad conditions that are occurring here. It was unacceptable in Nazi Germany; it is certainly unacceptable in America today."
Jewish community draws crowd for solidarity rally