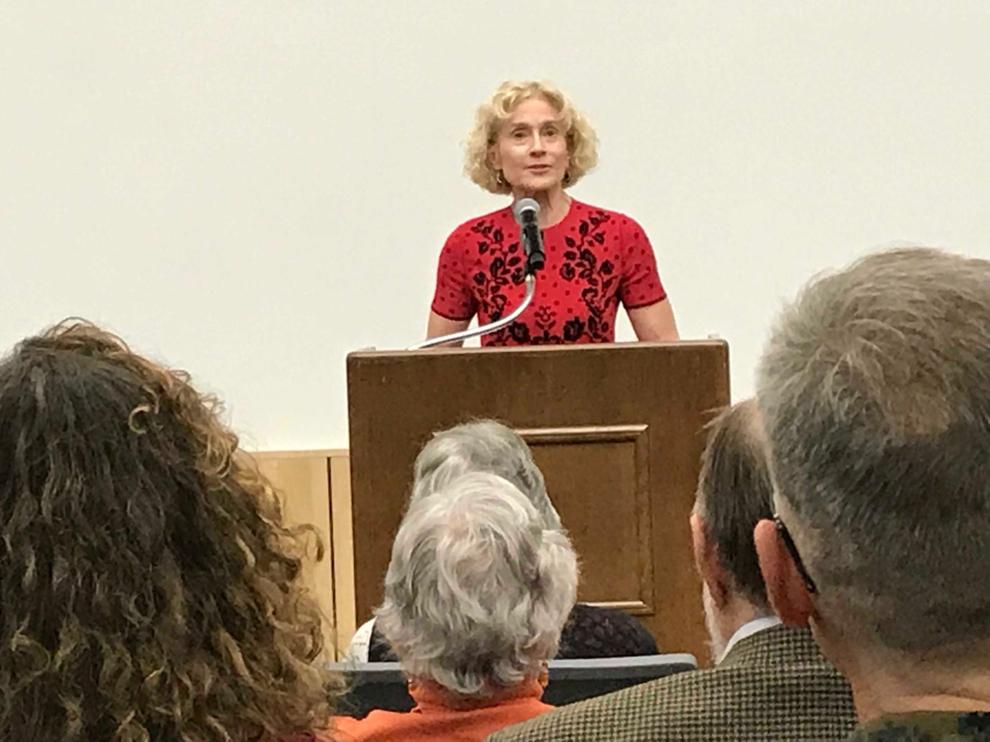 Martha Nussbaum, a distinguished philosopher and professor at the University of Chicago, gave a lecture on the topic of "Anger and Revolutionary Justice," on Nov. 3. The event took place in the McBryde auditorium and was hosted by Virginia Tech's interdisciplinary program in Philosophy, Politics, and Economics (PPE).
"This Distinguished PPE Lecture will benefit all of us as we learn from a renowned world philosopher who has thought deeply about the many dimensions of the human experience, including anger and forgiveness," said Rosemary Bliezner, dean of the College of Liberal Arts and Human Sciences in introducing Nussbaum.
Nussbaum's lecture about the importance of nonviolent activism included references to Greek myth, Martin Luther King Jr's "I Have a Dream" speech and Nelson Mandela's life and writing.
Nussbaum received the Kyoto Prize in 2016 in Arts and Philosophy, previously taught at Harvard and Brown, and wrote numerous best-selling books, including her newest one: "Aging Thoughtfully: Conversations about Retirement, Romance, Wrinkles, and Regret."
The central point of her lecture was that the idea of payback really doesn't make sense.
"Ideas of cosmic balance, of proportionality, are extremely widespread and truly old. Inflicting proportional pain on the wrongdoer does not in itself restore the thing that is lost. When the man's blood is spilled on the ground, who can bring it back? It's very human to think proportionality between punishment and offense somehow balances out the offense. Only, it actually doesn't," Nussbaum said.
She talked about three paths a person can take when reacting to a wrongdoing: taking the "status path" and not doing anything, retaliating with payback or deciding on an action that will progress the situation positively.
Nussbaum's belief against taking the status path was that the obsession of personal honor impedes the journey to intrinsic good.
"The tendency to see everything about one's own self and one's own rank seems very narcissistic and ill-suited to a society in which justice is an important value," Nussbaum said.
Anger can play three roles, according to Nussbaum. It can signal to the self that something is not right. Anger can help motivate people to address real problems. However, it may not be a reliable motivation because violence can sometimes ensue from it. Anger can also be used as a useful deterrent, as people will usually don't mess with scary, angry people.
But, it is not ideal for a society to be fearful of one another. This won't lead to a future of stability or peace.
"People always deserve respect and a certain kind of love; after all, the ultimate kind of love is to create a world where men and women can live together, and that hope takes the participation of all," Nussbaum said. "One should never wish to humiliate the opponent in any way, but instead should seek to win their friendship and cooperation."
Finally, she said her greatest inspiration came from an example from Nelson Mandela.
Nussbaum said that during his 27 years in prison, Mandela meditated on anger and realized a couple of things, that were later collected in his memoir "Conversations With Myself."
"He says, payback simply doesn't get you anywhere. If we actually want to do something good for ourselves and for others, we quickly discover that non-anger is far more useful," Nussbaum said.
She completed this thought with a parable from Mandela about the sun being stronger than the wind after successfully having a traveler remove his blanket. While the wind blew hard to force the blanket off of the traveler, the sun shone in small increments, and gradually grew until the heat is what caused the traveler to abandon his blanket.
"By a gentle method, it was possible to get the traveler to discard the blanket. And this is the parable that through peace, we will be able to convert, you see, the most determined people, and this is the method we should follow. Anger has nothing to do with moving us forward. It just increases the other party's self-defensiveness," Nussbaum said.
Nussbaum did make a disclaimer, and explained that this parable is only used in a particular struggle, in which one side wants peace.
"Anger is a common part of most people's lives. I've argued it often lacks the virtues that are claimed for it, and it lacks the normative and practical problem-solving on its own," Nussbaum said. "I hesitate to conclude with a slogan that certainly betrays my age — but it really does seem time to give peace a chance."
At the end of the lecture, a brief question-and-answer session was held where the audience was told the first three questions must be by students. After several questions, a reception, which included light refreshments, snacks and a quartet, was held in the Torgersen atrium, followed by more conversation that lasted an hour.
"The lecture was superb and very profound. The way she enunciated her arguments was in such a way that you could really relate to many different things for, and against which I really like when going to speakers of this nature. Having an objective speaker is something I thoroughly enjoy," said Dillon Woods, a sophomore.