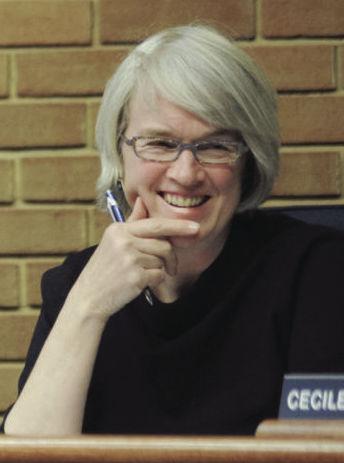 Being a resident in the town of Blacksburg for more than 30 years, vice mayor Leslie Hager-Smith is one of the most experienced candidates for Blacksburg mayor. With her experience as a small business owner and a member of the Town Council, Hager-Smith has a clear vision on how to improve the quality of life for Blacksburg residents.
Hager-Smith graduated from the University of Georgia with a double major in public relations and American history, and achieved magna cum laude.
Blacksburg has been home to Hager-Smith since 1982. Hager-Smith and her husband, Eric P. Smith, met at the University of Georgia. They moved to Blacksburg after Hager-Smith's husband took a job at the statistics department here at Virginia Tech. They raised three children here in Blacksburg.
Hager-Smith discovered her passion for service to the wider community after she joined a local church. According to Hager-Smith, the church only had 25 people when she joined, but with the effort from her and the rest of the church, it has expanded to 250 people now.
Before joining the Town Council, Hager-Smith was a reporter and columnist at the Roanoke Times. She was also the director of community program for the YMCA at Virginia Tech. Hager-Smith has been elected as the vice mayor three times.
Hager-Smith identified the most important three features that she will be focusing on if she gets elected for the town of Blacksburg as affordable housing, traffic and the expansion of the town.
The town of Blacksburg conducted a public survey, which involved more than 1,000 respondents. The result of the survey pointed out that affordable housing is what Blacksburg residents care most about. That is why Hager-Smith listed affordable housing as her top priority.
Hager-Smith said the traffic is getting more congested recently, and certain intersections have a high rate of accidents, even fatalities. Therefore, she will be working on the traffic issue here in Blacksburg.
The original town of Blacksburg was laid out in the shape of 16 squares, which Hager-Smith believes is an important and unique feature of the town of Blacksburg. Her plan is to expand the downtown area to be more than a main street.
"My vision for the town of Blacksburg would be to preserve the 16 squares in a very identifiable way, and that is to say that the scale and the mass of the buildings would be approximately what it is now," Hager-Smith said. "However, stretching far beyond the 16 squares and the historical district, and that's where I think we can build density. We may need to see some buildings go, but we need to make smart decisions. We need to assess carefully the trade-offs." Hager-Smith has been a member of the Housing and Community Development Advisory Board (HCDAB) and devoted a decent amount time at the HCDAB. She helped to create many housing policies.
Hager-Smith identified the high level of development pressure in Blacksburg as her biggest caution. Hager-Smith witnessed the transformation of the town of Athens, where the University of Georgia is located. When she graduated, Athens was named as America's most livable city. Hager-Smith still visits Athens after she graduated and she is disappointed to see that Athens is no longer the livable city that it used to be. 
"I have a really good sense for what we can do, but also some of the things we cannot help," Hager-Smith said. "I would say the issue going forward is to keep the fabric of our community intact, to do those things that we can that will help us to expand but retain the character of Blacksburg."
In order to make Blacksburg an attractive place for potential residents, Hager-Smith is looking to create more job opportunities in the town.  
"I would say that people come to Blacksburg and it is not at all unusual for them to fall in love with it, and when they are finished and they graduate, many many would stay if they could," Hager-Smith said. "I am very focused on quality of life continuing here and on maintaining the character of the town, and looking for more job opportunities for people to stay."
In the past few years, Hager-Smith put relentless effort into making Blacksburg a better place for its residents. Some of her accomplishments include being the co-founder of Blacksburg's Summer Solstice Fest and originating the 16 Frogs Watershed Initiative, which is a public arts project with an environmental consciousness.
Hager-Smith described her biggest accomplishment as initiating council action on legalizing accessory dwelling units, which allow homeowners to create separate apartments in their houses and rent them out to other people. Hager-Smith described it as a "suitable way for people to live in community together." The Town Council adopted the policy in spring 2017.
There are three candidates running for Blacksburg mayor this year. The election will be held Nov. 7, 2017. If you are still undecided about the candidates, click here to read more candidate profiles from the Collegiate Times.