Jan. 19, 2018, was Maya Garcia's 21st birthday party. She was celebrating, drinking and dancing at a friend's apartment. The night ended, however, in Garcia allegedly being sexually assaulted by another Virginia Tech student. She then pursued several avenues seeking healing and justice, but ultimately felt wronged by the criminal justice system and Virginia Tech.
The assault
Garcia, a Virginia Tech junior studying chemical engineering, and her friends began the night by celebrating at an apartment. Because some members of the group were underage, Garcia and five friends took a designated driver to a party at a fraternity house after leaving the birthday celebration instead of going to a bar.
Before the night ended, Garcia consumed several different types of alcoholic drinks including mixed drinks, shots and beers. "I don't drink heavily, ever, so that really hit me, because I don't remember a lot about that night," Garcia said.
Although he declined to comment for this story, a police report says the alleged assailant met Garcia as they were waiting for drinks at the bar at the party.
"I was dancing with my friends and I went to the bar and then I met the assailant," Garcia said.
According to Garcia, after they met at the bar, she tried to shotgun two beers.
"I told him it was my 21st birthday and he used a knife in his pocket to open a beer," she said. "So I tried to shotgun that beer … and then I tried to do another one."
After leaving the main area of the party, Garcia and the alleged assailant began kissing in a different room.
"He asked to go somewhere more private, and I said, 'OK, but I don't want to have sex. I'm still a virgin, and I'm waiting for someone special … Are you OK with that?' and he said, 'Yes.'"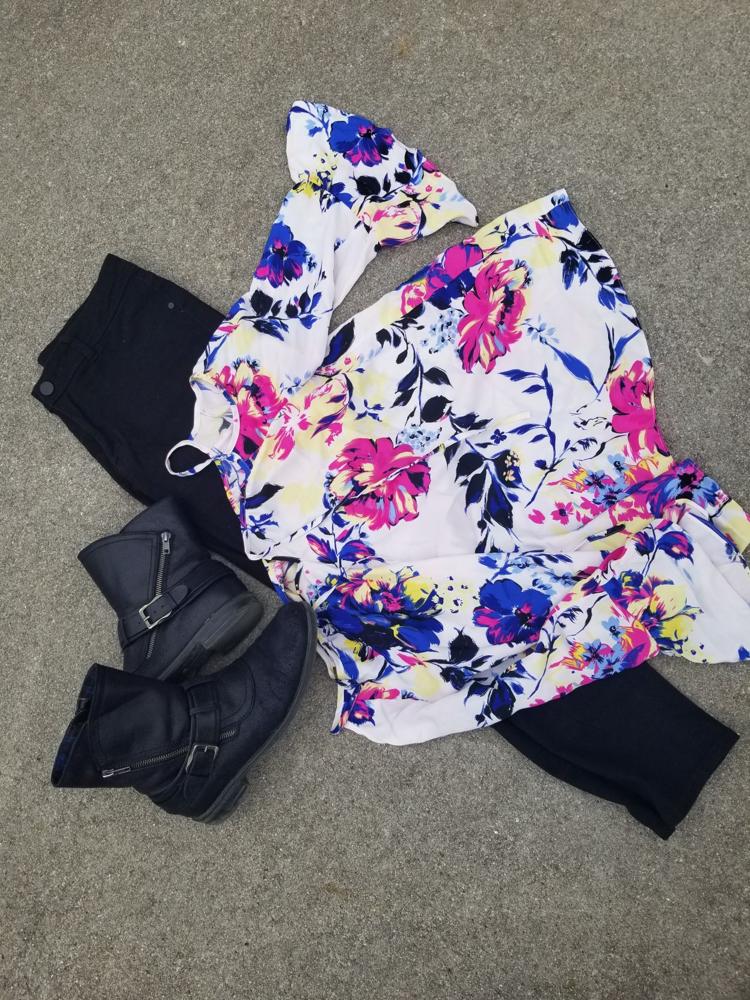 Garcia and the alleged assailant looked for an empty room in the fraternity house, but were unable to find one. The two, along with Garcia's other friends, then went back to her friends' apartment since they had an empty room. Once they arrived at the apartment, Garcia expressed once more that she did not want to engage in sexual intercourse with the alleged assailant.
Garcia remembers the two of them kissing with their clothes off, but she then blacked out from the alcohol. The next thing she remembers is waking up on her stomach and thinking, "I don't recognize this feeling," she said.
"In my head I was so confused because I thought that I had said 'No' twice, and I thought that he recognized that. And I finally came to realize … 'OK, well he's raping me.'"
In that moment, Garcia had to make a decision of how to react. "There are different things that happen when you're experiencing trauma: fight, flight or freeze," Garcia said.
Garcia thought through her options and thought about the horror stories of women being beat up after they were sexually assaulted. She did what she thought would get her out alive.
"So I just froze," she said.
After the incident, Garcia and the alleged assailant went downstairs while he waited for his designated driver to come pick him up. While they were waiting, Garcia remembers one thing he said to her that still sticks out in her mind.
"I remember he said I smell like sex."
The next morning, she started to comprehend what had happened to her.
"I go downstairs to my friend and he says, 'How was your 21st birthday party?' And the first thing out of my mouth is, 'I think I got raped last night.'"
And then the process began.
What happens next?
In the days following the assault, Garcia took several steps to protect herself.
She received a Physical Evidence Recovery Kit (PERK) exam at the hospital, which showed that she had abrasions on her left nipple and purple bruising on her leg and lip.
She reported the incident to the Blacksburg Police Department; however, the Commonwealth declined prosecution.
Although she could not specifically discuss Garcia's case, in an emailed statement to the Collegiate Times, Montgomery County Commonwealth's Attorney Mary Pettitt explained key differences between the criminal justice system and the student code of conduct system used by Virginia Tech, namely differences in the definition of rape and the standards of proof used by the two systems.
"The fact that we cannot proceed with criminal charges does not mean that the allegations did not happen," Pettitt wrote. "It simply means that the allegations were not violations of the criminal code or that the burden of proof required is too great to overcome."
The criminal justice system uses the standard of beyond a reasonable doubt, which is, according to the Legal Dictionary, "that no other logical explanation can be derived from the facts except that the defendant committed the crime, thereby overcoming the presumption that a person is innocent until proven guilty."
Finally, Garcia filed a Title IX complaint regarding the assault to Virginia Tech's Office for Equity and Accessibility.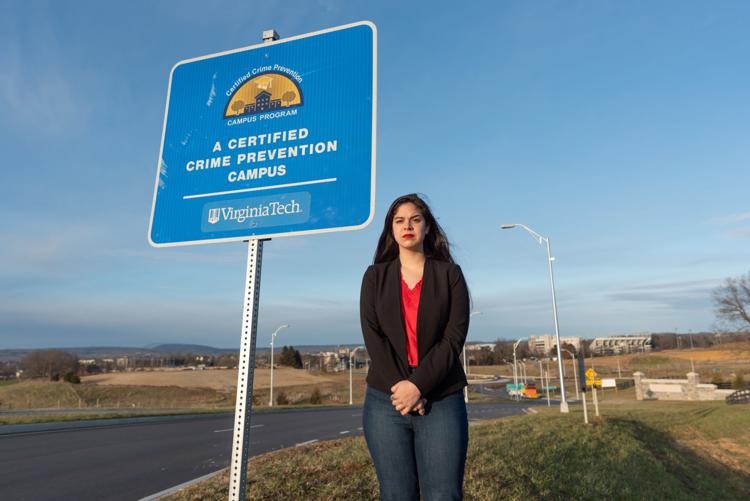 Garcia's appeals
Ultimately, Garcia was unhappy with the Title IX process and the sanctions the respondent received. So, she appealed.
One of the primary reasons that Garcia filed a student conduct appeal was on the grounds that the time from filing the complaint to learning that her appeal had been denied was, in her words, "traumatically long," taking around 120 days. Garcia's appeal, however, was not granted.
A pamphlet on Virginia Tech's Title IX website during Garcia's process states the following:
"You have the right to a prompt, adequate, reliable, and impartial Title IX investigation of the complaint and the United States Office for Civil Rights in the United States Department of Education presumes a typical investigation may be completed within 60 calendar days following receipt of the complaint."
Director of Title IX Compliance and Title IX Coordinator at Virginia Tech Katie Polidoro spoke to the timeline of the Title IX and student conduct processes.
"The 60 days was a guidance that the Department of Education put out in 2011 that they no longer enforce," Polidoro said. "We have always had difficulty meeting 60 days because (that) means from the day that somebody makes a report until the end of an appeal period. Right now, we try not to tell students, 'We'll be done in 60 days,' because we know that that's not an expectation that we can meet. We also don't want to set up students to think that that's an expectation that they can get any sort of redress on since we know the Department of Education isn't enforcing it."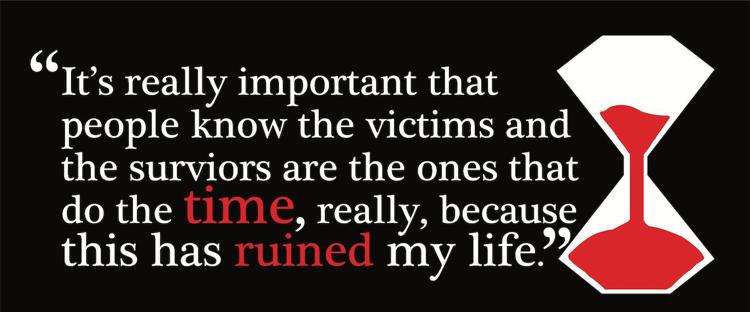 However, even though the Department of Education is not enforcing the 60-day guidance, the Office for Equity and Accessibility at Virginia Tech still has internal checks for Title IX investigations to make sure cases are moving along properly.
"Typically … if a case hasn't finished an investigation within … 30 days for investigation, 30 days for the hearing … we'll have a check-in internally," Polidoro said. "What are we going to do to finish this case? Or, if there's a delay, we're going to figure out is that reasonable? And how do we get past it?"
The Office for Equity and Accessibility is incorporating several changes to its system to improve Title IX investigations after receiving feedback from people who went through the process. One of these changes is a case management system to help keep track of Title IX cases, assign tasks to different people and connect with Student Conduct more seamlessly.
"We're also just looking at our external procedures to be sure that they're up to date, and that's something that we do pretty much every year or two years because procedures need to be updated," Polidoro said.
"Those are our main things, and then we're always in the process of training ourselves and bringing people in to help us figure out how to do things better."
Garcia's other main grievance, as mentioned in her appeal, was that she believed the respondent's sanctions did not match the finding.
Part of the respondent's sanctions include completing a Mentors in Violence Prevention (MVP) workbook.
"My rapist, who was found responsible for rape, was given a workbook … What is that going to do to teach someone or rehabilitate someone who obviously doesn't understand the word 'no'?" Garcia said.
According to the Department of Education, Title IX of the Education Amendments of 1972 is a federal civil rights law that "protects people fro…
MVP is, according to its website, "a mixed-gender, multi-racial, gender violence, bullying and gay-bashing prevention program" with "tremendous and historic success working with groups and institutions that have been traditionally difficult to engage in gender violence prevention, especially male-dominated institutions such as men's athletic programs, fraternities, and military organizations."
In full, the respondent received a sanction of a four-semester suspension, a required re-enrollment meeting, and he must complete two follow-up meetings during his suspension, two plans of action, the MVP workbook, three letters of acknowledgement, a reflection paper and two educational programs that will be determined when he re-enrolls.
"Rapists," Garcia said, "should be expelled from the university when they're found responsible during the student conduct process."
Garcia would also like this sanction to be reflected in the Hokie Handbook.
Interim Director for Student Conduct at Virginia Tech Ennis McCrery spoke to why Virginia Tech does not have one-and-done sanctions, such as rape resulting in automatic expulsion.
"We don't have any policies or violations that are automatic," McCrery said. "Our sanctionings are not formulaic. We do have precedent that we'll rely on, but then we look at the facts of each case and each situation to determine what we believe is an appropriate sanction based on precedent. We don't have any automatic outcomes for sanctions. I think what I can share with you is that we do and we have dismissed students for gender-based and sexual violence, but we don't have any policy violation in which we would say 'X sanction is always going to be applied.'"
Although the decision is ultimately made by Student Conduct, Polidoro spoke about her concerns with one-and-done sanctions.
"One of the things that concerns me about (one-and-done sanctions) is that I have seen that findings of responsibility tend to be lower at those institutions," Polidoro said. "If the outcome is already predetermined I think hearing officers sometimes struggle with making a finding of responsibility that's separate from a predetermined outcome."
Additionally, Student Conduct does not include criminal findings in its process.
"The legal system and the conduct system are completely separate systems," McCrery said. "I think the important thing to know about that is in the conduct system we're not looking at whether someone broke the law, we're looking at if they violated a university policy. Sometimes a law and a policy may be called the same things, but they're actually different."
Garcia also spoke to one-and-done sanctions, and why, in her opinion, when it comes to rape, they are a non-issue.
"I don't understand why this is an issue because if it's rape, it's rape," Garcia said. "If they see that it's obviously rape, they can't make it less than because it happened, and I think it doesn't make sense why they would not (find them responsible) because then they are submitting to keeping rapists on campus."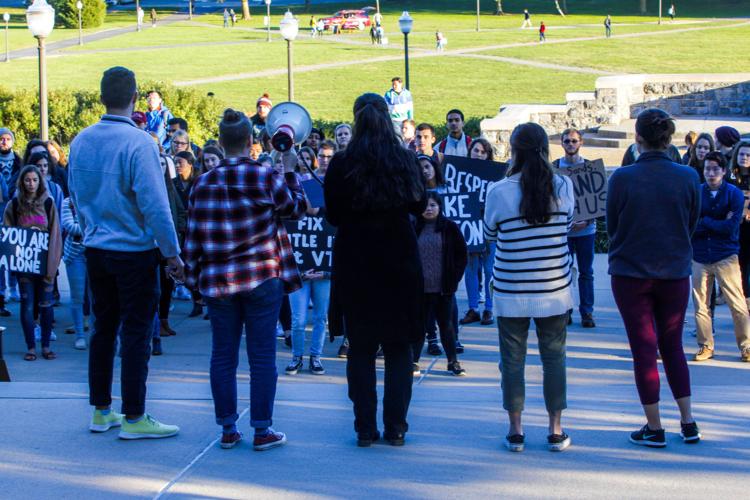 Garcia speaks at gender-based violence rally
In response to the problems Garcia saw with her case, she and the United Feminist Movement held a gender-based violence rally on the steps of Burruss Hall on Oct. 24, 2018.
While the rally was meant to educate people on the Title IX and student conduct processes, it also served as a gathering place for survivors and supporters.
"We gave a little information about Title IX and Student Conduct and bringing them to awareness of how it's not working and the effects," Garcia said. "And I was a prime example of the effects and how it's not working and the post-effects that come to the victim and the community as a whole."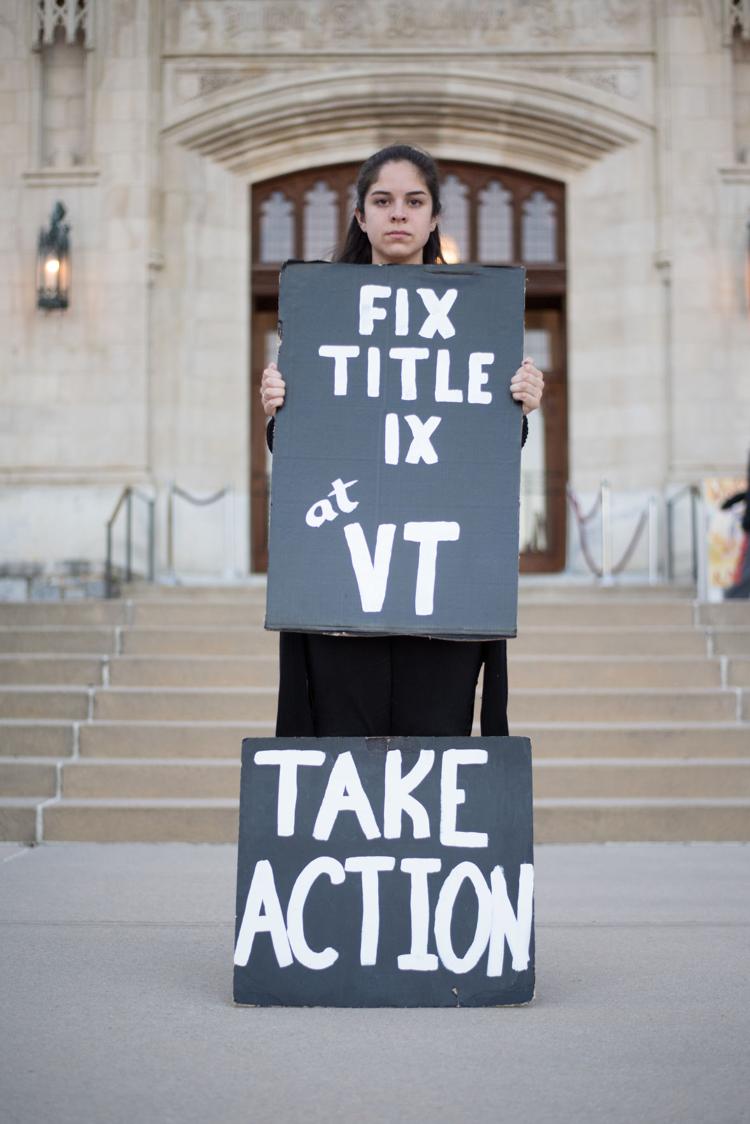 Garcia believes the rally was a success in some ways and provided opportunities for healing.
"One of the symptoms of trauma survivors is we feel like we're not worth it, or we feel like it's our fault or like things aren't as bad as they are," Garcia said. "So having this rally and having people hear me … was really important for me … because it helped me shut off those voices in my head that tell me that what happened to me isn't that big of an issue or no one cares about it."
Garcia would have preferred to see more of a response from the administration. One avenue, however, that may prove successful is through the Student Government Association (SGA). The rally provided Garcia's connection to the association, as she was able to meet with the head of student government and the vice president of SGA and start a conversation with them.
SGA investigates Title IX
"Talking to SGA when I went to the open forum back in October was super successful," Garcia said. "Having (SGA) be blown away by how big of an issue this is because they had no idea, was super important and a real eye-opener that this is a problem and no one does know about it and that is an issue."
According to SGA, the organization is currently looking into Title IX and has created an ad-hoc committee specifically to collaborate with the university to identify pain points in Title IX and Student Conduct.
SGA also issued a press release regarding the Department of Education's newly proposed federal regulations that could impact Title IX. The press release encourages students, faculty and staff to provide feedback in-person in the SGA office or via email at SGA@vt.edu. The comment period closes Jan. 28, 2019.
What are the implications for Virginia Tech?
In the 2016–17 academic year, the Office for Equity and Accessibility fully investigated 52 Title IX cases and referred 43 cases to Student Conduct. Data regarding the 2017–18 academic year are not yet available.
According to Virginia Tech's Student Conduct office, 43 unique gender-based and sexual-violence cases were adjudicated by their office in the 2017–18 school year. This represents a 23 percent increase from the 2016–17 school year.
During the 2017–18 school year, 70 percent of respondents were found responsible for violating at least one gender-based or sexual-violence policy, while 30 percent of students were found not responsible.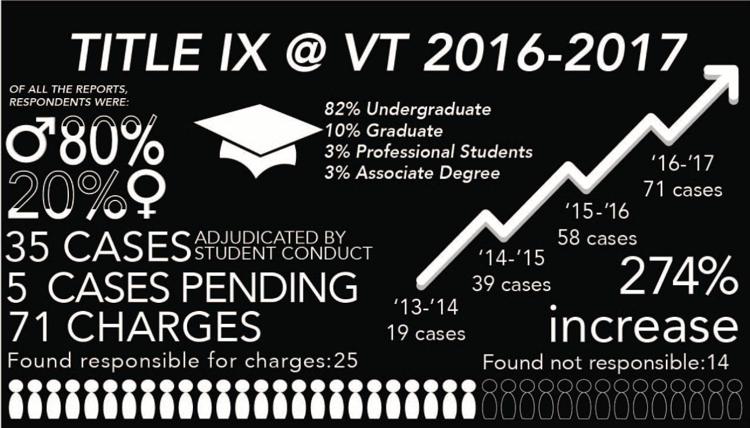 Sanctions for students found responsible are determined based on the policy or policies violated and the circumstances of the incident and behavior, as well as precedent from previous cases of a similar nature.
In the 2017–18 school year, of the 30 total students found responsible of some form of gender-based violence, eight students were dismissed from Virginia Tech and 21 students were either suspended or given deferred suspension. One student was given probation.
While there is no data provided by Student Conduct or the Office for Equity and Accessibility regarding the relationship between alcohol and gender-based violence, drinking plays a role in college life at Virginia Tech.
During the 2016–17 calendar year, Student Conduct adjudicated 829 alcoholic beverage cases, making it the number one policy violation adjudicated by Student Conduct. These policy violations include underage possession and consumption, public intoxication and medical attention requested, and driving under the influence.
This number of policy violations represents the sheer volume of students at Virginia Tech who drink and how large of a role alcohol plays in students' lives.
Victims of gender-based violence often fear and face blame for the violence because of alcohol consumption. Student Conduct, however, defines sexual violence as, "Physical sexual acts perpetrated against a person's will or where a person is incapable of giving consent due to the victim's use of drugs or alcohol, or is unable to give consent due to an intellectual or other disability."
Alcohol and sexual violence are part of not only the Virginia Tech community, but also college campuses across the nation.
Is change necessary?
Title IX impacts a large portion of students on campus, and the number of cases has risen in recent years. This increase, however, could be due to the number of reports rising, rather than an increase in the number of instances of gender-based violence.
"Every year, (the number of Title IX reports to the Office for Equity and Accessibility) seems to tick a little bit higher and this year we're on track for again surpassing where we were last year in the number of reports that we received," Polidoro said. "We still have a lot of people who are out there who are not sharing what's happened to them."
The students who are reporting are going through the often incredibly stressful Title IX process or even taking legal avenues.
"This is a hard process," Polidoro said. "For some people, they might find this a process where they feel heard and this is part of healing, and for some people, even if the outcome is somebody's found responsible and has a significant sanction, they still might feel that this process hurt them because you need to be pretty open and pretty exposed when you go through the process," Polidoro said.
The stress and hardships survivors face don't disappear once a case is closed. The effects of the assault and the process can last a lifetime.
"I think it's really important people know the victims and the survivors are the ones that do the time, really, because this has ruined my life," Garcia said.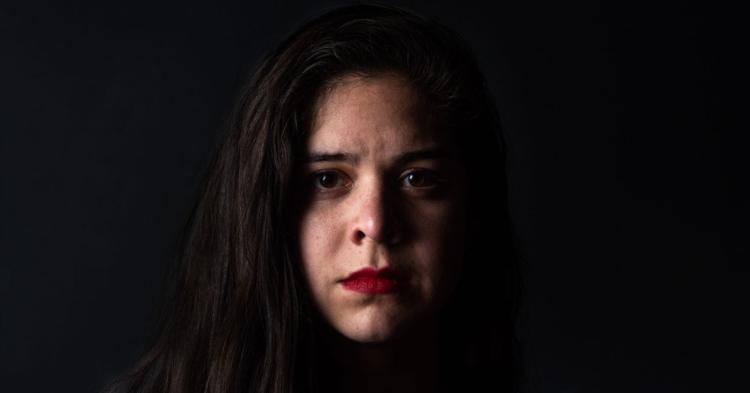 By sharing her story and raising awareness about sexual assault and the trials and tribulations that follow, Garcia said she has been working toward making a better future for herself and other survivors.
"I remember when it first started, I was like 'OK, the light at the end of the tunnel should be coming soon, right?'" Garcia said. "But I never saw the light at the end of the tunnel, and I'm realizing that there is no light at the end of the tunnel for getting justice or feeling better about this … I have done as much as I can with the energy that I have and the resources that I have.
"I had to make my own light in this dark, depressive place by telling myself that I'm OK, I'm safe now, I can take action to make myself safe or surround myself with people who love and support me and keep pushing forward and make sure that it's safer for other people. And it's hard."
Garcia urges the community to collaborate to solve these issues and offer support to survivors.
"I feel like there's not a left or right. There's no sides to this. It is how do we help the survivor, how do we decrease gender-based violence on campus and in general, and how do we put these sexual predators behind bars or whatever we need to do to stop it from happening?" Garcia said.
The Office for Equity and Accessibility also aims to provide a Title IX process that is equitable and treats students well.
"I think that what's important to know about this process is that, while it's hard and it's difficult, it's also a process that we think and care a lot about," Polidoro said. "We may not do everything perfect. I don't know that there is a perfect in this world just because of what we're talking about. I hope that students feel that this is a place where they can come and be treated well and be treated fairly and that there can be some kind of understanding that the folks that do this work do it because they're invested in it. We're not ones to shun feedback. We're really interested in hearing from people to figure out ways to do this better."
Editor's Note: Mike Liu, news editor, is friends with Maya Garcia; however, he was not involved in the writing, editing or publishing of this piece.