This past Saturday, Virginia Tech's Corps of Cadets hosted a senior banquet fit for a Spartan. Senior Vice President of Spartan Races, retired Command Sgt. Maj. Frank Grippe visited Blacksburg to share leadership advice gleaned from 34 years of active duty service with the next generation of military leaders.
"Tonight we gather here to celebrate the tradition of the dining in and the coming together of the world's most professional officers, future officers (and) NCO corps, within the most superior military force in the world," Grippe began.
Grippe's position as the senior vice president of Spartan Races almost pales in comparison to his many military accolades, including the Distinguished Service Medal, the Defense Superior Service Medal, two Legions of Merit, three Bronze Stars and a Purple Heart. During his introduction, senior cadet Ben Paddock read a quote from United States Secretary of Defense James Mattis on Grippe: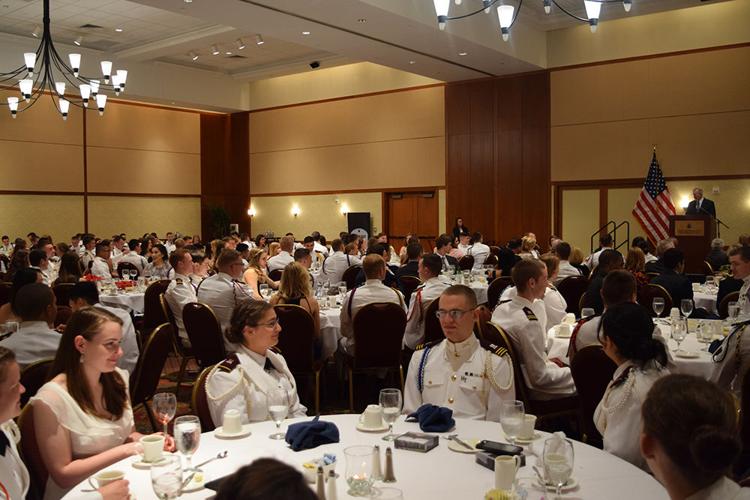 "He is just one of the finest soldiers I've ever served alongside. He is a powerhouse of energy and a very sound tactical leader … it was a delight to watch him fuse his energy across the command."
Grippe began his remarks by commenting on the caliber of Virginia Tech's Corps of Cadets.
"This is one outstanding unit to say the least. Sincerely. It's amazing that the very foundation of this university lays within the establishment of the Corps of Cadets in 1872. That's 145 years ago. Amazing," Grippe said.
Grippe went on to remind the seniors in the banquet hall of all those who preceded them.
"You have produced thousands of United States officers that have led the way during combat operations around the world. Seven Medal of Honor recipients grace your ranks," Grippe said. "You have graduates serving, right now as we dine, overseas, taking on the responsibilities of projecting our foreign policies militarily. We'll never forget the 488 graduates who have laid down their lives in combat, in defense of our nation and the free world."
While some of his comments nodded to military figures of the past, many of Grippe's remarks were about or specifically directed to the senior cadets in the room, many of whom are mere months from commissioning as officers.
Grippe explained, statistically, how unique his audience truly was.
"In a country of 300 million freedom-loving citizens, our Department of Defense make(s) up less than one percent of our population. Bottom line, you're a pretty elite group here," Grippe said. "It's amazing, the quality of individuals that come into our forces, and you're the tip of the spear of that, here in this Corps of Cadets."
"You, my young cadets, have chosen to serve with the less than 1 percent of the American population that stands proudly in front of the constitution," Grippe continued. "Not behind it, in front of it. You stand in front of it, tall and powerful. That's you."
Grippe went on to thank the cadets for their efforts so far, as well as their continued work.
"I sincerely want to thank each and every one of you for your continued endeavors to carry on the legacy and professionalism, past, present and future. And I'll tell you, by your actions here on campus, each of you will provide our nation's armed forces with a critically thinking leader," Grippe said. "We all know we have the finest combat forces in the world. We all know our American forces are arriving at the cutting edge of battle by land, sea and air. And now cyber. We'll never back down from a gun fight."
Grippe is the furthest thing from a rookie in the ring between his 34 years as a paratrooper, ranger and infantryman, to his new position with Spartan Races. Toward the beginning of his remarks, Grippe asked any cadets in the audience who had run a Spartan Race to raise a hand.
"Next time I come here I want to see the whole crowd raise your hands," Grippe said.
Spartan Races are cross-fit-style obstacle races ranging from 5 miles to 13 miles with several variations available to further intensify the challenge, including Trifecta Weekends and Hurricane Heats. Grippe's involvement with Spartan Races stemmed from his desire to impart upon future generations the life lessons he learned on how to maintain spiritual, physical and mental strength.
"I wanted to come out of my comfort zone, if you could call warfare a comfort zone, but it is, that's what I knew best," Grippe said. "I wanted to come out of that and into the civilian sector full-time, as my own personal challenge, to see if I could fit into that world, and to see if I could have an impact."
"After my 34 years of service work, humbly said, from the tactical level all the way up to the strategic level in some of these headquarters with some of the best of the best in the world, I learned a lot, and I wanted to be able to give back," Grippe added.
Grippe achieved his goal of impacting the world beyond the military sector when he discovered that all types of people choose to run Spartans.
"You see the type of population that runs Spartan, from the elite racers, the rangers, the special forces, the SEAL-type athletes, all the way to the older people like me that want to bring their young son and daughter, the cancer survivors, the alcoholics making a life change," Grippe said. "Once I got turned onto the brand and the mentality of it and the bigger picture of mind, body, spirit, and once I got around our clients out there, how can you not want to work for Spartan?"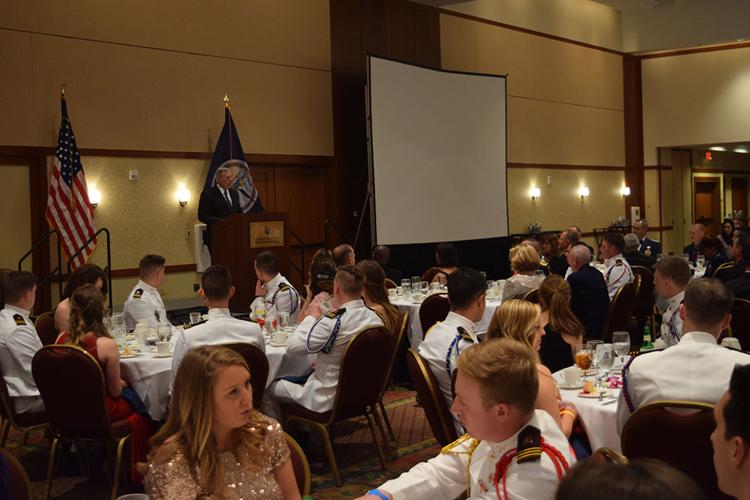 One senior cadet in the audience at senior banquet, industrial systems engineering major Josh Conyers, already plans to run at least one Spartan Race this year and commented on what it was like to hear from Grippe.
"As someone who is interested in doing a Spartan Race this summer, or several, it was great to hear from someone who has military experience and then transitioned into the civilian sector to work with Spartan Races," Conyers said.
In addition to recognizing the unique efforts of the cadets in the room, Grippe also acknowledged the family and "future family" present.
"We've got a lot of family in here tonight. We've got a lot of future family going on here tonight," Grippe said, addressing the newly engaged couples scattered throughout the banquet hall. "Our military families, the spouses and children take the brunt of this war, I personally believe, more than we troopers directly in the fight. I want to thank you all. You are truly the unsung heroes of our nation's continual fight."
Toward the end of his remarks, Grippe shared several key pieces of advice including the need to set the standard.
"Bottom line is you have to be the standard-bearer for your formations. You have to be the standard-bearer for your services. You have to be the standard-bearer for these United States. You have to be the standard-bearer for all our partner forces out there. And you have to be the last living entity that our enemies see," Grippe said.
"That's a lot of requirements for your future as combat leaders, isn't it?" Grippe continued. "But let me tell you what, this old retiree, I've got all the confidence in the world that you're going to take it on, horn to horn, you'll be fine."