On the anniversary weekend of the first Women's March, the Roanoke community gathered once again on Jan. 20, 2018, to engage with issues such as immigration and violence against women that the community and the nation are facing. 
"Last year, the marches across the country were a sign that people were concerned about the direction things had gone nationally, and I think the turnout at those marches worldwide sent everyone a message," said Barbara Andes, one of the organizers of the event. "The turnout in Roanoke being one of the highest per capita turnouts of any city shows that Roanoke cares, and Roanoke wants to be engaged. This year, this march will be what it is. It is its own standing event, but we want fellow citizens in Roanoke to know that we are still engaged."
The event took place in Elmwood Park in downtown Roanoke. The event started at 11 a.m. with a live performance by a local band. From 12:30 p.m. to 2 p.m., a series of speakers addressed specific issues in the local Roanoke community. The official march lasted from 2 p.m. to 4 p.m. After the march was over, there was a flash mob dance and more live entertainment.
"We are excited, and we worked really hard to make this march as inclusive as possible," said Sara Sprague, one of the organizers of the event. "We are trying to make sure everyone who wants to be included can be included."
The speeches were divided into two parts: "Hear Our Voice" and "Call to Action." During "Hear Our Voice," four speakers shared their experiences being young women and how their experiences helped to form their values. During "Call to Action," the speeches addressed problems in five specific areas: immigration, redistricting, health care, Mountain Valley Pipeline and violence against women. Each area was discussed by a different speaker.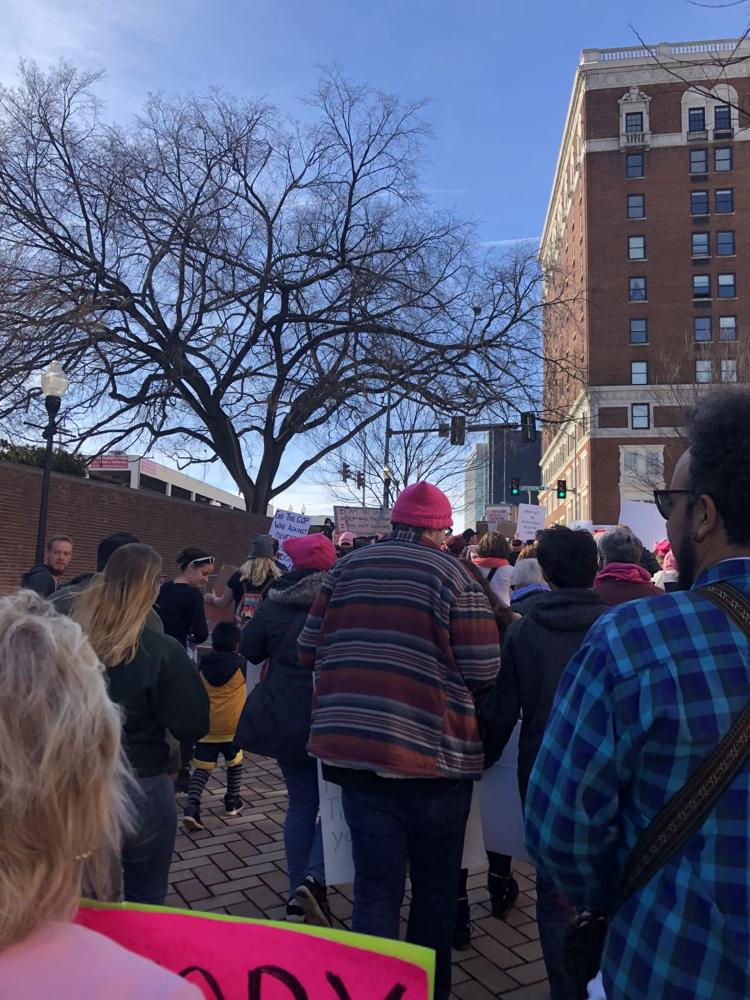 Linda Perriello, spokesperson for OneVirginia2021, discussed redistricting reform. Carolyn Reilly, Virginia farm and business owner and spokesperson for Bold Alliance, which is a network of groups protecting land and water, addressed the pipeline opposition.
Yolanda Puyana, founder and president of Hacienda and Roanoke Latino Festival, talked to the crowd about immigration issues.
Rebecca Wood, health care activist, and Christine Ristaino, senior lecturer at Emory University and author of "The Little Girl is Me," addressed the issues in health care and violence against women.
At 1:45 p.m., keynote speaker Danielle Belton, editor in chief of the news site TheRoot.com, discussed the importance of voting and hyped the crowd up for the march.
"I hope to inspire folks," said Amnoni Myers, speaker at the event. "Not only to get involved, but to be able to help channel any interchange within their community, so that it can create a wider change publicly."
Djuna Osborne, organizer of the 2017 Women's March who is also running for Roanoke City Council, was also present at the event and inspired young women in the crowd to run for office in the future.
The march crowd started from Elmwood Park to Jefferson Street. The marchers crossed Kirk Avenue and turned onto Campbell Avenue, then right onto Market Street. Then the crowd marched back to Elmwood Park, where the event started.
"What we hope to do is to get them engaged," Andes said. "Give them a space to spend that energy, spend that concern, get involved, and again take their voice to the polls."
According to Sprague, the main purpose of the march and the speeches is to get people involved in local issues.
"We want to capture the energy that people have and turn it into action. We don't want people to show up this weekend in January, march and just go home," Sprague said. "We want people to hear about certain things that they can try to do if there is a particular cause that they are interested in, maybe here is an action that you can take."