Virginia Tech President Tim Sands' State of the University Address on Friday was designed to highlight the many accomplishments of the university and its goals going forward. However, a handful of protesters had other plans.
A large crowd had gathered in the Anne and Ellen Fife Theater in Moss Arts Center to hear the president speak, including a number of university officials and prominent alumni. About 10 minutes into the speech, protesters began to shout over the president, forcing him to pause and address them while they were escorted out.
The speech had kicked off with a performance by the Virginia Tech Chamber Singers and an introduction by Seyi Olusina and Brett Netto, the undergraduate and graduate representatives to the Board of Visitors. Sands started off with an acknowledgement that the speech had been slightly overshadowed by the presence of ESPN College GameDay and taping for an episode of the Jimmy Kimmel show going on about campus. He also thanked a number of leaders in the university including Menah Pratt-Clarke, vice president for strategic affairs and vice provost for inclusion and diversity, and Charlie Phlegar, vice president for advancement.
It was after acknowledging Phlegar's fundraising work and the gifts of alumni that the protesters interrupted.
"Together with our faculty," Sands started. A person started shouting from the audience about a graduate teaching assistant that they alleged is a "neo-Nazi" and white supremacist (the Collegiate Times is not naming the graduate student because the university has not confirmed their identity with the media).
Sands started again and then stopped. Another person started shouting another question at Sands about the student.
"Virginia Tech is committed to our principles of community and free speech," Sands responded. "These are tough issues; not the time to discuss them here. But, I appreciate your perspective."
A small chorus chimed in. "No Nazi; No KKK; no fascist GTA," the protesters chanted. Sands paused on the stage. Near the back of the auditorium, away from the stage, a handful of leaflets were dumped from an upper balcony.
"Well, thank you," Sands said. "I share your perspective, but this is not the right time to talk about it."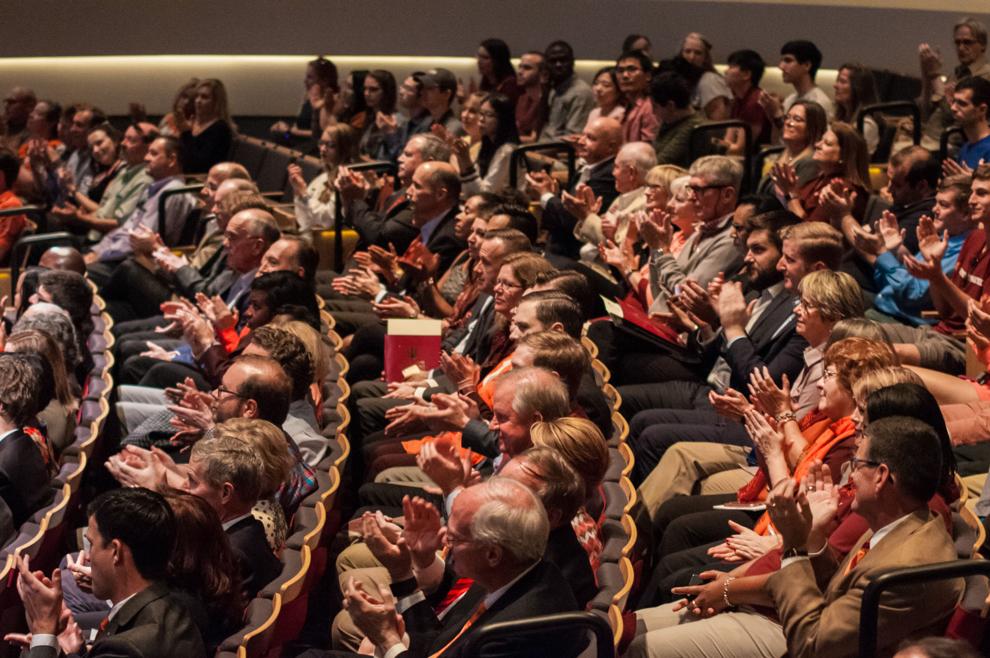 Once Sands had finished addressing the protesters, he resumed his planned speech, thanking Provost Thanassis Rikakis for his work with the development of Destination Areas, thematic structures designed to promote interdisciplinary work. He also emphasized the need for contributions from alumni to help make these plans a reality, calling for alumni giving to increase from 12 percent currently to 22 percent by 2022.
One of the main themes of the remainder of the speech was Sands' plans for growth for the university. He reiterated the goal of growing the undergraduate student body to 30,000 by 2023. However, Sands also said that growth would not all come at once in one place.
"This will not all happen in Blacksburg; we plan for some of that growth to take place in Roanoke and the National Capital Region," Sands said. "As is evident to everyone, we were extraordinarily successful at yielding first-time students for the class of 2021. We will have more moderate growth in future years to ensure that Virginia Tech maintains a small-campus feel with all of the advantages of scale. Our emerging Master Plan features several new residence halls, student centers, dining facilities and, of course, parking structures."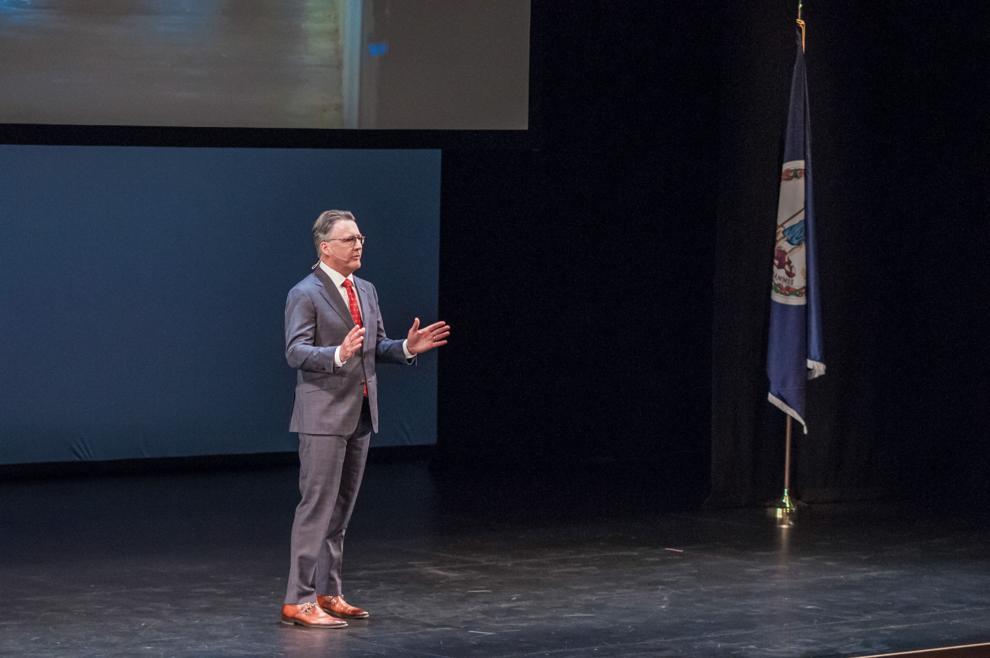 The speech used video and livestreams from various locations in order to complement Sands' statements about the university. Groups watching at the Virginia Tech Carilion School of Medicine and Research Institute in Roanoke and the National Capital Region campus in Arlington were featured as Sands emphasized recent developments at those campuses. Deb Kelly, an associate professor at Virginia Tech Carilion Research Institute, spoke via video from her lab in Roanoke about her research. And, a prerecorded video of Ella Rak, a recent graduate working with the Peace Corps in Cameroon, was also played to emphasize that Tech can take you to "unexpected places."
Sands also emphasized his "Beyond Boundaries" planning initiative, started in 2015, and how implementation of some of those ideas will start soon.
"Virginia Tech has been a globally engaged university for much of the last century, but becoming a leading global university will require sustained and intentional actions and resources," Sands said. "Our Beyond Boundaries planning over the coming year will take our vision and turn it into action. Although we have much to consider, some of these actions are already apparent and underway."
No other protesters interrupted the rest of the speech. Afterward, Sands told reporters that he supported students' right to express themselves, but that the university's response would follow its stated principles.
"It's a classic case," Sands said. "It's not just Virginia Tech, we're seeing this around the country; people have very strong opinions. The First Amendment allows them to speak those opinions in public and we have to deal with the conflict of that with our Principles of Community."