The first Virginia governor's debate at The Omni Homestead Resort in Hot Springs was going well for a few minutes. Ed Gillespie, the Republican candidate, had finished his opening statement, and Lt. Gov. Ralph Northam, the Democratic candidate, had started his. But then, a man from the audience walked into the media area right to the foot of the stage.
"Ralph Northam, I'm here from Loudon County, Virginia to say …" the man yelled at the candidates.
"Could you please respect the rules of the debate, sir?" said Judy Woodruff, anchor and managing editor of "PBS NewsHour," who moderated the debate, into her microphone. "Could you please respect the rules?"
"This stage is owned by Dominion Power!" the protester said.
"Go away!" shouted someone in the audience.
"They stand with Dominion profits over clean water," the protester said. "Ralph Northam, your support for the pipeline is grotesque."
Woodruff eventually stopped trying to talk over him as he attacked Northam for his stance on the proposed Mountain Valley Pipeline. A handful of staffers from the Virginia Bar Association, which was hosting the debate at its summer meeting, ushered the protester outside.
The first Virginia gubernatorial debate of the 2017 race quieted down some after the removal of the protester, but arguments were still heated between Gillespie and Northam. The candidates found themselves at odds on many issues, and Woodruff also found herself under fire for the questions she posed.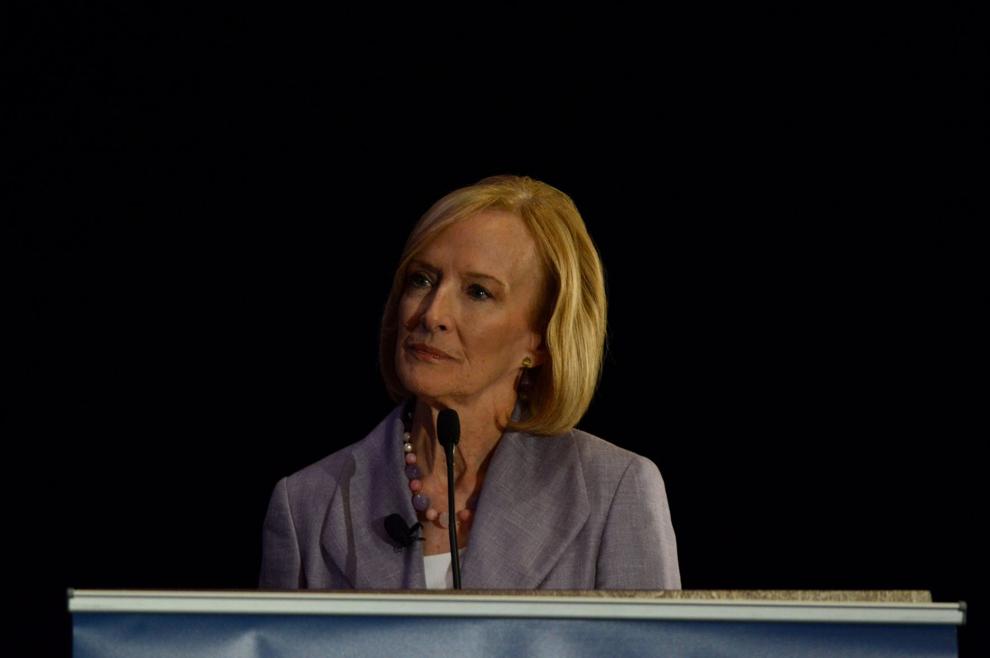 Even when the candidates agreed, sparks still flew. Both Northam and Gillespie agreed to support construction of the Mountain Valley and natural gas pipelines through Virginia, pending federal review. That stance earned Northam the ire of the earlier protestor as well as a number of others who protested in front of the hotel before the debate.
However, Northam also said during the debate that he does not support hydraulic fracturing to obtain natural gas, commonly known as fracking. He also had faced criticism during the Democratic primary for not taking a firm stance on whether new pipelines should be built in the state.
"I promise you that was not one of my staffers here earlier today," Gillespie said to laughter when Woodruff allowed him to ask a question of Northam. "You're opposed to fracking, which is the source of the natural gas that's going to flow through the pipeline. And so, what's the point of building an empty pipeline in the commonwealth of Virginia?"
Northam argued that the pipeline would not carry gas obtained by Virginia drilling either way; it would be from Pennsylvania. He said that he would support the pipeline's construction, assuming the Federal Energy Regulatory Commission gives final approval.
Woodruff later on in the debate let Northam pose a question of Gillespie. Northam has years of experience as a medic for the Army and is currently an assistant professor of neurology at Eastern Virginia Medical School. He chose to ask Gillespie about a topic not typically covered in debates — long-acting reversible contraception for women such as intrauterine devices (IUDs) and implants.
"Something I have worked on is really expanding access to what we call long-acting reversible contraceptives," Northam said, noting that he had helped obtain $6 million in funding as lieutenant governor to expand access and education in recent budgets. "My question is, would you support such a budget amendment (for next fiscal year)?"
Gillespie appeared stumped on the topic. He agreed that lowering unplanned pregnancies is an important goal and spoke about increasing access to oral contraceptives.
"I'll be honest with you, I'm not familiar with your language," Gillespie said in response. He said he would look into the matter.
The two candidates notably sparred on the issue of repealing and replacing the Affordable Care Act, expanding Medicaid in Virginia (something that Northam said he supported strongly) and economic policy. Gillespie heavily touted his plan to gradually decrease individual tax rates to encourage small business and decrease regulation, unlike his opponent.
Northam argued that Gillespie's plan fixed a non-existent problem — the state was not going to "hell in a handbasket" under McAuliffe and his economic policies — and that focusing on education would be the best path forward. Northam touted his "G3: Get Skilled — Get a Job — Give Back" program. The proposal would fund tuition for workforce training or an associate's degree for Virginia workers and help them find a job in exchange for one year of public service afterward.
Gillespie questioned Northam's math, including his touting of Virginia's unemployment rate as unindicative of decreasing workforce participation (in April, it was at 3.8 percent). He also attacked Northam's plan to approach tax reform with a bipartisan group, saying that Northam's plan was just to come up with a plan.
"If the next governor of the commonwealth of Virginia does not respond to the challenges we face with the right policies and a sense of urgency, we will fail our fellow Virginians," Gillespie said.
Another contentious issue was immigration, particularly when it came to Dreamers, children of illegal immigrants who were brought to the country before the age of 18. Northam supports allowing Dreamers to pay in-state tuition at Virginia colleges and universities. Gillespie said that although he sympathizes with Dreamers, he has reservations.
"I know that people, young people who are here by virtue of a decision their parents made — they're here for no fault of their own," Gillespie said. "But we have scarce tax dollars, and we have a hard enough time getting people who are here legally and are citizens of the commonwealth of Virginia access to affordable college education."
Other topics of dissension included banning "sanctuary city" laws. Gillespie wants to see a ban on them; Northam says the matter should be left up to localities.
Northam also had words for Gillespie regarding one of former governor Bob McDonnell's signature achievements, a wide-ranging transportation bill. Gillespie, who was chairman of McDonnell's 2009 campaign, has attacked the bill publicly because of tax increases incorporated into it. Gillespie said he would unveil detailed transportation plans this summer on his website, but they would include cost saving measures to implement new projects more effectively.
"We don't need people that stick their finger up and see which way the winds are blowing — we need people who are firm in what they believe in," Northam said in rebuttal, noting how Gillespie's stance on the law seemed to change.
Woodruff also asked the candidates about McAuliffe's recent decision not to grant clemency to William Morva, who was arrested near Virginia Tech's campus in 2006 after shooting two people and executed earlier this month. Morva was sometimes cited as suffering from a psychiatric disorder. In a moment of unity, both candidates agreed that it was a matter of gravity and they would not second-guess the governor's final decision.
The candidates were not so unified on the issue of gun control. Both candidates touted their ratings from the National Rifle Administration. Gillespie said he has an A; Northam has an F.
Gillespie argued that open carry laws in public spaces decreases violent crime. However, Northam said that as a professor, he would be nervous about students having guns in his classroom.
"The last thing that I want, and the last thing that my wife wants as a teacher, is to have students in the classroom that have firearms. We don't need guns in our schools, and we don't need guns on our college campuses," Northam said. "Let's sit down as a society and realize that we have an issue, and we don't need any more tragedies like what happened at Virginia Tech 10 years ago, when 32 precious individuals lost their lives."
The candidates also took different stances on President Donald Trump, which was the first topic that Woodruff brought up. Northam had called Trump "narcissistic" and that he "lies like a rug."
"I would just say, if the shoe fits, wear it," Northam said. "I would encourage everyone to look up the diagnostic criteria for narcissism, and they'll see that it does come quite close to an accurate diagnosis."
Woodruff pressed Gillespie on the matter, who focused on the fact that his priority was Virginia first. In the primary, Gillespie had faced an unexpectedly strong challenge from Corey Stewart, another Republican who allied himself closely with Trump.
"When the president is doing things good for Virginia, I am going to work to make sure that we get those things done. I don't agree with everything the president says or tweets, and I've made that clear. But my focus is on Virginia," Gillespie said.
Republicans affiliated with Gillespie's campaign after the debate attacked Woodruff's questions about national issues in a gubernatorial debate.
"I think the debate, first and foremost, should be the major issues facing Virginia," said Representative Bob Goodlatte, (R-Virginia), afterward. "I think there may have been more emphasis on trying to make Virginia gubernatorial candidates talk about national issues than talking about the issues that are important to the state. And I think that, that may be in part because you have a moderator with that national focus."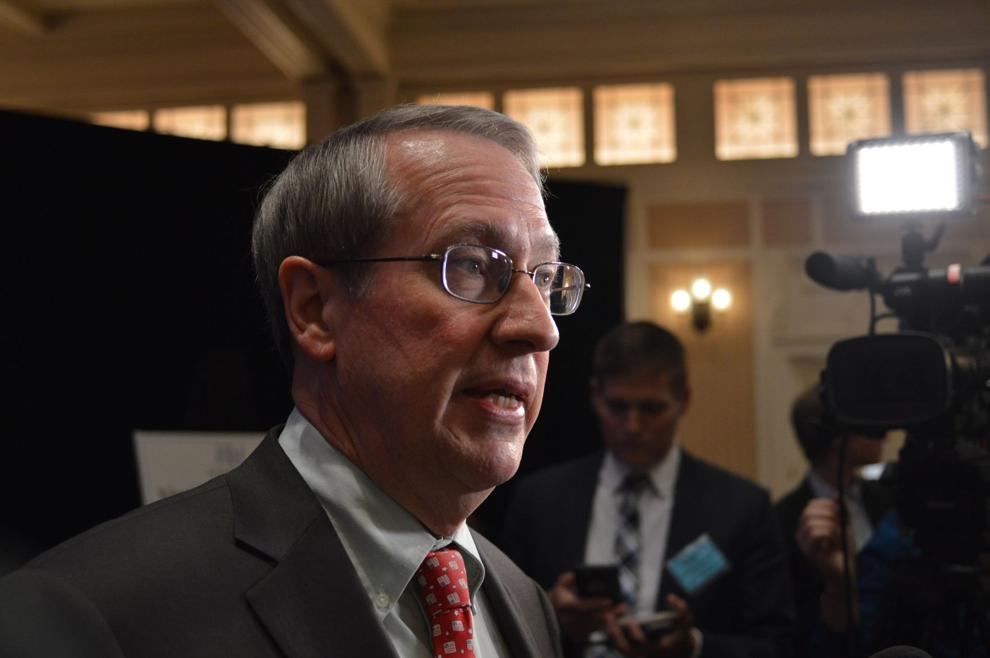 Pete Snyder, the chairman of Gillespie's campaign, also attacked Northam not only for his performance, but also the debate schedule. Gillespie has publicly accepted invitations to 10 debates, including one at Virginia Tech hosted with WDBJ7. However, Northam has only agreed to three.
"I think it's abundantly clear after what you saw today why Ralph Northam and the Democrats don't want any more debates beyond the three," Snyder said as he walked into a media scrum that had formed at the foot of the stage after the debate.
However, Northam seemed unfazed.
"I think it was a good exchange, and I think the questions were really pertinent and relevant to what Virginians care about," Northam said after the debate. "Health care is very, very important to Virginians and they are watching very closely what's going on in Washington."
Northam and Gillespie, as of now, have two more chances to argue their cases in a debate. The next one will be Sept. 19, hosted by the Northern Virginia Chamber of Commerce. Both campaigns have also agreed to a debate in October at UVA-Wise, but the exact date is not yet set.