Ten years ago Air Force ROTC cadet Matthew La Porte gave his life to defend his classmates from a mass shooter. Two years ago he was posthumously awarded the Airman's Medal for his acts of heroism. And now, in the week leading up to the 10-year anniversary of the Virginia Tech shootings, three Virginia Tech students are trying to christen the new cadet residence hall with his name.
Typically, buildings at Virginia Tech are named for donors with the deepest and most generous pockets. Goodwin Hall, for example, was the "Signature Engineering Building" until Alice and Bill Goodwin from Richmond donated $25 million to the university, the largest single donation in Virginia Tech history at the time.
Cadets Andy King, Nicholas Oberle and Tristan Nguyen want to circumvent this tradition and name the new hall for Matthew La Porte.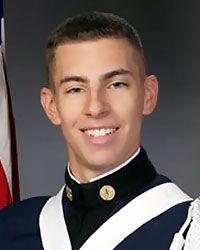 "Some news that circulated (was) that it was going to be just called like 'New Cadet Residence Hall.' Just some bland name like 'New Classroom Building' and stuff where I guess they don't have a donor that has put enough money in," King said. "I just figured, being in the Corps and having all those people — we have all those names on the back of all those pylons and we can't pick one honorable person to name it after?"
The trio walked around their residence hall Wednesday night collecting nearly 150 handwritten signatures. Then they had the idea to take it online.
Clocking in at well over 1,000 signatures and climbing, the online petition's goal is to demonstrate community support for La Porte Hall to the university administration.
"We would like to humbly name the new cadet dorm after Cadet Matthew La Porte who valiantly made the ultimate sacrifice in defense of his fellow students during the Virginia Tech shooting on April 16, 2007," reads the petition's description.
Pearson Hall is the twin of the new cadet residence hall. It was named for a family that, according to VT News, has made a "tremendously generous philanthropic commitment" to the Corps of Cadets and the College of Agriculture and Life Sciences.
King recognizes the financial risk of naming the new hall for a non-donor, but believes that problem can be overcome with a heart-to-heart between students and philanthropists.
"I think what would be the difference is if they would just give us a chance to either talk to President Sands or whoever's in charge of this stuff, to talk with the donor as well, and just tell them the reasoning behind it," King said. "I think that if they're a person with good intentions who like really wanted to help the university or benefit the Corps of Cadets, they could see the justice in naming it after one of our own instead of themselves."
The university has not yet made a public response to the petition, and officials were not immediately available to comment on this article.
In 2007, Matthew La Porte was a sophomore studying political science who played tenor drum for the Hightie-Tighties. According to interviews with survivors of the Virginia Tech shootings, La Porte barricaded the classroom door to prevent the mass murderer from entering — and when the shooter did manage to get in, La Porte charged the man, "taking fire that would have been directed at his classmates."
"(La Porte was) the most recent hero to the Corps, a lot of people can identify with him. It's only been 10 years, a lot of people know his story — sometimes, maybe it's harder for kids to remember all of our Medal of Honor winners when they did things in wars that have been long since over," King said. "I just think since he was a cadet when he did his thing, it kind of speaks a little bit to us, just because it's like, you know, college student, immature, but he did this huge selfless act before he (had) even graduated. It connects even more."