Update (10:15 p.m., July 6) William Morva was pronounced dead at 9:15 p.m. on Thursday, despite last-minute efforts by his legal team to halt his execution for two murders committed in 2006.
According to a statement by Morva's legal team, Virginia Gov. Terry McAuliffe declined a final request for reprieve around 5 p.m. The request was based off of an article in The Guardian that suggested the drugs that would be used to kill Morva might cause more suffering than intended.
"The reprieve was requested after new information came to light raising concerns that Virginia's lethal injection protocol did not act as intended, and therefore had resulted in a lingering and tortuous death," said Rob Lee, attorney for William Morva, in a statement to the press. "We believed a reprieve was appropriate to allow time for further investigation to ensure that the Commonwealth carries out future executions—including Mr. Morva's—in a manner that avoids unnecessary pain and suffering."
Lisa Kinney, a spokesperson for the Virginia Department of Corrections, told the Washington Post that the execution happened with no complications.
"When asked if he had any last words, Mr. Morva responded 'no,'" Kinney said.
***
Update (3:30 p.m., July 6): Virginia Gov. Terry McAuliffe has declined William Morva's petition for clemency.
According to a press release, the governor's office conducted a review of Morva's petition and the facts surrounding the case. McAuliffe said in the statement that the diagnosis of delusional disorder that Morva's lawyers claim is inconsistent with the findings of experts during the trial. Additionally, the Virginia Department of Corrections staff that has monitored him has not reported evidence of severe mental illness.
"At the conclusion of that review, I have determined that Mr. Morva was given a fair trial and that the jury heard substantial evidence about his mental health as they prepared to sentence him in accordance with the law of our Commonwealth," McAuliffe said.
"I personally oppose the death penalty; however, I took an oath to uphold the laws of this Commonwealth regardless of my personal views of those laws, as long as they are being fairly and justly applied. Thus, after extensive review and deliberation consistent with the process I have applied to previous requests for commutation, I have declined Mr. Morva's petition. I have and will continue to pray for the families of the victims of these terrible crimes and for all of the people whose lives have been impacted."
Dawn Davison, senior staff attorney for the Virginia Capital Representation Resource Center (VCRR), which has been representing Morva, released a statement shortly afterward. Davison contested whether the trial experts had been thorough enough in their investigation. The VCRRC also says the Virginia Department of Corrections did not conduct a mental health evaluation of Morva while in prison.
"William apparently will go to his grave never having received treatment for his chronic psychotic disorder," Davison said. "Sadly, when he is executed, he will understand it to be the natural but horrific ending to a campaign of persecution that has been waged against him for fifteen years. Such is the power of delusions that even the prospect of imminent death cannot dispel them.
"We hope that by improving access to proper evaluation and treatment for persons living with severe mental illness we can avoid future tragedies."
The execution will go on as scheduled at 9 p.m. Thursday.

 ***
Virginia will execute its 113th death-row inmate since 1982 on Thursday: William Morva, a 35-year-old man convicted of killing two in a 2006 escape.
Morva escaped from a Montgomery County hospital on Aug. 20, 2006, after attacking a sheriff's deputy and shooting an unarmed hospital guard. He then fled to Blacksburg, where he shot a sheriff's corporal on the Huckleberry Trail. The hunt for Morva caused Virginia Tech to cancel classes and, in a controversial move spawned by a reported hostage situation, evacuate Squires Student Center.
However, after Morva was captured on Aug. 21, 2006, questions have lingered about his mental health. Morva's defenders say that he suffers from delusional disorder and has no conception of what he did or the implications. Prosecutors say that his mental state was fairly presented to the jury that sentenced him to death in 2008.
Rachel Sutphin, the daughter of slain Montgomery County Sheriff's Corporal Eric Sutphin, says that she does not want to see her father's kille…
Morva has exhausted all of his legal appeals. His only hope now is a last-minute sentence commutation by Virginia Gov. Terry McAuliffe. But as the time and date of his execution draws nearer, that possibility seems less and less likely.
Terror in Blacksburg
Not many current undergraduates can remember the shock of the first day of classes in August 2006. However, that day left a lasting scar on the Virginia Tech, Blacksburg and Montgomery County communities.
Coverage from the Collegiate Times during the search for William Morva from the archives.
On Aug. 19, 2006, William Morva, awaiting trial on attempted robbery charges, told Montgomery County Jail personnel he needed medical attention after spraining his leg and wrist in a fall. He was transported by Sheriff's Deputy Russell Quesenberry to Montgomery Regional Hospital (now LewisGale Montgomery Hospital) early the next morning.
Morva was already acting strangely when the two arrived at the hospital. Quesenberry had Morva in waist chains but nothing on his arm, owing to the supposed injury. According to Quesenberry's later testimony, Morva kept disobeying orders and tried to walk on the deputy's right side, the side on which his pistol was holstered. A nurse at the hospital noted Morva walking normally despite his leg injury.
Quesenberry allowed Morva to use the bathroom after he was treated. Once inside, Morva removed a metal toilet paper holder from the wall. When Quesenberry went in to check on Morva, he struck the deputy with it, fracturing his face. Morva took the unconscious deputy's semi-automatic pistol.
While trying to escape, Morva was confronted by Derrick McFarland, a hospital security guard who was unarmed at the time. According to the Roanoke Times, McFarland was a father of two who loved to tinker. The night of Aug. 19, he had called his wife, Cindy McFarland, to tell her about three partial motorcycles that he wanted to buy to build a new bike out of.
McFarland stretched out his hands by his side with palms facing Morva in an apparent attempt to surrender. Morva shot him in the face.
When the doors of the hospital emergency room did not open, Morva fired five shots into it. He then fled in the direction of Hilltop, shedding his orange jail jumpsuit on the way.
At 3:53 p.m. on Aug. 20, the university sent out its first email to faculty, staff and students saying the Blacksburg Police Department was seeking assistance in finding a homicide suspect.
On the morning of Aug. 21, Morva was spotted on the Huckleberry Trail near the southern edge of campus. Corporal Eric Sutphin, a 13-year veteran of law enforcement, responded. Sutphin was a father of two and a decorated member of the Montgomery County Sheriff's Office. In 2003, he was shot and wounded while pursuing a suspect who had just shot and killed an officer with the Christiansburg Police Department.
Nearby witnesses heard shouting and then two gunshots shortly after Sutphin was seen approaching Morva near the head of the trail about 7:15 a.m. A nearby resident saw Sutphin fall to the ground, dead from a shot to the back of his head.
At 8:13 a.m. on Aug. 21, an emergency advisory was sent out by email, posted on the Virginia Tech website and phoned to faculty, staff and students. The message said that the escaped prisoner had been seen on the Virginia Tech campus. It was particularly worrisome considering Aug. 21 was the first day of classes for the fall semester.
Panic began to travel through campus. A number of reports placed him from the Drillfield to East Campbell Hall, putting a strain on police trying to pinpoint Morva. Many businesses closed in downtown Blacksburg, from Joe's Diner to Gillie's Restaurant.
Around 10 a.m., a report came in that Morva was in Squires Student Center and had taken hostages. About 35 law enforcement officers converged on the building, guns drawn. At the same time, Squires staff independently decided to close the building. Students walked out of classes to find officers with their guns drawn, pointing straight at them.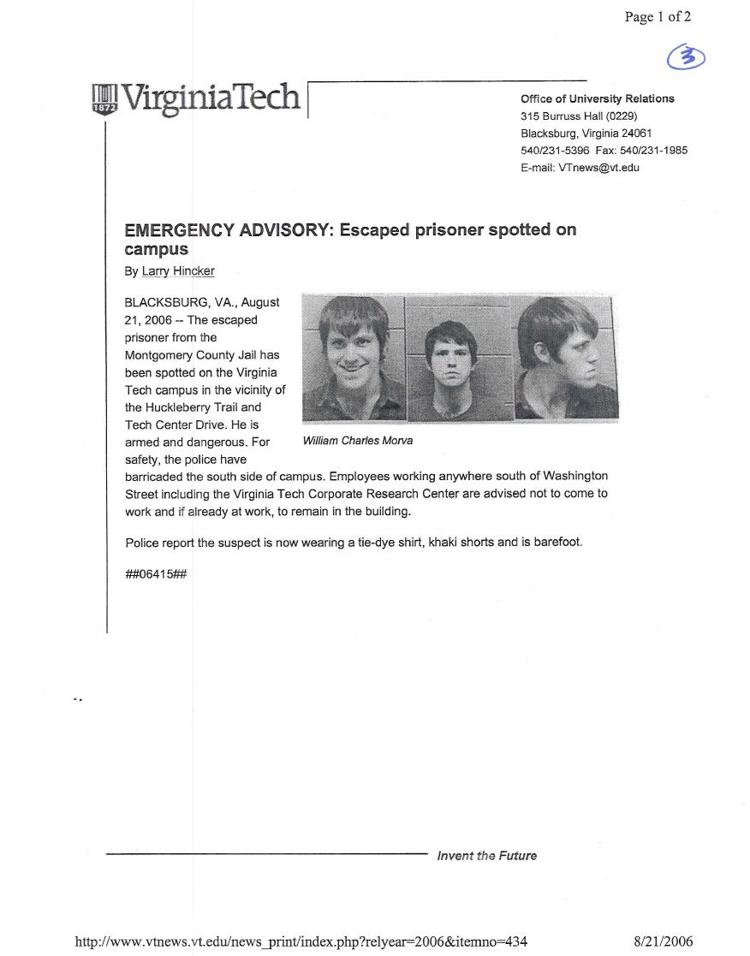 Virginia Tech issued its first media release at 10:30 a.m. with a statement by Vice President Kurt Krause. All remaining classes were canceled. Students were to return to residence halls or apartments, and employees were asked to remain in their offices.
"The more people you have going to and fro, the more false sightings you're going to get," Tech spokesperson Larry Hincker told the Collegiate Times. The university decided to close because, "the rumor mill was going crazy," according to Hincker.
The evacuation cluttered roads and turned 15-minute drives into hour-long ordeals.
"I was stuck in my parking spot for 30 minutes before I decided to walk home," said then-sophomore human nutrition and fitness education major Dani White in an interview with the Collegiate Times.
At 12:45 p.m., another alert was sent out by email, phone and press release. Employees north of the Drillfield were asked to leave campus using Prices Fork Road (Southgate Drive was still closed because of the dragnet). All remaining events on campus were canceled.
Well into the afternoon, students could still be seen walking around on campus. On Washington Street, students mingled with police officers wearing body armor and carrying automatic weapons.
University and local officials held a press briefing at 1 p.m. Lieutenant Joe Davis of the Blacksburg Police Department said that there had been no confirmed sightings of Morva on campus; the last one was when Sutphin was shot.
Later that afternoon, officer Ryan Hite found Morva lying in a briar patch three-quarters of a mile from the start of the Huckleberry Trail and only 150 yards from where Sutphin was killed. Quesenberry's gun was found on the ground where he had been laying, wearing only shorts. It was the second time the area had been searched.
The arrest was announced in a news conference at around 3:45 p.m. by Blacksburg Mayor Ron Rordam, Tech President Charles Steger and Davis shortly afterward. Morva was transported to the Montgomery County Jail around 4:p.m. Hincker issued a statement at 4:30 p.m. saying the university would resume normal operations the next day.
The legacy of the search for Morva left a lasting impact on the university. Shortly afterward, the university began the process of implementing text alerts. The university faced especially harsh criticism for its handling of the evacuation of Squires Student Center. The audio system used to announce the evacuation did not reach all parts of the building, leaving some students to be surprised by the armed law enforcement officers swarming the building.
A staff editorial from the editorial board of the Collegiate Times after the search criticized the university's response.
"Squires' great hostage situation that turned out to be nothing tied up significant police resources and caused widespread panic," wrote the editorial board of the Collegiate Times in a Aug. 22 editorial. "To the detriment of the entire university community, the Tech administration got what they asked for."
In the aftermath of the April 16, 2007, shootings on campus, a governor's panel convened to investigate the university's response found that the Morva manhunt had influenced administrators' decisions.
The first emergency notification from administrators on April 16 came at 9:26 a.m., saying only that a "shooting incident" had occurred in West Ambler Johnston Hall. Unlike the Morva messages, it did not give instructions for students and did not say whether the suspect was still loose. Administrators did not want to give specific instructions and cause a potentially dangerous panic like in Squires without more information.
Another 31 people would die in shootings about 20 minutes after that first email.
"We saw what happens to a university community when it gets bad information," Hincker told the Roanoke Times. "The decision was made to alert people about this. ... Then the question became, 'OK, but what are we going to ask them to do?'"
William Morva's trial occurred in Abingdon after the defense requested a move. He was found guilty on three counts of capital murder and sentenced to death on March 13, 2008. In October 2010, the U.S. Supreme Court first declined to hear an appeal by Morva. On Feb. 21, 2017, the U.S. Supreme Court once again declined to hear Morva's case — his last appeal.
Is Morva sane?
Virginia Gov. Terry McAuliffe has a complicated history with the death penalty. As a Catholic, he has said publicly that he opposes capital punishment; however, he will do his job as governor and uphold state law with respect to it.
McAuliffe faces a serious moral dilemma, then. Lawyers for Morva claim he suffers from a delusional disorder never disclosed to the jury. Prosecutors say he is completely competent. Should William Morva be put to death?
Morva was known around Blacksburg as "Barefoot Will" before his arrest and capture for his habit of walking around without shoes. After dropping out of high school in 2000 a few months before graduation, he became known as a survivalist who talked about trying to kill a wildcat armed with only a knife and stole to stay alive.
Coverage from the Collegiate Times about William Morva from the day after the search.
"He used to live out in Jefferson National Forest, his brother's also military, and he's trained in counter military and what-not, so he's somewhat of a radical militant in all those senses," said Paul Moore, another Blacksburg local who knew Morva in high school, to the Collegiate Times in 2006.
According to the group Mercy for Morva, which has been coordinating efforts to secure clemency, Morva's decline began after his parents moved back to Richmond his senior year at Blacksburg High School. Morva stayed behind, where he adopted an odd diet of uncooked meat and dairy (and claimed to sometimes eat only berries, nuts and pinecones) that might have exasperated his irritable bowel syndrome.
Morva was found by Virginia Tech police in either 2001 or 2002 on the floor of a women's bathroom on campus with his pants off, acting bizarrely. In an affidavit, Morva's mother, Elizabeth Morva, said that her son told her he had taken off his pants because he could move his muscles easier that way. He was afterward banned from campus.
In 2004, Morva's father died. Afterward, his behavior became more erratic, and Mercy for Morva's website said even his old friends believed he was ill.
"William is mentally ill. He has never understood completely exactly what he did, the ramifications of what he did, the lives he has upset," said Elizabeth Morva in a video on Mercy for Morva's Facebook page.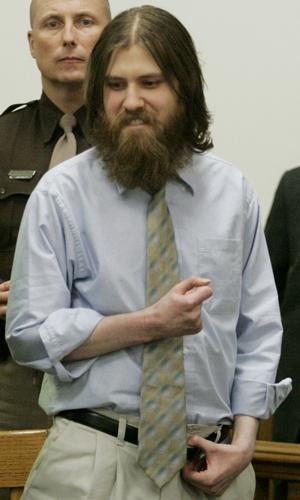 Morva was arrested in August 2005 after he and Jeffrey Scott Roberts attempted to rob the Deli Mart on Glade Road in Blacksburg. The two, wearing masks and carrying guns, approached the automatic sliding door of the store but gave up when they found the door locked for the night. Roberts was able to get out on bail; Morva was unable to and was still in jail when he escaped.
After Morva received three death sentences in court on June 23, 2008, he launched into a bizarre diatribe. He said his name was "Nemo, a slave name," and attacked his defense team.
"My own attorneys and doctors have said that I have schizotypal disorder, which is complete bogus. He also claimed that I was sociopathic and narcissistic, that I had no compassion, which is of course, obviously, again complete bogus," Morva told the courtroom. "I don't think that anyone in this courtroom except for a very small handful of people do have any empathy or compassion because I think the people in here are sick with grief."
Morva's brother, Michael Morva, who was held on robbery charges from 2007 until 2016, also exhibited some similar behaviors including odd outbursts at his trial. According to the Richmond Times-Dispatch, a Virginia Department of Corrections mental health appraisal from Dec. 16, 2015, diagnosed Michael Morva at the time with depressive disorder, delusional disorder and paranoid schizophrenia.
William Morva's lawyers and Mercy for Morva argue that he has delusional disorder as well. His defenders say that this information was not adequately presented to the jury either, and they may not have sentenced him to death if they had known.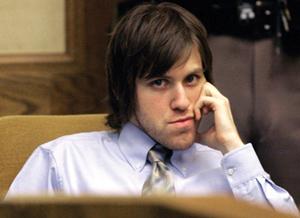 Mary Pettit, commonwealth's attorney for Montgomery County who helped prosecute Morva, disagrees.
"To assert some 10 years later that all three of the original experts were wrong is absurd," Pettitt wrote in a letter to McAuliffe, the Washington Post reports. "With enough time and motivation one can always find an expert to say what you want to hear but that doesn't mean it is true or accurate."
A long list of people have spoken out against Morva's execution. A July 4 letter signed by nine Virginia delegates and five state senators asks McAuliffe to stop the execution. The human rights group Amnesty International has issued a call to its members to contact McAuliffe's office. The Embassy of Hungary sent a letter on behalf of the country's government asking for clemency, since Morva is a Hungarian-American dual national.
"The Hungarian Government, together with the EU and its Member States, also considers that the death penalty should not be imposed on persons suffering from mental disorder, mental illness, or deficiency," writes Zsolt Hetesy, charge d'affaires for the embassy in Washington, D.C.
McAuliffe has already commuted the sentence of a death-row inmate this year: Ivan Teleguz, convicted of hiring two men to kill his ex-girlfriend. He denied a pardon request arguing two witnesses admitted they had lied on the stand, but did grant him clemency in April. Evidence was introduced during the trial that implicated Teleguz in another murder, which McAuliffe said never occurred.
McAuliffe granted Teleguz clemency on April 20, five days before his planned execution.
"I don't know what the jury would have done had they not been given that information. I don't. None of us do. But just raising that question, I cannot see this man put to death," McAuliffe said in a press conference on April 20.
Two previous Virginia governors have granted clemency to two death-row inmates with schizophrenia. Jim Gilmore commuted Calvin Swann's death sentence in 1999, and Tim Kaine did the same for Percy Walton in 2008.
Unless McAuliffe intervenes, Morva's execution will be the final act in one of the most scarring events to happen on Virginia Tech's campus before April 16, 2007.
William Morva dies by lethal injection at 9 p.m. on Thursday, July 6.