Masculinity — some call it toxic. Others consider it one of the greatest virtues. For centuries,  both men and women have formed opinions about what masculinity truly is and is not. That cycle continues to this day, but for most of my life, I had no idea what it entailed. What it meant to really be a man always escaped me.
I grew up without a father in my home. For the first 10 years of my life, my brother was around. But after he left and joined the military, it was just my mother, my sister, my aunt, my grandmother and me living together.  There was no reason to complain about my childhood, my family had always made the best out of a bad situation. I was a normal boy; I played sports, biked with my friends and played with Nerf and airsoft guns. But deep down, the feeling that I was somehow lacking was always there. Like a background angst that existed within me.
***
It was a cold day in the fall of 2009. Fallen leaves covered the sidewalks in my neighborhood and swirled in gusts of wind. My first set of thick glasses sat snugly on my face, which was usually buried nose deep in a book. I walked up the street with my mom, the other kids and their parents toward the crosswalk that separated our street from my elementary school. It was a normal day. I went to school, but as I was walking home I noticed a moving truck at one of the empty houses. This wasn't out of the ordinary. Being 15 minutes south of Quantico, my neighborhood was very transient. Families came and went with permanent change of station schedules. I continued on home.
I gave little thought to the moving truck until two weeks later when I met the boy who moved into the house. His name was Andrew. Ironically we shared the same last name, Lewis. His hair was long and slightly greasy; he seemed like a normal fourth-grader. I tried to befriend him — I was close with everyone else in the neighborhood. We rode our bikes around and in the spring we played with fuzzy tent caterpillars. One day, as we walked home from school Andrew started making fun of me. Playful jokes at first, but they progressed. Every day it was something new.
"Dude your clothes are f------ gay," he said. "Why are your glasses so big, four eyes?"
For a while I ignored the comments. They hurt me, but I always remembered the saying, "Sticks and stones can break my bones, but words will never hurt me." Every morning I put on a brave face and walked to school knowing the inevitable onslaught of insults that were going to be hurled in my direction.
A few weeks later, when I was walking home alone, he was back at it. I put my head down and avoided eye contact with him. As he walked behind me, I quickened my pace and kept going. I figured avoidance was the best way to deal with this. Soon after, he tripped me in the middle of one of my steps. I fell flat on my face in the road. My backpack spilled open and all of my papers flowed out onto the street. I sat up and looked around. I could hear him laughing a few feet behind me.
"Can't keep your balance, four eyes?" He remarked.
I picked up my stuff and took off running down the street, absolutely humiliated. I went inside and didn't speak to anyone. I closed the door behind me in my room. Tears streamed down my face. I couldn't understand why he treated me this way. I hid this from my family for months. It never seemed to get any better — his jokes targeted everything from my thick glasses to my buck teeth.
Months later, this pattern was nearly the same. One day, however, I had enough. I'd had a bad day at school, and the last thing I wanted was to deal with him. I walked home in my normal fashion: alone with my head down. He walked up behind me and kicked my shoe like normal.
"Leave me alone," I finally said, my voice cracked from the anger that flooded me.
"What are you gonna do about it, p----?" he said, right before he pushed me. I fell backward. Hitting the ground, anger welled up inside of me and I tackled him. My eyes were blurry from the tears, and I could barely make out his face between punches.
It felt like an eternity I was on the ground with him. It felt like I threw a million punches. I looked up; it seemed all of my classmates and their parents had stopped in their tracks to watch this. I don't blame them. It was a scene straight out of a movie — the classic, "bully gets his comeuppance" story.
I can't help but remember how angry I was — how badly I wanted him to feel the same pain he caused me. I wish I could say that was the end of all of it. That from that day I was never messed with again. But that wouldn't be the truth. Up until high school, it was on-again, off-again up until he moved away. Others took his place, though. At times, it felt like there was no reprieve from the torment.
I was always a timid kid. I lacked the fiery personality of my brother and sister. I was afraid to make friends and growing up I didn't talk to anyone except those closest to me, to the point that I was nearly held back twice: once in kindergarten and again in first grade.
The years of bullying had left me feeling different. When I was younger, I blamed myself for it. "You're not manly enough," I often told myself. For years after, I felt the constant need to prove myself to my friends and my family.
I gave up reading and caring about school in general. In my head, sports were the best way to prove my masculinity.
It was soon after these events that I joined my first sports team. Sports were a welcome reprieve, a place to let out my stress and anger, and I excelled in them.
***
"Everyone on the line, it's time to condition." I was 14 years old, and it was my third year playing football. My team was the Falmouth Tide, one of the best teams in the nation. It was a hot and humid day in August — we had only been in full contact practice for a few days. I lined up and waited to hear the whistle blow. "Hwis!" I ran to the finish line and back, at just below a full sprint — I knew there would be a lot of these. This cycle continued for about 15 minutes. Afterward, we got water and took a knee in front of our coach to talk about how practice went.
"Very good day today, gentlemen," he said. My coach was a short and stocky black man. He had facial hair that barely covered his chin, and wore a red polo that read "Falmouth Tide" with a pair of khaki shorts and a red baseball cap. "We've got a lot to improve on before our scrimmage next week, but we're getting there."
I walked toward my position coach. He had light red hair and was short and stocky as well. For an army veteran, he had a weirdly soft voice. His son was on the team too, but he played linebacker, while I was a cornerback. "How did I do today coach?" I asked eagerly. "Very well, Marcus. You're definitely getting better, but I still need you to work on your agility. You're fast, but you have feet like a penguin." He was right — I've been clumsy all my life.
This schedule continued for the next week. We practiced, then conditioned, then talked about what we needed to improve on. We had a tournament scrimmage coming up, and even though I'd played football for a couple years, I still somehow felt intimidated by it. It was a big moment for me. In the back of my head, however, there was always an innate sense that everything I had worked for would come crashing down.
It was a humid August morning. My mom woke me up early and we loaded my equipment into the car and drove toward southern Maryland, where the scrimmage was held. We got to the field early, at about 9:30 a.m., two hours before our tournament was supposed to start. I had time to relax — to quell my fears. My friends showed up after me, and we all sat in a circle for about an hour, exchanging the usual friendly insults and having a good time. But just like that, it was time to warm up before the scrimmage. After our team stretched, the game began.
"Marcus, get out there. Don't screw up."
I ran onto the field and took my position, weak-side cornerback. I looked down the receiver I was supposed to be covering. The play started, he ran at full speed toward me, then past me. My backpedal switched to a dead sprint. I looked back for the ball, instinctively, and I saw it in the air quickly flying toward us. Just then I heard a whistle, and stopped — he didn't. I looked back and saw him sprinting toward the end zone. I knew I had messed up. I turned towards the sidelines and saw my coach walking towards me.
"What the f--- was that Marcus?"
"I heard a whistle," I told him, "I thought the play was dead."
"You're a f--- up," he screamed. "You know that? I can't believe this f------ s---."
I stood back, overwhelmed with emotion. My eyes got heavy, and I turned my face away from him in shame. "I'm a dumbass," I thought.
"Look at me when I'm f------ talking to you, Marcus."
I looked at him again. I was ashamed of messing up, but even more so of crying in front of everyone. I still remember the anger in his face and demeanor. The utter lack of care for how I would've taken it. I was no stranger to constructive criticism; my mother demanded a lot of us growing up. And she was no stranger to telling us when we had messed up. But this was the first time in my life I had ever encountered a man unhinged and unbridled in his anger. I had shown vulnerability in that moment; a mistake of grandiose proportions. I wanted to run far away and hide, but I was forced to stand there and take the full force of his anger.
***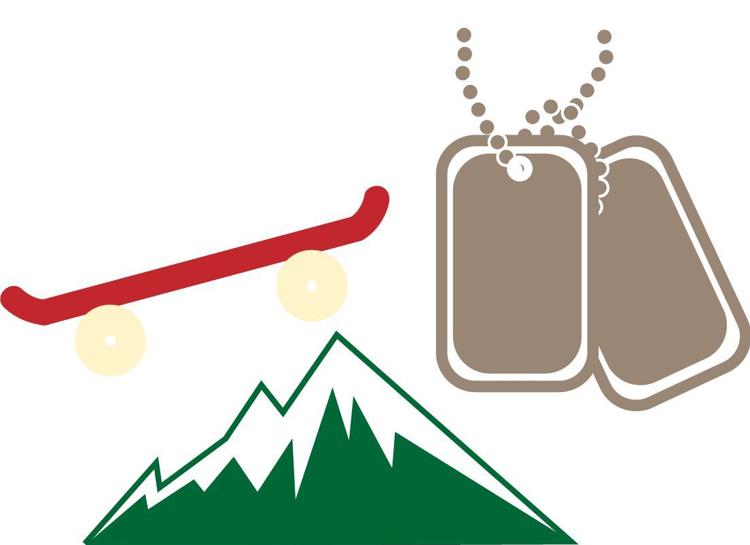 Masculinity is sometimes defined as any characteristic relating to men. I often sit back and try to examine what that really means. Growing up without a father, my view of masculinity was based in part on great men throughout history, such as Theodore Roosevelt and Alexander the Great.
I tried to emulate anyone that I saw as a real "man's man." Some weeks I wanted to be a skateboarder. Some weeks I wanted to be an outdoorsman and other weeks a soldier. I even went through a streak of rampant sexism, attempting to model the masculinity of some of my friends. Bitch. Slut. Whore. These words rolled off my tongue like a marble racing around a wooden track. Sometimes I think back to those days. I ignored the fact that my female friends were doing the same thing all my guy friends were: Navigating our ever-growing and more complex lives. To say I once thought like this hurts; looking back, I feel ashamed of what I said, and any anguish that I may have caused them.
During all this time I never fully grasped who I was, or what masculinity meant to me. I was simply looking for a way to be someone I was not. Like many kids my age, I went through several "phases," a movie cliche that had come to life. Some days it was a camo-wearing redneck, other days it was a goth kid, all in search of a meaning that I never had. It felt like every day I was doing more soul searching, or putting on masks to hide who I was and what I believed. I was never just me.
***
It was a hot day in early September 2014, one of my first days as a freshman in high school. I was dressed up very well as I walked into my drama class. The chairs were arranged in a circle, and I picked a seat next to an acquaintance of mine. Just then, a girl walked in and sat down across the room from me. She wore a floral skirt and a solid colored shirt. Thick black curls cascaded down her back and contrasted deeply against her golden tan skin. "Wow," I thought.
Several months later, we got paired up together on a group project in the class. The project was a success, but my favorite part was working with her. Soon after, I began texting her. At first, it was under the guise of friendship, though I often flirted with her, sending sarcastic text messages. This went on for months, until one day I finally worked up the courage to ask her out. She said yes.
It was a hot 90-degree day, and extremely muggy. Typical of August in Virginia. My car didn't have air conditioning, so I pulled up to her house with all of my windows rolled down. I walked inside to greet her mother. Naturally, her mother was concerned about her daughter going on her first one-on-one date. I shakily wrote my contact information on a piece of paper and left it with her mother.
We left her house and got in my car. She wore jean shorts and an orange top; and her hair was braided into two pigtails. She didn't wear a lot of makeup: a bit of mascara and maybe a small amount of blush. Small beads of sweat formed on her forehead. After a 20 minute drive, we pulled into the sugar shack in Fredericksburg. I ordered a plain donut and an iced coffee, she chose one with a lavender topping, the top of it swirled purple. We sat outside in the shade on the bench in front of the store. We talked for about an hour, nothing important, simply enjoying each others time.
I looked around and spied a little antique store built into a converted house.
"Wanna go inside?" she said.
"Yes!"
We walked around the store for about two hours. Each of the four floors had something more to offer. The items were interesting, but I was more interested in the girl standing next to me.
We left the store; we had planned on getting ice cream but she had to be home for a dentist appointment. I pulled back up to her house, walked her to her door and said goodbye when she went inside. I walked away with a cheesy grin that wouldn't leave my face for hours afterwards.
Our relationship was, in one word, incredible. Arguments between us were rare. And there was nothing I loved more than watching Disney movies while cuddling with her on the couch in her basement on weekend nights. She was always open and honest with me — she could effectively communicate whatever was bothering her. I always loved how she was so utterly trusting of me. But sadly, I could never fully reciprocate. My entire life, I've always felt terrified to let people in — afraid that no one would ever love me if they knew "the real me." I always kept her at an arm's length, close but never close enough. She knew me, but she didn't know everything there was to know about me.
***
It feels like I was always taught to keep my feelings away. Masculinity, I was always taught, was tied to being emotionless. Men don't show outward affection. Men don't have feelings.
My entire life I never thought I would ever be forced to be emotional. It was my first real relationship. For months afterward I reflected on what exactly drove me to break up with her. At first I couldn't pinpoint it — it was only recently that I realized why: my own failure to be vulnerable and adequately communicate what my feelings toward her were. I was never fully open and honest with her. Close, but never close enough.
The idea of vulnerability had never crossed my mind. It seemed that for my entire life I got by with shallow friendships and shallow relationships. I never had to open up to anyone.
My first year of college has been one of extraordinary growth and self-discovery, one where I believe I've truly begun to find myself, and to define what masculinity means to me. The journey has been long and arduous and has forced me to examine myself and my past under a microscope. For my entire life I have always felt inadequate, even if in high school I seemingly was perfect; class president, 4.0 GPA, captain of two sports teams. But deep down I was always unhappy — an existential dread always reared its ugly head. Perhaps it stemmed from bullying in my younger days that always left me feeling like less of man. However, after taking this journey, I realized the only way I was ever going to feel like a man was to define masculinity for myself. So I looked back, on events like the ones told above that shaped me into the man I am today.
I've come to find that defining masculinity for a population of billions of people is not only impossible, but disingenuous. Men are not a monolith — we number in the billions and come from all walks of life. Still, a man not only can, but should define masculinity for himself. For years I spent living out the ideas of masculinity from other men, emulating both good and bad traits from them. Now, however, I define it for myself and only myself. To me, a man is sensitive; he is confident; he is strong; he is humble. Four traits that seem simple, but mean so much.
A man is sensitive and empathetic to the suffering of those around him, recognizing that at any point he could be in the same situation as a less fortunate person. He isn't afraid to cry and show vulnerability to his friends and loved ones. A man is confident, confident in his ability to do his work and to do it well. He does not stress nor change his personality depending on the people around him. He knows that another person's opinion of him does not matter. A man is strong, perhaps not in the physical sense, but always in the emotional sense. He recognizes that life is difficult, and will at times be extremely difficult, but he rises to the occasion and meets all challenges head-on. Finally, a man is humble. He recognizes that any success he has can easily be taken away from him; he also knows that any success he has had he also owes to the people who helped him when he had nothing.
In defining masculinity for myself, I have been forced to realize that I have a very long way to go, as any of my friends can tell you about my confidence or humility. However, I tend to think a good measure of a person is whether they can recognize their own faults, and work toward being the best version of themselves.
Recently, in light of the #MeToo movement, we as men have been forced to examine what it really means to be masculine. I often think of the generation before us, the older men we tend to think of as truly being masculine. Older men often seem to be the perfect scapegoats for toxic masculinity while simultaneously being looked upon as pillars of real masculinity. However, when we look deeper, we are shown a starkly different story. Suicide rates among middle-aged men are the highest in the country, perhaps due to the failure to live up to their own standards of masculinity. Now more than ever, it is time men defined masculinity for themselves rather than by societal standards.
I often think back to the stories I told in this reflection of my years on earth. I now realize that although they hurt to think about, I needed to make those mistakes and deal with the pain to really understand the idea of masculinity. Being bullied emasculated me, it took my childhood world and turned it upside down. Perhaps this allowed me to build myself back up. To learn how to adequately deal with my feelings, I needed my football coach to belittle me. To learn how to see and confront sexism, I needed to come to grips with the sexist ideas I had in the past. And finally, to learn vulnerability, I had to fail with a girl I really cared about.
In making these mistakes, I made myself a man. Life is a long and difficult journey, and it seems I'm only just beginning to understand what it means to be a man. My mistakes hurt, yet I take solace in the fact that by making them, I have not only made myself better, but I can teach the younger boys in my family the lessons I've learned.