Have you ever read a piece in the Collegiate Times with which you wholeheartedly disagree? Us too.
As journalists, we periodically come across ideas and concepts that conflict with our own. In a time when the news media is often criticized for partisan bias, journalists have to work harder than ever to maintain a healthy balance between welcoming open discourse while still rejecting potentially distasteful ideas. These might include, but are not limited to, speech that exhibits overtly racist or homophobic tones.
When a newspaper publishes an opinions piece, the staff is not endorsing the author's ideas or perspective, it is simply providing the author with a platform to express his or her opinion on a topic. These pieces, however, are not a free-for-all: Freedom of the press does not extend to libelous or defamatory speech, and we are bound by law to uphold ethical journalistic practices. As members of the editorial staff, it is our responsibility to separate ourselves from our own biases and abide by these standards.
It is no secret that the media has faced heavy criticism in the digital age. Members of the media have even been categorized by President Dona…
At the Collegiate Times, we try to include as many perspectives and opinions as possible in the paper, although we do sometimes fall short of where we would like to be. We usually refuse to publish a story only if we cannot remove the problematic parts of it without significantly changing the writer's intent or voice. The piece could be in that state because the story is not factual, the story is defamatory or libelous in nature or we believe that the story has the potential to cause serious harm to students.
These circumstances are rare, even when we disagree strongly with a story.
In fact, very few of the stories that appear in the paper have the unanimous approval of the staff. The only exception is staff editorials, which are written by the Editorial Board (the managing editors, opinions editors and editor in chief). Traditionally, we do seek unanimous approval by all editors. This piece is one of those few where we have all agreed on the opinions it contains.
An important factor is the type of article one is reading, especially in the opinions section. It would be inappropriate for a news reporter to insert their personal bias into a story, but for a column, that is expected. And the stances that can be taken in a column, which contain the opinion of a single writer, are different than those in an editorial, which must be approved by a number of different editors.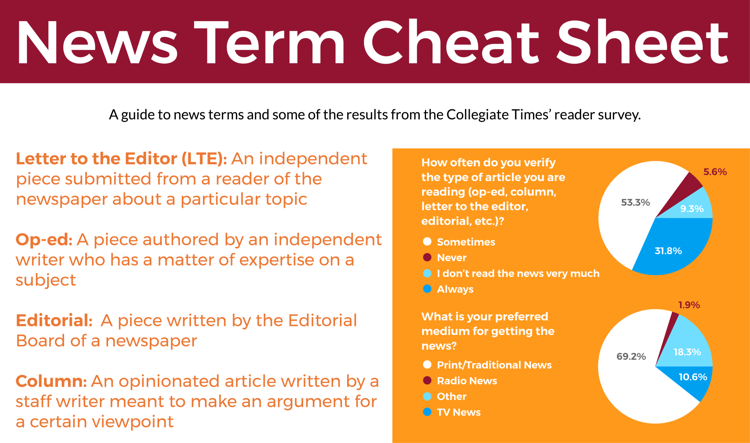 We at the Collegiate Times work together as a team to ensure that we are providing our readers with factually accurate, thoughtful pieces. Our editing process might entail anything from a heated debate over the use of a specific word to collaborating with a writer to strengthen his or her argument. We partake in this process not only to show our writers in their best light, but also to preserve the integrity of our publication.
As journalists, we revere the power of the written word, the truth and open discourse. In order to uphold these values, we do not silence our writers (even those with whom we disagree). We have the support of over a dozen very talented columnists and take pride in giving them the autonomy they deserve in their work. However, as journalists, we also revere the power of our readers, and we encourage you to speak up.
If you read an opinions piece with which you disagree — or agree — we implore you to write a letter to the editor in response. If you are a student at Virginia Tech, we encourage you to become part of our writing staff.
So the next time you come across an article online or in print that makes you feel angry, inspired, challenged, enlightened, the list goes on, know that you have a platform on which you can respond — and you should use it.
Letters to the editor can be sent to opinionseditor@collegiatetimes.com.