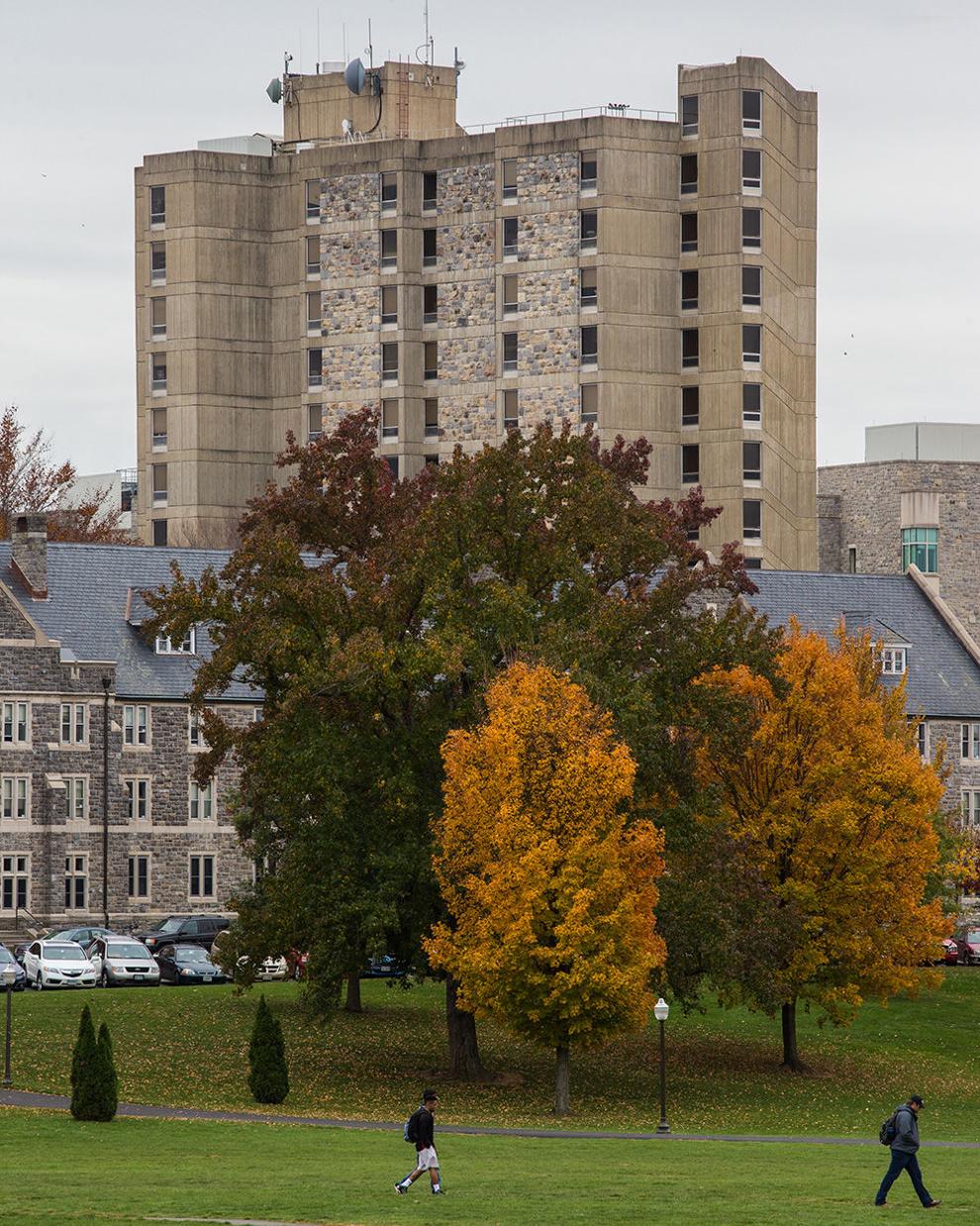 The prospect of dorm life can be near the top of the list of things to stress about for an incoming freshman at any university. Whether you are living with a high school friend, a Facebook meetup or an absolute stranger, nothing can quite prepare you for the drastic change from your home to a small dorm among hundreds of your fellow students. However, with the right preparation and mindset, you can make the best out of whichever dorm you are assigned to.
In most cases, a freshman will be assigned to any of the various traditional-style rooms, but there is also a chance you will be placed in a suite-style room. Most traditional-style rooms are all about the same size, with many options such as to lofting your beds to create more space. Take some time to Google the best ways to loft your beds to fit your living needs.
Below is a brief description of the possible dorms you may find yourself in this upcoming year, along with their more common titles among the Tech student body:
Traditional-style rooms: 
Ambler Johnston Hall (West AJ/East AJ) — East Ambler Johnston houses approximately 300 Honors College students and is home to the Honors Residential Commons and features limited ability hotel and suite-style rooms. West Ambler Johnston is home to over 800 residents of varying grade levels and academic majors and has limited suite-style rooms for returning residents. Nearly everyone who lives in West AJ has to apply to the Residential College at West Ambler Johnston, which is the living-learning community centered in that residence. Take a look around while staying here during orientation, and take special note of how cool it is with the air conditioning pumping. If you find yourself placed in West AJ, you should be happy to know that you have AC, quality dorms and excellent proximity to West End, D2 and McComas Hall.
Barringer Hall — One of the few all-male dorms on campus, Barringer is a residence hall located on the southeast side of campus. Despite a lack of AC, Barringer Hall will surely be a place where lifelong friends are made. As far as location, you can't beat living right next to Chick-fil-A, Squires Student Center, University Bookstore and Newman Library. 
Campbell Hall — Campbell Hall is broken into two sections: East Campbell for female residents only and Main Campbell for coed graduate students.. Campbell Hall gives you great access to all of the activities on the Drillfield while allowing residents to live among other honors students.
Eggleston Hall (East Egg, Main Egg, West Egg) — Eggleston Hall is a coed residence hall located on the corner of the Drillfield and directly across the street from Newman Library that splits into three wings (east, main and west). East Egg contains office space on the first floor and residential space on the second and third floors.  Main Egg and West Egg are known for housing members of the Virginia Tech Corps of Cadets for the past several years. However, no cadets will be housed in them this year thanks to Pearson Hall and New Cadet Hall opening. Altogether, Eggleston Hall is home to 215 students.  As far as location goes, the Eggs may be some of the best on campus in terms of access to classrooms, Squires Student Center, student life, bus stops and much more.
Johnson Hall — Johnson Hall is a relatively small dorm that houses 108 female residents. Along with its lively atmosphere, Johnson is located conveniently near Owens Dining Hall and Hokie Grill, as well as multiple residence hall quads.
Lee Hall­­ — Lee Hall is a coed residence hall that primarily hosts students in the Galileo Engineering Learning Community and Biological and Life Sciences Learning Community. In addition, Lee is home to inVenTs living-learning community, which is home to various interactive communities focused on bringing together students to explore their ability to create the future. InVenTs is split into four communities: Galileo, Da Vinci, Hypatia and Curie. The goal is for students from science, engineering and other disciplines to interact and learn from one another.  Residents of Lee Hall are sure to enjoy the easy access to Cassell Coliseum, Prairie Quad and the view of Virginia Tech from the tallest point in Blacksburg.
Miles Hall — Miles is an all-male dorm that holds 217 residents. Residents can enjoy the recently renovated bathrooms, as well as the interconnectedness among its residents due to a small number of RAs.
Newman Hall — Newman houses approximately 275 students in a coed dorm. This hall hosts several living-learning communities designed to bring together students from all backgrounds and promote working together in discovering career opportunities.
O'Shaughnessy Hall (O'Shag) — O'Shag is a coed dorm that houses 341 residents. In the past, O' Shag has lacked in air conditioning and cleanliness. However, the residence will be closed for the upcoming year for renovations that will fix those issues. O'Shag is set to reopen in August of 2018 and will house the Residential Leadership Community.
Pritchard Hall — As one of the largest dorms at Virginia Tech, Pritchard holds over 1,000 residents. This residence is home of multiple living-learning communities such as Thrive, Innovate and Students Engaging and Responding through Volunteer Experiences (SERVE).
Slusher Hall — Slusher is broken up into Slusher Tower and Slusher Wing. Slusher Wing holds 300 male and female residents, while the tower is home to about 330 male and female residents. At an amazing twelve stories high, Slusher Tower will definitely give you stories to tell for years.
Vawter Hall — Vawter is a coed dorm that hosts about 350 residents. Its odd Z-like floor plan sets it apart from other dorms, while its location near Squires Student Center, Newman Library and Hokie Grill is coveted by many Hokies.
Pearson Hall and New Cadet Hall (yet to be named)  — Pearson Hall is one of the few residence halls on campus that was built for and occupied by the Virginia Tech Corps of Cadets. Opened back in 2015, the hall is one of the newest and most polished buildings on campus. Its twin building (yet to be named) will be opening in the fall of 2017. Both buildings are coed and traditional-style residence halls with shared floor bathrooms, TV lounges and study lounges.
Suite-style rooms:
New Residence Hall East (New Res) — New Res is an air-conditioned, coed dorm for mostly upper-class and transfer students. However, with a little luck, you may find yourself living in New Res as a freshman just like yours truly. New Res offers great lounges for studying and hall events, as well as a solid location in the middle of everything on campus.
Peddrew-Yates Hall (PY) —  Peddrew-Yates is the sister dorm to New Residence Hall East, and it hosts 219 coed residents. Peddrew-Yates is considered by many as the nicest dorm on campus.
Payne Hall — Payne is home to 209 coed residents. While the bulk of the residence hall is suite-style, there are traditional-style rooms on the fourth floor. Most of the students who live there are upperclassmen and transfer students. Payne is home to the Residential Leadership Community program (RLC), which is a themed housing leadership program in which students study and apply leadership concepts while living in a cohort environment. Residents can  live in a suite-style living space that features either two rooms that share a common living room and bathroom or three rooms that share a common living room and bathroom.
Cochrane Hall  — Conveniently connected to the West End Market dining facility, students that live in Cochrane will always be close to some of the best food Virginia Tech has to offer. The residence hall is home to 333 coed students and features four-bedroom suites.
Hillcrest Hall  — Hillcrest houses 108 coed students. In this suite-style hall, every two rooms share a bathroom, except for a few rooms that have private baths. The residence hall has housed scholarship athletes and graduate students in the past, but it is now home to the Honors College and the Hillcrest Community, which is a four-year, live-in residential honors program.
Harper Hall  — Harper is the focal point for Virginia Tech's international community, as it serves about 2,800 international undergraduate and graduate students, faculty and scholars by providing a range of educational, social and cultural programs. The suite-style building offers either two or three rooms that share a common living room and bathroom. A total of 249 coed students call Harper Hall their home.
Hotel-style rooms:
New Hall West  —  This residence is part of the Summit Community and houses 260 coed upperclassmen and transfer students. The first floor features an administrative office for staff, but upstairs you'll find hotel-style double-occupancy rooms with private bathrooms. Each hall has study lounges, TV lounges, a community kitchen and air conditioning.
Whether you land the suite-style dorm you've been hoping for or find yourself in one of the larger traditional-style dorms, the key to dorm life is being approachable and friendly to those around you. Simply keeping your door open during the day or starting a conversation with someone coming in the door can go a long way toward creating a community that you love living in. The horrors of dorm life are not as bad as you think, and there is a high likelihood that you will meet at least one lifelong friend in your freshman dorm. Be open-minded and make the best of your first year in the dorms; it is an experience you will never forget!
Editor's Note: A previous version of this article stated that Corps of Cadets students are housed in Eggleston Hall. This has been clarified; although they have been for several years now, cadets will not live in the building this year because of the opening of New Cadet Hall.