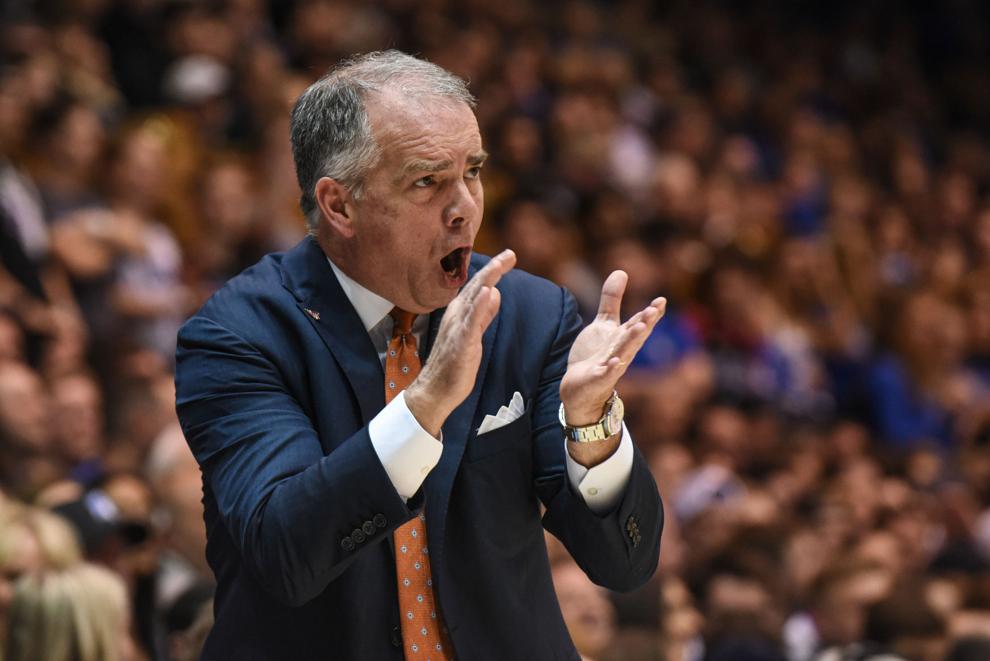 Virginia Tech's basketball head coach, Mike Young, has become such a well-recognized figure around campus that it's hard to remember he has yet to coach a complete season with the Hokies.
With things getting back to normal and the number of athletes being placed into COVID-19 protocols dwindling in all sports, it will be interesting to see what Young can do in what will most likely be his first uninterrupted season in Blacksburg.
For the time being, let's take a look back at what Young has been up to in his first two seasons.
Recruiting
While Virginia Tech has never been the hottest landing spot for top commits, Young and his staff have certainly managed to attract some intriguing talent.
Among the recognizable names recruited by Young's staff are four-star recruits Jalen Cone, Joe Bamisile and Darius Maddox. While Cone and Bamisile have since moved on to other schools after serving as key bench players for the team, Maddox will be expected to take on a higher workload after a promising offseason.
Furthermore, Young has used recruitment as a way to poach talent from his old team at Wofford College. This talent includes junior guard Hunter Cattoor and redshirt senior forward Keve Aluma, both of whom were key contributors to last year's team and will continue to be in the coming season.
Young has also made excellent use of the transfer portal to fill holes on the roster. Along with the aforementioned Aluma, Young has brought in former Delaware forward Justyn Mutts, who has since become a regular in the Hokies' starting lineup. Additionally, Young gained a former four-star center from Clemson in the form of Lynn Kidd this past offseason.
Finally, the Hokies earned a commitment from four-star combo guard recruit Rodney Rice who — if he does end up following through on his commitment — would be the third-highest-rated recruit the Hokies have ever had. Needless to say, Young has improved the Hokies' ability to draw in talent.
On-Court Product
Young is an offensive-minded head coach whose scheme is heavily predicated on off-ball movement to find open shots on the perimeter or even the occasional driving lane.
The growing pains of implementing a new system like this were seen in full during Young's first season, as the team sat at 182nd in the nation for offensive efficiency. The team also didn't do much on the other end of the floor as they could only manage 149th for defensive efficiency.
Luckily for the Hokies, Young came back in his second season with a more cohesive and experienced unit. The team's offensive efficiency rating shot up to 81st in the nation, while their defensive efficiency rose to 106th.
The Hokies' rise in defensive proficiency may have had to do with finally being able to play the 6-foot-9 Aluma at center after his transfer, but regardless, the team improved on both sides of the floor.
Results?
Young's first two seasons at the helm for the Hokies have led to an overall record of 31–23. The team failed to make the NCAA Tournament in Young's first season after losing eight of their last 10 games, and his second season was ended in the first round of the tournament by the Florida Gators.
These may seem like underwhelming outcomes for a team that had made the Sweet 16 in the season prior to Young's arrival, but it's important to notice that things haven't been easy for Young.
The team lost a lot of key veteran pieces from that aforementioned Sweet 16 team, leaving Young and the Hokies to pick up the pieces with a roster that lacked experience. This makes the disappointing 16–16 record the team had by season's end seem a little more reasonable.
Furthermore, the team was much improved in 2020–21, but issues regarding COVID-19 protocols ate away a large chunk of their season. From Feb. 7 to their first ACC tournament game on March 11, the Hokies only managed to play two games.
Who is to say the team could have gotten a higher seed in the tournament had it played the rest of its season and upheld its momentum? Who is to say the team would have played better in March as a result of staying active through the final month of the season?
We may never know what would have actually happened, but there are too many questions to put Young at complete fault.
Young has a chance in 2021–22 to play a full season with a team he has essentially built from the ground up. The eyes of Hokie fans, as well as the nation, will be watching to see what he can make of this chance.