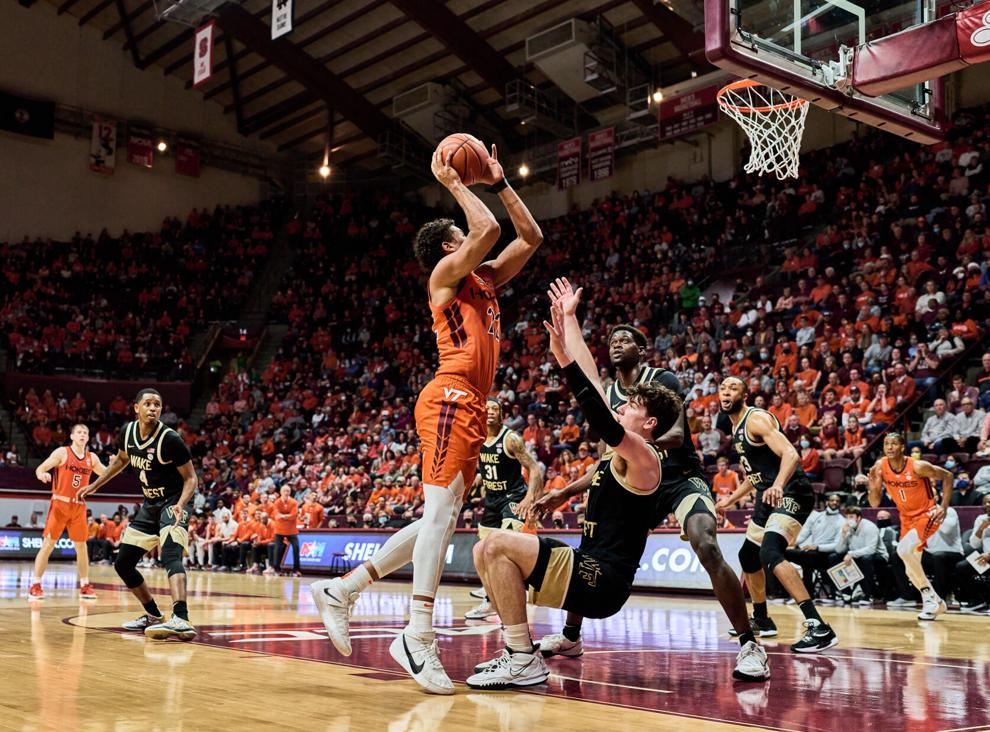 The Virginia Tech Hokies (6–3, 0–1 ACC) took on the Wake Forest Demon Deacons (8–1, 1–0 ACC) on Saturday, Dec. 4, for the ACC season opener.
Wake Forest opened the game up by sinking a three-pointer as the student section sang the opening lyrics to "Enter Sandman." Keve Aluma had back-to-back 3-pointers to cut Wake Forest's lead at the start. Wake Forest's man defense worked for it throughout the first period. After going scoreless for a few minutes halfway into the first period, the Hokies were able to tighten their defense and have a few momentum points to cut the Demon Deacons' lead to four points.
The Hokies mainly performed well deep inside the paint and on the 3-point line. Aluma was the anchor of the team for points in the first period, where he had 18 of the 34 points. The game went into halftime at 38–34 with Wake Forest leading.
The second half of the game had tighter defending from the Hokies; however, the Demon Deacons continued to carry their lead throughout the second period. As tension increased between the two teams, so did the defensive play. Virginia Tech struggled from the start of the game to come back from being down against Wake Forest and lost 80–61. Aluma and Justyn Mutts notably scored 38 of the 61 total points.
"They just played better than we did," said Storm Murphy about Wake Forest's performance. "It felt like we were playing catch-up."
Head coach Mike Young followed up Murphy afterwards and also described the struggle of being down all game.
"I thought we were playing catch-up all night and not catching up in terms of scoreboard, catching up in terms of guarding them," Young said.
While Virginia Tech battled against Wake Forest, they were unable to tie the game and gain a lead. The Hokies will face off against Cornell in Cassell Coliseum at 9 p.m.