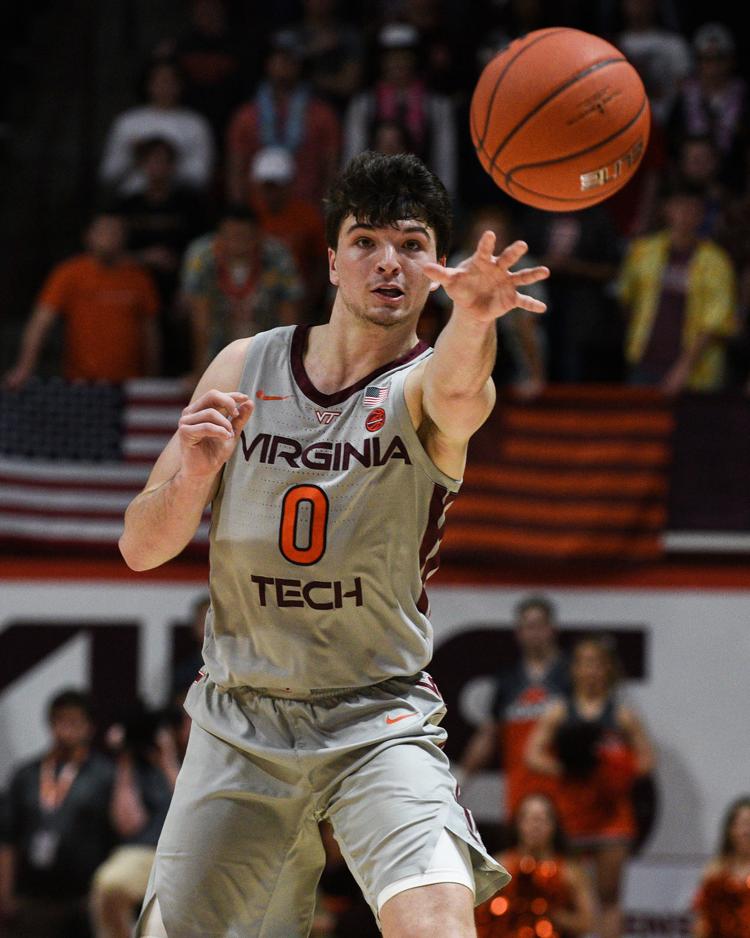 Non conference play continued this week. Only one team had a bad loss, and that team finds itself at the bottom of the conference.
The championship hopefuls
1. Louisville: 2-0 last week
The Cardinals continue to handle lesser competition. Jordan Nwora's shooting is a revelation, 56% on 4.5 attempts a game, and Darius Perry is making a name for himself as one of the best playmakers in the ACC. A move into the No. 2 spot in the AP Poll was well deserved.
This week: vs. South Carolina Upstate, vs. Akron
2. Duke: 2-0 last week
Tre Jones is carrying the Blue Devils on both ends of the floor, and the three freshman starters are playing well off of him. His ability as a playmaker and defender is being compounded by a newfound aggressiveness that is leading to more scoring for the sophomore. If he keeps this up, Coach K.'s boys will be just fine.
This week: vs. Cal
3. North Carolina: 1-0 last week
Most times down the court, you know who is scoring when UNC has the ball, it's Cole Anthony. The volume is unbelievable for the freshman, but the scoring may not be sustainable, as his inefficiencies are beginning to show. The Tar Heels' point guards are taking 21 shots per game and only shooting at a 36% clip inside the 3-point line.
This week: vs. Elon
4. UVA: 1-0 last week
We've heard this story before. This team is all defense, and no offense. If the Cavaliers can't get an offensive flow going before ACC play, their stifling ability won't matter much against the athleticism of the conference.
This week: vs. Columbia
Good, but not great
4. Notre Dame: 2-0 last week
John Mooney is back. After scoring only 20 points through his first two games, the senior got back on track with scoring nights of 18 and 28 points. If he can keep it up, the two-way play of this team is dangerous.
This week: vs. Presbyterian, vs. Toledo
5. Syracuse: 2-0 last week
Elijah Hughes has to be more efficient. This team is a mini UVA and he is the key. The Orange has talent, but it also has a lot of young pieces. Hughes is the star, and he has to step up.
This week: vs. Cornell, vs. Bucknell
6. Georgia Tech: 1-0 last week
Michael Devoe is having fun out there. The smooth scoring sophomore is doing his thing for the Yellow Jackets, while averaging 22 points per game. Georgia Tech has a fun matchup against freshman phenomenon Anthony Edwards and the in-state rival Georgia this week.
This week: vs. Georgia
7. Florida State: 1-0 last week
The Seminoles better get their act together in the next few weeks or they're going to struggle. They had a real scare against Western Carolina this week. The veterans on this team need to get the team in check, or a spiral is coming.
This week: vs. Chattanooga, vs. Saint Francis
Teams with Real Upside
8. Pittsburgh: 1-1 last week
The Panthers are in trouble. Not many expected them to beat West Virginia, but only putting up 53 points is unacceptable. The win over Florida State a week ago showed their upside, but upside has to be translated into consistency.
This week: vs. Arkansas Pine Bluff
9. N.C. State: 2-0 last week
C.J. Bryce is leading one of the most fun offenses in the country. The Wolfpack has scored at least 81 points in every game this season, and I see that continuing until at least the end of the month. As previously stated, if the defense gets on track this team has a shot.
This week: vs. Alcorn State, vs. Little Rock
10. Miami: 2-0 this week
Miami is bouncing back nicely from the loss against Louisville, with two wins this week. The Hurricanes play well on both ends of the floor. Unfortunately, Miami is still looking for a star to lead this team.
This week: vs. Missouri State
11. Virginia Tech: 2-0 last week
The Hokies may have found their identity. The offense runs through Landers Nolley, who's averaging 22.8 points per game. Outside of him, it's just a group of young guys hustling, and it's a lot of fun to watch
This week: vs. Delaware State
The bad teams
12. Boston College: 1-1 last week
Boston College hit its high and low on defense this week, giving up only 33 points to High Point but then turning around and allowing Belmont to drop 100. The Eagles need to find their place. If not, it is going to be a long season.
This week: vs. Eastern Washington, vs. DePaul
13. Clemson: 1-0 last week
87 points against Detroit is a good start. This team needs more consistency, though. A matchup with TCU this week should be revealing.
This week: vs. Alabama A&M, vs. TCU
14. Wake Forest: 1-1 this week
Wake Forest is outright bad. They can't win games against anyone, not even the University of Charlotte. It's looking to be a long, hard season for the Demon Deacons.
This week: vs. Davidson