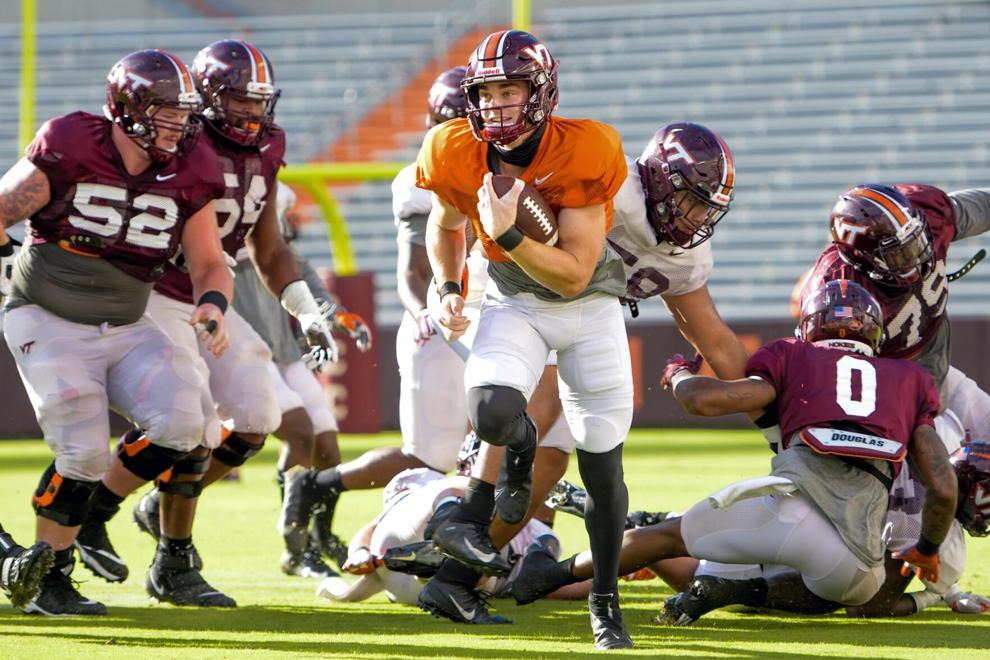 Unlike the last few seasons, the Hokies will go into the 2021 season with a clear starting quarterback in Braxton Burmeister. After transferring from Oregon in 2019 and battling for playing time throughout 2020, Burmeister did not face much competition for the starting quarterback role after Hendon Hooker and Quincy Patterson II transferred from Virginia Tech.
Last season, Burmeister started the first three games because then-starter Hooker was sidelined due to a health issue. For the most part, Burmeister struggled to begin the season. Across these three games, he completed only 23 passes on 50 attempts, for a lackluster 46% completion percentage. Burmeister was benched when Hooker returned from COVID-19 and he was further sidelined with a foot injury that kept him out until December.
Burmeister returned against Clemson on Dec. 5 and looked like a different quarterback. It appeared that the time on the sidelines did him well and he looked much more confident and collected in his return. Although the Hokies were routed by Clemson, Burmeister impressed by completing 10 of his 12 passing attempts in his short time on the field. But he saved his best performance for the next week in the Commonwealth Cup. Burmeister led the Hokies to a big win over UVA, completing 15 of 22 attempts and passing for 212 yards and a touchdown.
After a slow start to the season, Burmeister flashed his potential in the last two games. He has good arm strength and deep ball ability as well as dual-threat ground speed. Burmeister's big play potential is evident and was showcased last season. Although he was struggling with consistency, he had at least a 45-plus yard pass play in four of his five games last season.
Burmeister's biggest struggles have been injuries and consistency. If he can stay on the field and refine his accuracy in the short- and mid-range passing game, he may be able to lead the Hokies to an impressive season and become the quarterback that Justin Fuente has been looking for since he became head coach.
Hokie fans are hopeful that Burmeister can be the solution to the quarterback situation that has plagued Virginia Tech for the last few years. The season opener against No. 10 North Carolina will be a big stage for Burmeister and the Hokies to show what they can do this season.