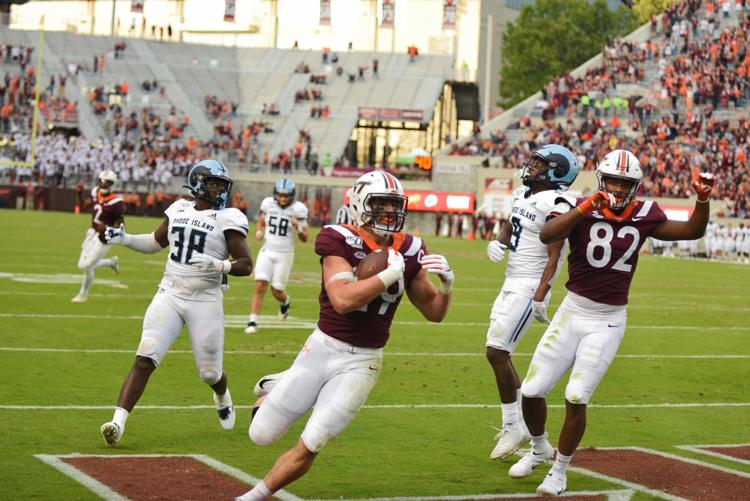 On Friday, the New England Patriots drafted former Virginia Tech tight end Dalton Keene with the 101st pick of the 2020 NFL Draft. The selection restarted a streak of Virginia Tech players being drafted after no Hokies were selected in 2019.
"We picked Keene, Virginia Tech. Kind of an interesting guy, your underclassman. (Keene) really played essentially from day one, a three-year starter," said Director of Player Personnel for the Patriots Nick Caserio in a conference call on Friday. "(The Patriots) really had to kind of search for some things with him on tape. He took advantage of his opportunities. A couple of things that stood out were just some of his catch-and-run type plays. Good size, 6-foot-4 and change, 255, 260. Fairly athletic, tough kid, smart kid. Was asked to do a number of different things in their offense."
Keene, a 6-foot-4-inch, 253-pound tight end played in 10 games for Virginia Tech last season and caught 21 passes for 240 yards and five touchdowns. His versatility, yards after catch ability and blocking effort made him a key part of the Virginia Tech offense. Keene decided to forgo his final year of eligibility in Blacksburg and enter the NFL Draft this year. He seemed excited to get to work in Foxborough.
"Yeah, I mean the level of versatility at Virginia Tech –– I think they tried to do a lot of different things with me," Keene said in his own conference call. "It was awesome that they trusted me to do so many different things and I think it says a lot about how I play and as a football player. That's why I'm so excited that I got picked up by the Patriots because I think they do so many different things with their tight ends and are really creative there. So, I couldn't be happier right now with where I ended up."
The young tight end joins earlier third round selection by New England, UCLA tight end Devin Asiasi, in what figures to be a powerful one-two punch at tight end. The 257-pound Asiasi figures to be a downfield option for the Patriots and brings a similar skillset to Keene as a blocker. The Patriots have been known to be frequent users of two tight ends in their offense, pairing legendary tight end Rob Gronkowski with players such as Aaron Hernandez and Martellus Bennett over the years.
Keene seemed very open to working in tandem with Asiasi.
"I'm actually really excited about that because I think we'll complement each other really well. I was actually roommates with him at the Combine so I got a chance to get to know him and he's an awesome guy," Keene said in the conference call. "I'm really excited for him. I think he's going to do a lot of things really well, especially in the passing game. I couldn't be more excited to start to develop our relationship, and I think we're going to do a lot of really good things."
Keene was the only Virginia Tech player drafted over the course of the weekend, but safety Reggie Floyd was signed by the Arizona Cardinals as an undrafted free agent afterwards. Floyd played in all 12 games for the Hokies this past season. As a senior captain, he accounted for 69 tackles and eight pass deflections at strong safety. Floyd figures to fight for a roster spot in training camp this summer.