This week the football team traveled to Tallahassee, Florida, to face the Florida State Seminoles. Here's a review of they did on Saturday.
OFFENSE
Quarterback
Josh Jackson played decently against a talented Florida State defense, completing 16 of 26 passes for 207 yards and two touchdowns. He took care of the football, and had a nice touch on the ball, especially with the fade touchdown to receiver Damon Hazelton. After that, there were many stagnant offensive drives. Jackson would show flashes, but would overall be inaccurate. He will need to improve his game if the Hokies are serious about a run for the division.
Grade: C-
Running backs
Deshawn McClease might be in for a big season. The third-year sophomore ran with speed and toughness for 77 yards on 13 carries, and was a big part of the Hokies' offense. He started early with a huge 21-yard rumble on the first drive, which helped set the Hokies up for a touchdown, and was a consistent runner throughout the game. The other featured back was Steven Peoples, who carried the ball 13 times for 44 yards. He showed some flashes and was a nice change of pace from McClease. The other backs, Terius Wheatley and Jalen Holston, had a combined three carries for 30 yards, with most of that coming from big runs from Wheatley. It was an overall good night for the Virginia Tech backfield.
Grade: B
Wide receivers/Tight Ends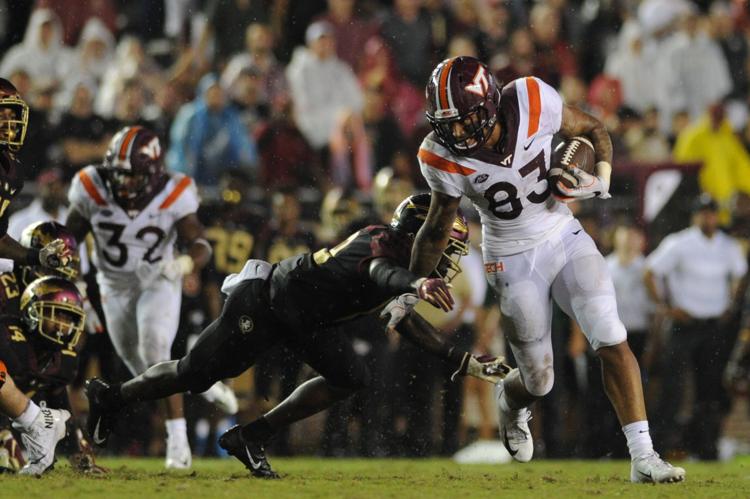 Junior receiver Eric Kumah was the clear standout of the group, catching four passes for 86 yards and a touchdown, and was the one to return the blocked punt for the touchdown. His big play of the night came on a third-and-7, when he came back to the ball, broke a couple tackles and ran 49 yards for the touchdown to seal the game. Other receivers like Hezekiah Grimsley, Tre Turner, Phil Patterson, Hazelton and Sean Savoy all had solid nights as well. Tight end Chris Cunningham didn't do much on offense, but was the one to block the punt on special teams.
Grade: B-
Offensive Line
The offensive line had a tough task going into the game, and they handled it sufficiently. The group blocked well, allowing for McClease and Peoples to have big nights, but struggled a bit in pass blocking, where Jackson was sacked three times and was hurried twice. Overall, it wasn't a bad game, but there is room for improvement.
Grade: C
DEFENSE
Defensive Line
Outside of the 85-yard run from Florida State running back Cam Akers, an All-ACC caliber back, the defense held him to -3 rushing yards. Most of the credit goes to this D-line led by senior Ricky Walker. They collapsed the pocket, putting a lot of pressure on QB Deondre Francois and the running backs, and did not allow the Florida State offense to get going at all. The most impressive player was Trevon Hill, who had two sacks and three tackles for a loss. Very good performance.
Grade: A-
Linebackers
The loss of Tremaine Edmunds and Andrew Motuapuaka did not show last night in the linebacking corps. Dylan Rivers and Rayshard Ashby, both sophomores, were all over the field making plays. Ashby made a particularly nice play early, when he sniffed out the screen and sailed past blockers to make a tackle for a loss on Akers. He was also in on the play later that drive that forced a Florida State fumble. This will be an exciting group to watch the rest of the year.
Grade: A-
Secondary
This group was the biggest question mark going into the game, with so many new players starting. There are no questions now, as the group forced three interceptions off Francois, two of them going to Caleb Farley. They did give up 233 passing yards, leading to some long drives, but they played tight coverage all night, and made tackles when they needed to.
Grade: B+
Special Teams
Oscar Bradburn for MVP? It was him who kept pinning Florida State inside its 15 many times, which allowed Bud Foster and the defense to do their thing and put pressure on the Seminoles. Beamerball also made a return as Cunningham was able to shake some blockers and block the punt, leading to a touchdown. Best special teams performance in a long time for the Hokies.
Grade: A+