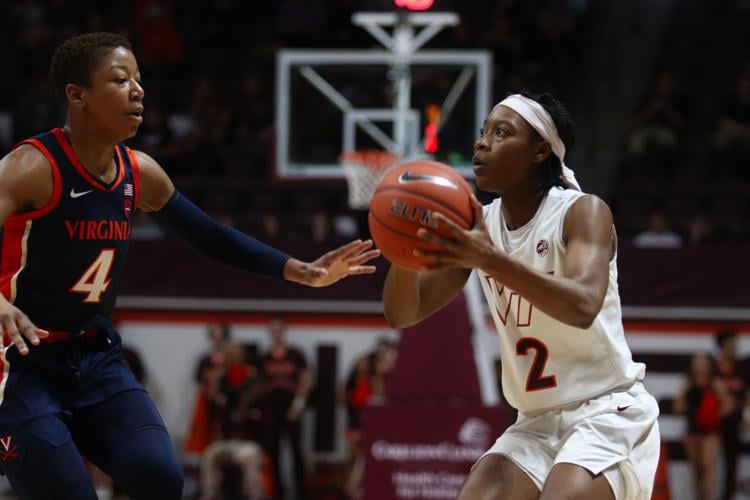 The women's basketball hosted Virginia for the second Commonwealth Clash of the season on senior day, Feb. 23. The first matchup in Charlottesville, Virginia, resulted in a 69-61 win for the Hokies, and they looked to repeat the same result.
After a hard-fought game, Virginia Tech fell just short of a win and season sweep of UVA. The final score was 76-86.
Coach Kenny Brooks and Aisha Sheppard noted post-game that the team never established a rhythm throughout the game.
Sheppard was a positive take away in the loss, though. She had 32 points, making eight 3-pointers, shot 45.5% from the field and was perfect on the free throw line.
"We can't just rely on one person in order to be successful. We need everyone," Brooks said.
The first quarter of play was not strong for Tech; it was not able to take advantage of its possessions. The Hokies had repeated bad pass turnovers and Taja Cole racked up two fouls early and hit the bench. Numerous fouls were called on Tech that the fans, the bench and coaches were not fond of.
"We made countless mental mistakes," Brooks said.
Sheppard was on her game shooting-wise, though. She had three 3-pointers in the first 10 minutes of play, but she also contributed three turnovers. UVA was shooting strong as well; it made 71.4% of its field goals in the first quarter. Virginia Tech was down nine going into the second quarter.
A few solid defensive efforts from the Hokies got the momentum going late in the second quarter as they were able to turn defense into offense. Virginia Tech was starting to get favorable foul calls and made six shots on the line. The score was 40-45 heading into halftime, UVA on top.
A 3-pointer from Sheppard in the third quarter was quick to make it a one-possession game. UVA always had an answer, though, and the Hokies weren't able to tie the game until Sheppard hit another 3-pointer at the buzzer. The score was 64-64 with 10 minutes to play.
The shots were not falling for the Hokies in the fourth quarter, but they were for UVA. Still down with 50 seconds left, Virginia Tech started to foul. The Cavaliers hit three shots at the line, and Tech could not pull any clutch baskets.
"We're still in the position we want to be in, we just dropped one today," Sheppard said.
Women's basketball has its next game in Blacksburg against Duke on Feb. 27. On Jan. 12, the Hokies fell to Duke in overtime.