Whether you're packing into Lane Stadium with 66,000 other Virginia Tech fans or simply walking across campus, the Maroon and Orange Effect shirts are essential items for any Hokie's wardrobe.
The Maroon and Orange Effect T-shirts only come in handy for games a few times a year in Blacksburg, but it is certainly a favorite amongst students.
Every year, the Virginia Tech Student Government Association holds a contest for students to design the Effect shirts for the upcoming sports seasons.
The Maroon and Orange Effect events are football games in which all Tech fans going to the game wear the same color. Lane Stadium is then one solid color, thus giving a maroon or orange effect. This makes the Tech home stadium an even more daunting atmosphere for visiting teams.
Over the years at Tech, every Hokie has their favorite edition of the Effect shirts that they wear the most or believe bring good luck to the teams. Collecting the shirts over the years is a fun way to remember  your time at Virginia Tech.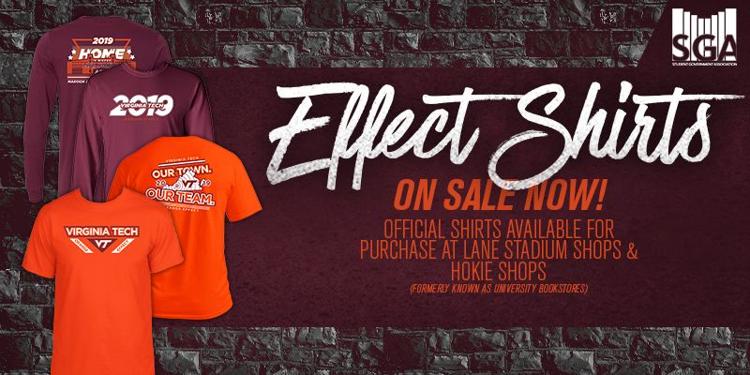 The Orange Effect will take  place on Sep. 14 against Furman in Virginia Tech's third game of the season. This will likely be a noon kickoff, so the short-sleeved shirt should be appropriate for the weather.
 In the following week's game against the Duke Blue Devils, a White Effect will take place at Lane Stadium. The White Effect is a relatively new add-on to the Maroon and Orange Effects and has become another student favorite  over the years.
 This year's Maroon Effect game is the homecoming game against North Carolina on Oct. 19. Since the game is later in the fall, the Maroon Effect t-shirt is a long sleeve this season.
When it comes to basketball season, any of the Maroon and Orange Effect shirts are good choices to wear to games. Recently, the men's and women's basketball teams have started blackouts and whiteouts. These games usually take place against big-time ACC opponents at Cassell Coliseum.
The shirts are inexpensive and sell out quickly at the bookstore and Dietrick convenience store. That being said, incoming freshmen should secure their shirts at orientation or as soon as they move in. The Maroon and Orange Effects are a tradition like no other and the shirts are an excellent way to show school spirit around campus.
Editor's note: This article was updated on 7/14 to accurately reflect the longevity of Virginia Tech's "Effect" traditions.