With seniors Kennedy Bryan and Kenedy McGrath graduating and Kyra Coundourides, a rising junior, transferring to Temple University, it opened up some roster spots for head coach Chris Riley's Virginia Tech volleyball squad.
Returning players include Lindsey Owens (senior), Amanda McKinzie (senior), Katie Krueger (senior), Stacey Christy (r-junior), Ashley Battle (r-junior), Rhana Mitchell (junior), Cara Cunningham (junior), Briana Lanktree (r-sophomore), Rhegan Mitchell (r-sophomore), Jaila Tolbert (sophomore), Alex Toben (sophomore) and Haley Price (sophomore).
Owens and Tolbert earned All-ACC honors last season for the Hokies. Owens, an outside-hitter, tallied her 1,000th career kill, while Tolbert, a middle-blocker, added versatility on the volleyball court for Coach Riley.
The Hokies also have some new faces being added to their squad.
Freshman Gaby Senties, a Texas native, will enter the Hokies' roster as a setter. Senties won district championships with United High School during her junior and senior years.
Novato, California, outside hitter Carol Raffety is another addition to the squad.
"Carol Raffety is a really great ball-control player who we're looking to make an immediate impact on our team," head coach Chris Riley said. "We're hoping she can bring a consistent level of serve-receive and the ability to play on the outside. We're really looking forward to her consistency coming in."
Mandy Powers, a transfer from the University of North Carolina Asheville, is a northern Virginia native and played high school volleyball at Loudoun County High School in Leesburg, Virginia. The setter sat out at UNC Asheville last season due to transfer rules, but will be available this coming season to play for the Hokies. Powers tallied 219 assists in 61 sets in 2014, in addition to racking up 66 digs that season.
International recruit Camila de Freitas Maluf is a native of Sao Paolo, Brazil, and played volleyball for Esporte Club Pinheiros before coming to Virginia Tech.
"Camila brings us a wealth of international experience and the ability to contribute immediately as an opposite hitter," Riley said. "She will be able to hit and block very well in our league. We're looking forward to having Camila as a part of our family for the next four years."
Kelly Esch is a transfer from Louisiana State University and played in one match her freshman year and was redshirted during her sophomore season. The Williamsburg native currently holds the Jamestown High School record with 1,048 kills in her career. Esch is a right-side hitter/middle-blocker.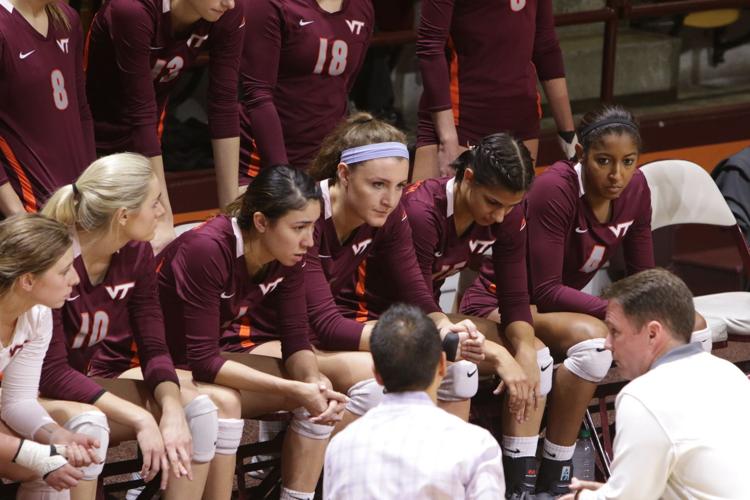 Melody Caloyannides is a freshman outside-hitter from Reston, Virginia. Caloyannides will major in engineering in addition to playing volleyball at Virginia Tech. The northern Virginia native is a three-time all-conference selection and was co-captain of her high school team her senior year while breaking the South Lakes High School kills record during her senior year.
The final addition to the Virginia Tech volleyball team has a connection to the team as we speak. Abby McKinzie, younger sister of soon-to-be senior Amanda McKinzie, will join the Virginia Tech volleyball family as a freshman. Abby is a setter/defensive specialist from East Leroy, Michigan. McKinzie was a captain of her high school team her junior and senior seasons and played on three state championship teams.
These additions give head coach Chris Riley an interesting puzzle to put together but also shows the versatility that exists within the squad. As it stands now, the mainstays look to be Lindsey Owens, Jaila Tolbert, Amanda McKinzie, Rhegan Mitchell and Ashley Battle.