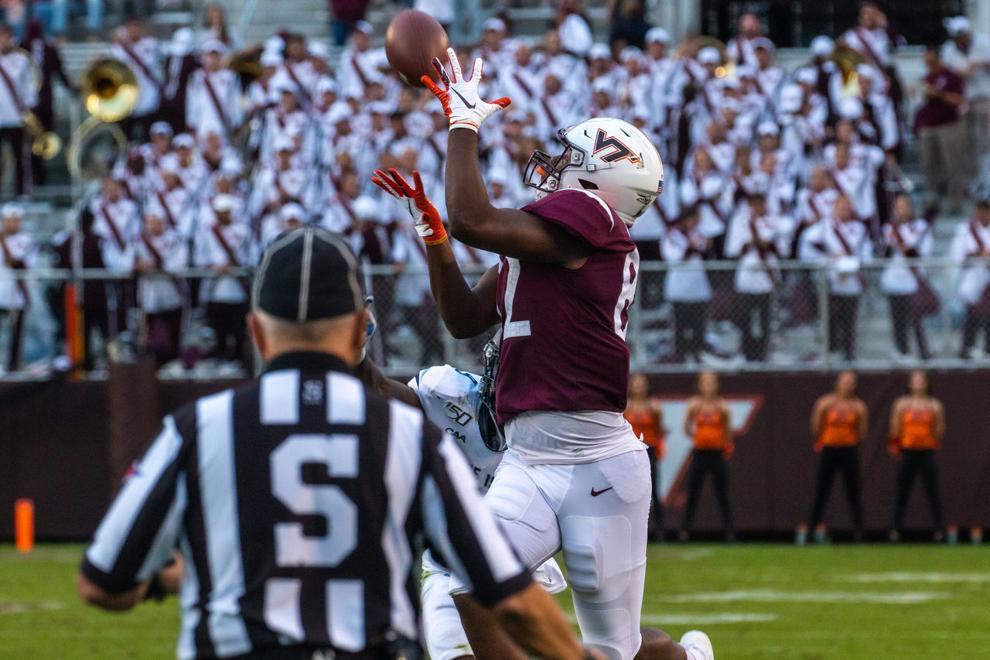 This Saturday, four Hokies saw their dreams come true during the annual NFL draft. This year's draft was held in Las Vegas, with round 1 on Thursday night, round 2 on Friday night and finally, round 3 on Saturday afternoon. The four Hokies selected had to wait until Saturday for their turn, but the thrill was all the same to be finding out where they would be getting the opportunity to compete this fall.
The first Virginia Tech player taken in the draft was James Mitchell, a tight end selected at No. 177 overall by the Detroit Lions. Mitchell will join T.J. Hockenson in Detroit and will provide a nice complement to the receiving skill set of Hockenson.
Since Mitchell has value as a blocker and receiver, he will look to make an impact early in the year for this rebuilding Detroit offense. The only concern is his ACL tear back during the 2021 season in the Virginia Tech vs. Middle Tennessee game where he left with the injury in the second quarter. Being as he is about seven months post-surgery, the Lions are beyond optimistic Mitchell will be able to fully contribute when the preseason rolls around.
The next Hokie who saw his name come off the board was Amaré Barno. Barno was selected No. 189 overall and went to the Carolina Panthers. This pick was an easy one for the Panthers as the team needed some more depth in their defensive roster and Barno looks to fit right into the Panthers' defensive style of play.
Barno is an athlete at the defensive end position, plain and simple. He ran the fastest 40-yard dash at his position, not only for the 2022 draft class but for all defensive linemen since 2003, clocking in at a blazing 4.36 seconds. At 6-foot-6 and 245 pounds, this speed is simply unheard of for an edge rusher. Barno might have a unique journey in the league, as preliminary thoughts are that the Panthers drafted him to develop into a linebacker. So, while Barno works in camp to make the transition from edge rusher, what he played at Virginia Tech, to linebacker, the Panthers do have his natural speed and agility to make an immediate impact for them on special teams.
Luke Tenuta was the next Hokie to go at No. 209 overall. Tenuta was selected by the Buffalo Bills, who got a quality player on their offensive line. The Bills like versatile offensive linemen, and Tenuta certainly fits that bill. He will be able to play on either side of the line, an asset desired by any team looking to protect an elite franchise quarterback, like Josh Allen in Buffalo. Tenuta will look to be a solid backup and may even compete for playing time, depending on how things go for him during training camp and the preseason.
The final drafted Hokie of the 2022 draft was another offensive lineman, Lecitus Smith. The Arizona Cardinals picked Smith N0. 215 overall, finding themselves a quality depth piece to their line as they look to keep Kyler Murray healthy in the long run. Smith played left guard in college, but will likely serve as a backup on the offensive line at first. The Cardinals will rotate him around in training camp to try and find an ideal spot for him while also still allowing him to be in the competition for left guard.
There are some Hokies who didn't hear their names called in the draft, but are still finding themselves with an opportunity to make an impact in the league. Perhaps the most notable Hokie who didn't hear his name on Saturday and perhaps expected to is wide receiver Tré Turner. This year's wide receiver class was just so deep that Turner was overlooked in the drafting process. But he was quickly scooped up by the Vikings and now has a chip on his shoulder to compete in training camp to earn a slot on the roster.
Another big name that Hokie fans will recognize is beloved kicker John Parker Romo, who signed with the New Orleans Saints on Saturday. Parker Romo was not expecting to hear his name called, being a special teams ace, so he is thrilled to get the chance to perhaps compete with Wil Lutz to be the starting kicker for the Saints or have an impressive preseason showing and be signed elsewhere for the season.
Raheem Blackshear is the next Hokie who had the prospect to be drafted but ended up being signed to the Buffalo Bills as a running back after being undrafted. He looks to fight for a roster spot with his elusive running ability and receiving abilities.
Brock Hoffman went to the Cleveland Browns in free agency. Hoffman adds some quality offensive line depth and will compete with an already established line. Jordan Williams signed with the Miami Dolphins, who gained another defensive lineman.
While more Hokies could perhaps be signed in the coming weeks, the biggest prospects have found their landing places for this coming season and now look ahead to mini camp and the impending fight to earn a spot on the roster.