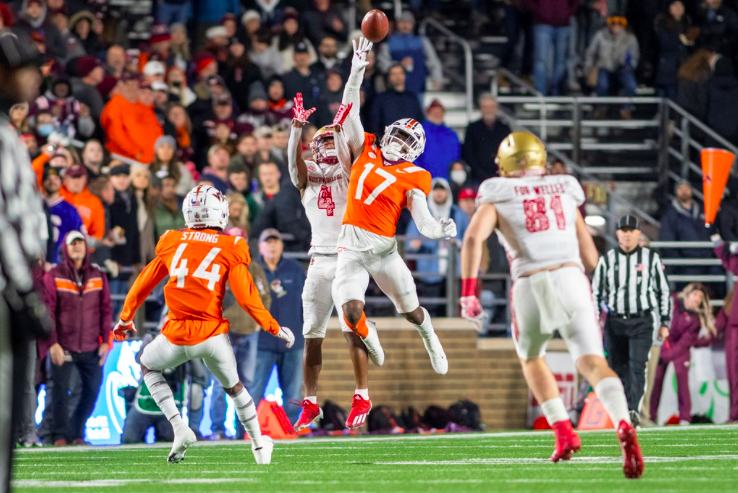 Offense
Quarterbacks: D+
With quarterback Braxton Burmeister exiting the game in the second with a rib injury, an already-limited Virginia Tech passing attack turned to redshirt freshman Knox Kadum to run the offense.
Kadum completed 7/16 pass attempts for 73 yards and no touchdowns, good for a quarterback rating of 20.9. In the first half, Kadum mustered only one completion on six throws for 3 yards.
"It's my job as second string to be ready no matter what circumstances are and just go and compete and execute at a high level with the offense," Kadum said. "And I feel like at least in the first half, I didn't do that."
Circumstances weren't ideal without the Hokies' top pass catcher, Tré Turner, but it still felt like a step back for the passing game that made strides in the previous two weeks.
Running Backs: B
The Virginia Tech rushing attack was led by freshman standout Malachi Thomas and Raheem Blackshear, who both had solid days in a run-dominant offensive game plan.
Thomas gained 70 yards on 13 carries, while Blackshear added 67 yards on 12 carries of his own, good for 5.4 yards per carry and 5.6 yards per carry, respectively.
Despite the success on the ground, the lack of a passing attack kept Virginia Tech out of the end zone for the entire game.
Wide Receivers/Tight Ends: C
There were only three pass catchers on Friday night for the Hokies: receiver Tayvion Robinson, tight end Nick Gallo and running back Blackshear.
With junior Turner being ruled out before game time due to an injury suffered against Georgia Tech, the lack of depth at the wide receiver position showed against the Eagles.
Freshman Da'Wain Lofton and redshirt sophomore Kaleb Smith received heightened roles due to Turner's injury, but neither recorded a catch.
With the Hokies driving in the Boston College red zone with 14 minutes left in the game, Robinson fumbled after a two-yard completion by Kadum, shutting the door on a possible comeback.
Offensive Line: B+
The Virginia Tech offensive front held strong against the Boston College defense, allowing only one sack in the game and creating holes for Thomas and Blackshear throughout. Redshirt junior center Brock Hoffman had to be carted off the field late due to a lower body injury, but overall, it was not a bad day in the office for the offensive line.
Defense
Defensive Line: C-
The Virginia Tech defensive line had to be shocked to find out minutes before the game that it would be facing NFL prospect Phil Jurkovec in his first start since week two of the season.
Jurkovec completed seven out of 13 passes for 112 yards, but the Eagles' run game put the Hokies away late. Jurkovec rushed for 65 yards and scored a touchdown on nine attempts, while starting running back Pat Garwo III rushed for 116 yards and recorded a score of his own.
Virginia Tech's edge rushers were unable to record a sack on Friday, while Norell Pollard and Jordan Williams combined for two tackles for loss.
Linebackers: C+
Dax Hollifield played alongside redshirt sophomore Keshon Artis for a majority of Friday's contest. Hollifield was tied for the team lead in tackles with 10, while Artis recorded two tackles and a tackle-for-loss.
Despite flying around the field and making plays, Hollifield and Artis were unable to slow down the Boston College run game as the Hokies' second line of defense.
Defensive Backs: B-
Missed opportunities and some unfortunate luck prevented the Virginia Tech cornerbacks and safeties from having an excellent game.
On the first drive of the game for Boston College, Dorian Strong picked off a bad pass by Jurkovec, but fumbled on the return, giving the Eagles a first down 22 yards up the field.
Then, early in the second quarter on third and 11, safety Tae Daley made a nice pass break up beyond the first down marker, but the ball ricocheted into the hands of an Eagles pass catcher, setting up a fourth and one that Boston College converted.
Despite the mishaps, the Virginia Tech defensive backs only surrendered 112 passing yards and were very active in the tackling department. Daley, Chamarri Conner, Nasir Peoples and Jermaine Waller were all top five on the team in tackles, with Daley and Peoples each recording a tackle for loss.