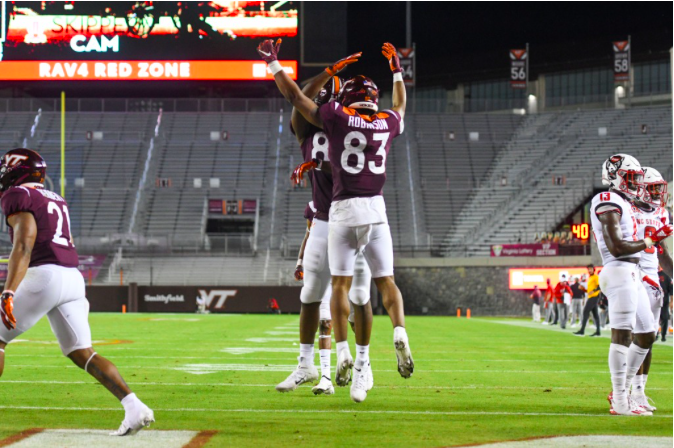 After the clock runs down and the game is reviewed, the sports section of the Collegiate Times likes to take a closer look into how Virginia Tech football played and analyze each position's performance. Similar to a school report card, grades are assigned for both offensive and defensive positions based on execution against their opponent.
Offense
Quarterbacks: B+
Virginia Tech entered this game with a perplexing situation at this position. Hendon Hooker, the team's projected starter, was revealed to be one of the 23 players for Tech that would not be taking the field due to COVID-19 protocols. This left Oregeon transfer Braxton Burmeister as the starter with redshirt sophomore Quincy Patterson as his backup. Burmeister displayed his prowess in both the passing and running game completing 7 of his 11 passes for 106 yards and rushing nine times for 46 yards. When Burmeister got a cramp in his hand midway through the second quarter, Patterson came in and completed four of his six passes for 75 yards and two touchdowns, and also gathered 47 yards on the ground. Both quarterbacks played efficiently and refrained from committing costly turnovers.
Running Backs: A
The crux of the Hokies' offensive game plan was the rushing attack, and it showed. An important player to highlight is Khalil Herbert, the graduate transfer from Kansas who made the most of his Virginia Tech debut with 104 yards on six carries. One of those carries by Herbert was a 37-yard dash to the endzone that featured a few broken tackles. In addition, Raheem Blackshear and Jalen Holston combined for 70 more yards to contribute to the 314 total yards that the Hokies gained on the ground during the game.
Wide Receivers/Tight Ends: B
Despite only making nine catches in total, the receiving core played a nice role in keeping the Hokies' drives alive. Tight end James Mitchell led the way with 68 receiving yards with a touchdown, while wide receiver Tayvion Robinson gathered 40 yards to go with a touchdown of his own. Furthermore, the Hokies continued to utilize Tré Turner in their jet sweep option plays in which he managed to gain 53 yard on just two carries.
Offensive Line: B+
The Hokies were very fortunate to welcome back an offensive line full of seasoned veterans this season. The experience of these linemen seems to be proving useful as they had no problem opening up run lanes and being dominant at the line of scrimmage all game long. Despite giving up two sacks and five tackles for losses, the offensive line proved itself to be a strength of the offense in this early season matchup.
Defense
Defensive Line: A-
The defensive line had a great season opener for Virginia Tech. The Hokies racked up six sacks on the night, led by defensive end Justus Reed with two sacks. The defensive line put solid pressure on the N.C. State quarterbacks who combined for a dismal negative 40 rushing yards. While N.C. State finished the night with two rushing touchdowns, the defensive line kept them in check throughout the game and limited the Wolfpack to 139 total rushing yards.
Linebackers: B+
The linebacking core played a strong game overall. Dax Hollifield and Alan Tisdale led the linebackers with seven tackles apiece. Rayshard Ashby put constant pressure on the N.C. State quarterbacks racking up a sack and two QB hurries on the night. The linebackers also helped limit long runs, holding N.C. State's longest rushing attempt to 14 yards.
Defensive Backs: B+
The Virginia Tech secondary also had a strong night, highlighted by interceptions from Divine Deablo and Brion Murray. Deablo's highlight reel interception came early in the first quarter and set up a touchdown for the Hokies. Murray's pick came on the first drive of the third quarter and was returned for 47 yards to set up a field goal. Virginia Tech's secondary was all over N.C. State QB Bailey Hockman to start the game, but it didn't have much of an answer for Devin Leary, who replaced Hockman in the 3rd quarter and completed 12 passes on 16 attempts. Overall, a solid game for the secondary though, allowing only one passing touchdown in a blowout 45-24 victory for the Hokies to start the season.