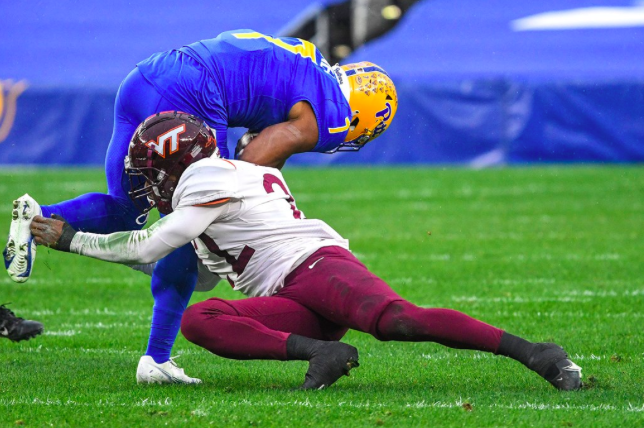 Offense
Quarterbacks: C-
By judging the 14-47 final score, you can predict that Virginia Tech's quarterbacks did not get it going. It seemed as if Hendon Hooker was scrambling and getting sacked left and right, and the dual-threat quarterback only finished the game with 14 yards on the ground. Virginia Tech relies on its rushing attack to win games, and when the running backs and Hooker cannot get it going, the Hokies find themselves in trouble. Hooker, usually a strong passer, only completed 59% of his attempts on Saturday. All the blame should not be placed on him though; receivers and running backs were dropping passes. Quincy Patterson stepped on the field in the second quarter, but did not see much success either. His play consisted of short throws and runs and was not effective in moving the Hokies down the field.
Wide Receivers/Tight Ends: C
Tré Turner was one of the only positives Virginia Tech fans can take away from this game. He totaled 74 receiving yards on just three receptions and scored Tech's only two touchdowns. However, even Turner had a few intolerable dropped passes. Tayvion Robinson ended with 69 yards, the second most for him this season, but his offensive efforts did not translate to any points.
Running Backs: D+
The running backs as a unit have not been performing at the high level it once did at the beginning of the season. A lot of this has to do with Khalil Herbert. He averaged 134 yards throughout the first six games of the season, but has only averaged 40 yards through the last three. Herbert ran for 72 against Pittsburgh. Without Herbert rushing more than 100 yards, Virginia Tech's defense suffers. Fans watched repeated short-gain or no gain plays on the ground. Herbert averaged 8 yards per play, but Hooker was next with 3.8, and Jalen Holston followed with 3.6 yards per rush. In the third quarter, Virginia Tech was set up on Pittsburgh's 1-yard line with four downs, but could not get the ball across the goal line, and Pittsburgh forced a turnover on downs.
Defense
Defensive Line: D
The final score was 47-14 in favor of Pitt, largely due to the Hokies' defense being absent during instrumental moments of play. Three of Pitt's starters on the offensive line were out and Virginia Tech still gave up a season-high 556 yards and allowed Kenny Pickett, Pitt's quarterback, to pass for more than 400 yards. After an uneventful third quarter for the Hokies, in which Pitt outscored them 17-0, the defense incurred a penalty on fourth down which ultimately led to a scoring opportunity for the Panthers. The moment that summed up how the Hokies' defense played was when Pitt was backed up onto its own 1-yard line and, after an incompletion, Pickett beat the defense with three consecutive passes of 10, 25 and 64 yards. A pass to DJ Turner at the end of this sequence moved the score to 33-14 in favor of Pitt. This absolute demolition of the Hokies' defense defined exactly how the line played Saturday.
Linebackers: D
The linebackers allowed the Panthers to be at almost 50% on third and fourth down efficiency. The Hokies were unable to stop Pitt. Virginia Tech was outplayed completely and its defense did not step up at all when it needed to. The Panthers ran past the Hokies effortlessly, as the linebackers could not keep them at bay.
Defensive Backs: D-
The Hokies' defensive backs allowed 404 passing yards. DJ Turner had 15 catches, the most against Virginia Tech's defense since 1987. However, Virginia Tech was playing without two of its cornerbacks, Jermaine Waller and Dorian Strong. Regardless of who was missing for either team, the stats the Hokies' defense put out Saturday were not representative of how this team can and should be performing. The only good thing that came from the Hokies in this position was that Chamarri Conner had an interception.