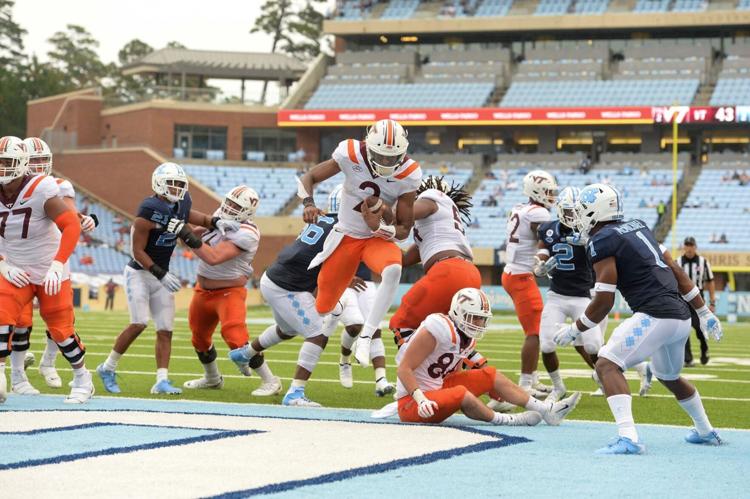 Offense
Quarterbacks: B
Braxton Burmeister got the start against North Carolina but traded possessions with Hendon Hooker until the third quarter, where Hooker took over as the main quarterback. In the time he did play, Burmeister strung together seven completions for 79 yards and added 51 more yards on the ground. Hooker, making his season debut, had a solid outing throwing for 136 yards and scoring three total touchdowns. There were no huge errors made by the quarterbacks, but better throwing accuracy is an opportunity for improvement.
Running Backs: B+
Khalil Herbert continued his impressive play this season with his third consecutive game with more than 100 rushing yards. Herbert finished with 138 rushing yards and two touchdowns, including a 52-yard TD run in the third quarter. Raheem Blackshear and Jalen Holston also combined for 45 yards on the day. Herbert has been the centerpiece of the Virginia Tech offense this season averaging 150 rushing yards per game, and he had another great game against the Tar Heels.
Wide Receivers/Tight Ends: B-
Tight end James Mitchell was a standout player for the Virginia Tech offense. He totaled 103 receiving yards and scored two touchdowns. Tayvion Robinson also had a solid game with 45 yards and a score. The receivers played a solid game other than a couple dropped passes in the first quarter which could have set up early scoring opportunities.
Offensive Line: B+
The offensive line played a very solid game, creating running holes for Herbert and protecting Hooker and Burmeister. They allowed only one sack and three tackles-for-loss to the Tar Heels. Occasionally they allowed pressure to get to the quarterback forcing rushed throws, but overall they did their job well against the North Carolina defense.
Defense
Defensive Line: F
The defensive line didn't provide much if anything in pass rush production as they finished the game with only a sack and two hurries. Sam Howell looked comfortable throughout the game, having ample time to make throws downfield. What was even more troubling is how the defensive line got pushed around in the run game. The unit was gashed over and over again throughout the day, allowing 399 rushing yards for the Tar Heels. A defensive line that looked to have some upside after the first two games of the season really disappointed in this outing.
Linebackers: F
Standout linebacker Rayshard Ashby was made pretty much a non-factor in the run game Saturday as North Carolina was consistently able to scheme him out of plays. Dax Hollifield and Alan Tisdale really struggled throughout the day, missing gap assignments and tackles when they got the opportunity. A group that already had some discipline issues coming into the week looked as bad as ever against North Carolina.
Defensive Backs: F
The secondary struggled mightily on the day, allowing Howell to have an efficient 257 passing yards and three touchdowns. An early ejection for nickel corner Chamarri Conner hurt the unit a lot, and it was all downhill from there. Defensive backs Jermaine Waller, Armani Chatman and Ny'Quee Hawkins all gave up touchdowns, and last week's feel-good-story Tyler Matheny missed numerous tackles. Wide receivers Dyami Brown and Dazz Newsome proved to be way too much for the unit, and it showed in the box score. This group will have to be much better if the Hokies want to continue to be a competitive team in the ACC, and that really goes for the entire defensive side of the ball.