Offense
Quarterback: A+
Ryan Willis was absolutely sensational, delivering one of the best performances of his career against the Herd and throwing four first-half touchdowns to as many receivers. The junior demonstrated an inspired effort to push his team to a sixth win, further establishing himself as the new leader of the Hokies' offense. Willis' stats cement the impressive game he had: Aside from the four TDs, Willis posted 312 passing yards and his season-high raw QBR and completion percentage at 93.2 and 69.2 percent, respectively. Willis also did a great job of surviving in the pocket and avoiding pressure, which especially helped when he found Eric Kumah for six points after fleeing from Marshall's blitz. On a day when every Hokie needed to be dialed in, Ryan Willis was laser-focused.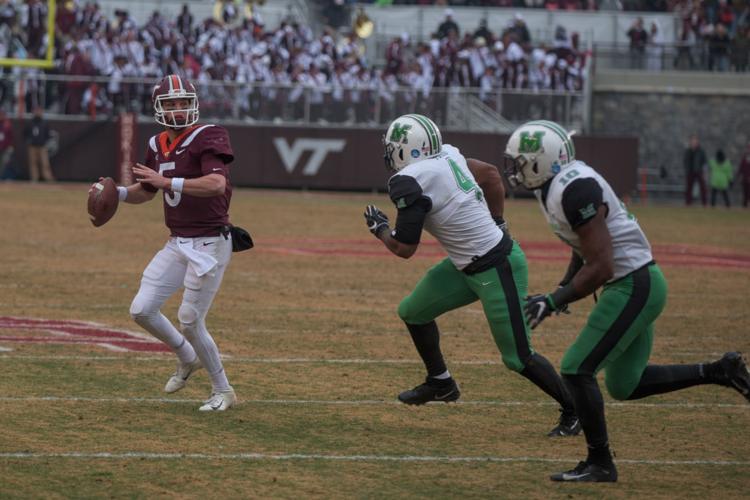 Running backs: A-
Virginia Tech's rushing attack was effective not only in picking up decent yardage, but also in opening things up for Willis to expose the Herd through the air. The running game was just potent enough that Marshall couldn't ignore it, which gave Willis opportunities to strike off play-action and catch the Herd off guard. Steven Peoples, Jalen Holston and Deshawn McClease were commendable for their hard-nosed running, a characteristic of the Hokies' ground game this year. Virginia Tech averaged only 3.7 yards per carry with most of the attempts sent up the middle to try and pound away at the Marshall defensive line. While those plays kept the Herd honest, the Hokies called some more complex runs, which threw off the defense to an impressive degree. Virginia Tech tossed jet sweeps and read options at the Herd, two play types that the Hokies saw quite a lot of in the Pitt and Georgia Tech games — obviously appreciating their effectiveness. Most notably was Holston's 40-yard score, Tech's only second-half touchdown.
Receivers: A-
The Hokies' wideouts and Ryan Willis made life a breeze for each other against Marshall. While Willis slung passes on strings to his receivers, they found great separation and ran their routes with precision. Tech's top four receivers by yardage each snagged catches of over 30 yards, and four different receivers put up TDs as well. Tre Turner stood out as he was just 1 yard away from his first 100-yard receiving game. This dominant performance by the Hokie receiving corps comes without two of the team's best targets, Sean Savoy and Damon Hazelton. (Savoy elected to transfer a few weeks ago, and Hazelton is still recovering from injury and wasn't targeted by Willis.) While the receivers played at a superior level, there were still a few mistakes and tuneups to be made. A few passes that should have been caught were inexplicably dropped, most notably when Hezekiah Grimsley lost hold of what would have been an easy touchdown catch. Apart from the few drops, the receivers were on top of their game against Marshall.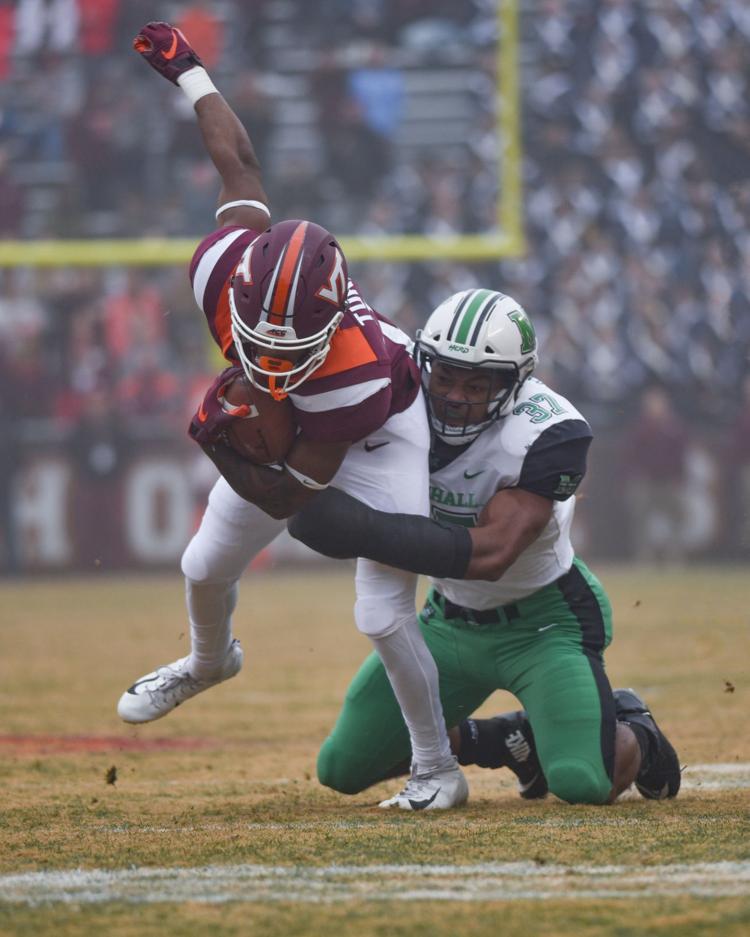 Offensive line: A-
Despite a few occasional lapses, the offensive line played just as well as the other offensive units. Virginia Tech's front seven were effective at giving Willis time to throw, but the linemen couldn't seem to pry apart Marshall's d-line to form any real holes for the Hokie backs to run through. That being said, the Hokies' line did well with protecting the backfield for the most part. Willis was sacked three times and the Herd brought down ball carriers six times for losses of yards, so obviously the o-line has room to improve, but they did a good job overall of providing a foundation for the offense.
Defense
Defensive line: C+
The Hokie defensive line was pretty average on Saturday. The big standout was Ricky Walker, who recorded a strip sack fumble on the first play of the game, and was around the ball all day. The pass rush was adequate, recording only one sack but posting six quarterback hurries. The run defense was pretty porous though, as the line was pushed back constantly and allowed freshman Brenden Knox to pile up 204 yards on the ground.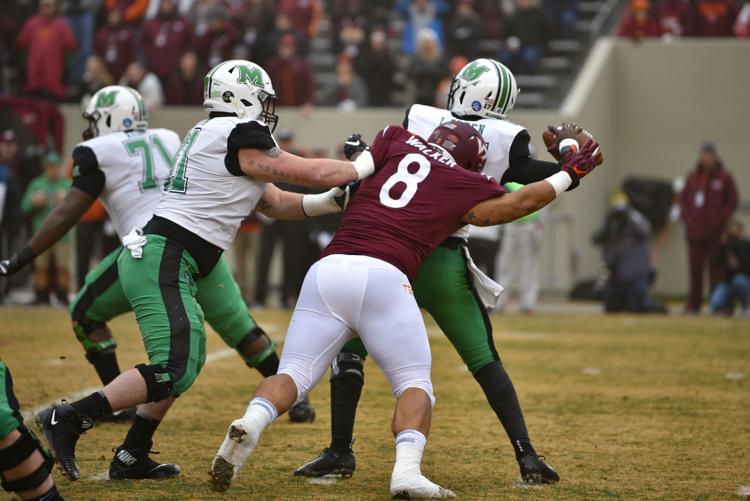 Linebackers: B-
The linebackers did a pretty good job against the Thundering Herd overall, especially Rayshard Ashby, who recorded a career-high 15 tackles in the win. The linebackers did well to fill their gaps, pushing the run to the outside. They were also great in cleanup duty for the defensive line. Maybe the biggest flaw for the group was the fact that they seemingly could not stop tight end Armani Levias, who recorded five catches for 69 yards.
Defensive backs: A-
In maybe their most impressive game since week one, the defensive backs had a great game. Bud Foster deciding to play a Cover 2 Man with safety help over the top worked like a beauty, with Divine Deablo and Reggie Floyd constantly stopping receivers from beating the defense deep. Bryce Watts has looked like a completely new man since he came back from his broken forearm injury, recording an impressive interception in the end zone Saturday. Jovonn Quillen played well in spot duty, and Caleb Farley did a nice job of not getting beat or being overaggressive.