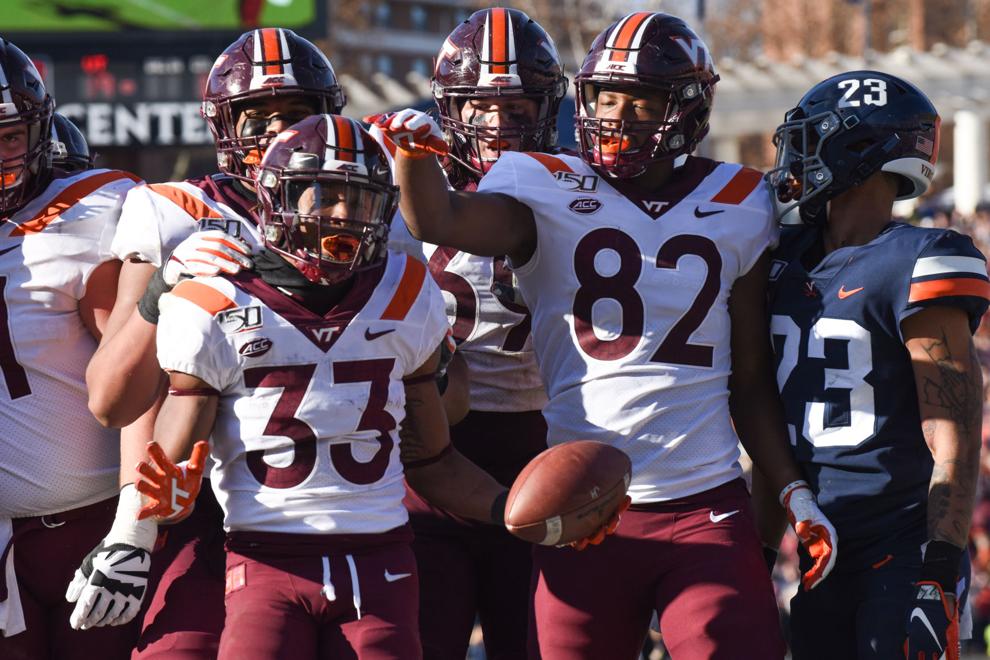 Virginia Tech Football revealed Friday who will serve as the Hokies' captains for the 2021 season ahead of their first game against the University of North Carolina. 
The announcement came via Twitter and included a collage of the five new captains. Among those to receive this honor were No. 1 Chamarri Conner, No. 3 Dax Hollifield, No. 76 Brock Hoffman, No. 79 Tyrell Smith and No. 82 James Mitchell. Each of these players are veterans to the Chicago maroon and burnt orange jerseys.
Chamarri Conner, Defensive Back
Conner was a huge asset to the Hokies in the cornerback position for the 2020 season, leading Tech with a total of 81 tackles, 60 of which were solo. The junior has played a total of 37 games for the Hokies since beginning his college career in 2018, starting in every game since the 2019 season. Conner earned ACC Defensive Back of the Week and the Jim Thorpe Player of the Week Award following his performance last season. Conner seems to be living up to the No. 1 stitched on his jersey and has the potential to take the team far this season.
Dax Hollifield, Linebacker
Coming from Shelby, North Carolina, Hollifield jumped straight into action in 2018 as a freshman at Virginia Tech, starting in six of his 13 appearances on the field. Hollifield followed this up by starting in every game of the 2019 season and came in fifth on the team in tackles with 67. Hollifield put up three interceptions in the same season to close out as fifth in the ACC. Last season he impressed with 13 tackles, a career-high, against Miami. Hollifield will serve as a role model for younger players in his position.
Brock Hoffman, Offensive Lineman
Hoffman was an obvious choice for captaincy after his incredible first season at Virginia Tech. The Hokies led the ACC in rushing yards last season, in part due to his prowess at center. Hoffman raked in the accolades in his debut season with the Hokies, earning 2020 All-ACC Honorable Mention and ACC Offensive Lineman of the Week two times. After seeing what he can motivate this team to do in terms of rushing, Hoffman will be essential to helping the Hokies keep their lead in the ACC statistics books.
Tyrell Smith, Offensive Lineman
Smith is a familiar name to everyone in Hokie Nation as he has been around since 2014. The graduate student is familiar with captaincy as this will be his third consecutive year serving as one. In 2019 he was voted to the position by his teammates, but was unfortunately sidelined after the first four games due to an injury playing against Duke. Last year, he was team captain and competed in 10 of the Hokies' competitions. His primary role last year was with punt coverage. Smith's experience as captain and his history with the Hokies will translate well as he helps lead this squad.
James Mitchell, Tight End
Another junior on the list, Mitchell has played for Tech since the 2018 season. In his initial year with the Hokies, his time on the field was focused on the special teams unit, but he saw his first action in his current position against Marshall. During the 2019 season, Mitchell started in eight of his 13 appearances with the team and was a part of the magical ACC tight end duo with Dalton Keene. Last season he started in nine of his 10 games played and finished the year with 26 receptions for 435 yards. He also led the team in touchdown catches with four. Mitchell was a smart addition to the captaincy list.
The Hokies will hopefully be in good hands with this group leading them. They each bring unique experience to the team and all are well-versed in what it takes to play in Blacksburg. Coming off a very irregular season, their leadership will be needed more than ever as the Hokies head into a highly anticipated season with fans eager to return to Lane Stadium to watch Tech compete at a high level.