With the difference of just a few inches, the tone of this story could have changed drastically. In what ended up being his last game as a Hokie, guard Ahmed Hill had a chance to send the No. 1 overall Duke Blue Devils to overtime, but he was denied by just a few inches and an unlucky roll.
"Justin [Robinson] threw a great pass and I just came up short, and that was about it," Hill said in the post-game press conference. "I wasn't worried about anything. I just tried to get my eyes locked on the rim and it just bounced to the left."
Virginia Tech's miraculous season, in which it set a school record for most wins in school history with 26 and made it to its first Sweet 16 since the NCAA Tournament expanded, came to an end Friday night with a 75–73 loss. It was a heartbreaker for a team that loses three seniors and had a chance to make history for a school not known for its legitimacy in basketball. In all, it was a tough performance from a very tough team.
From the get-go, the Hokies played highly efficient basketball on the offensive end, jumping out to a 15–11 lead after the first half after hitting three of their first five three-point attempts. Threes would end up being the name of the game for Tech as it finished the half shooting 7-of-17 from deep. While Duke hit four threes of its own, three of which came from guard Tre Jones, who only shoots 23 percent from beyond the arc this season, it couldn't keep up with Tech's three-point efficiency.
The first half was a lighting quick scoring clinic on both sides, as both teams shot well from the field. Freshman phenom Zion Williamson had some of his typical mind-blowing highlight reel plays on the court, scoring 11 points and hitting his first three shots, but he was mostly held in check by a committee led by Ty Outlaw. While Outlaw wasn't a threat shooting from the field after missing his only shot attempt on the half, he made a huge impact on the defensive end and was a key reason why Tech was playing so well.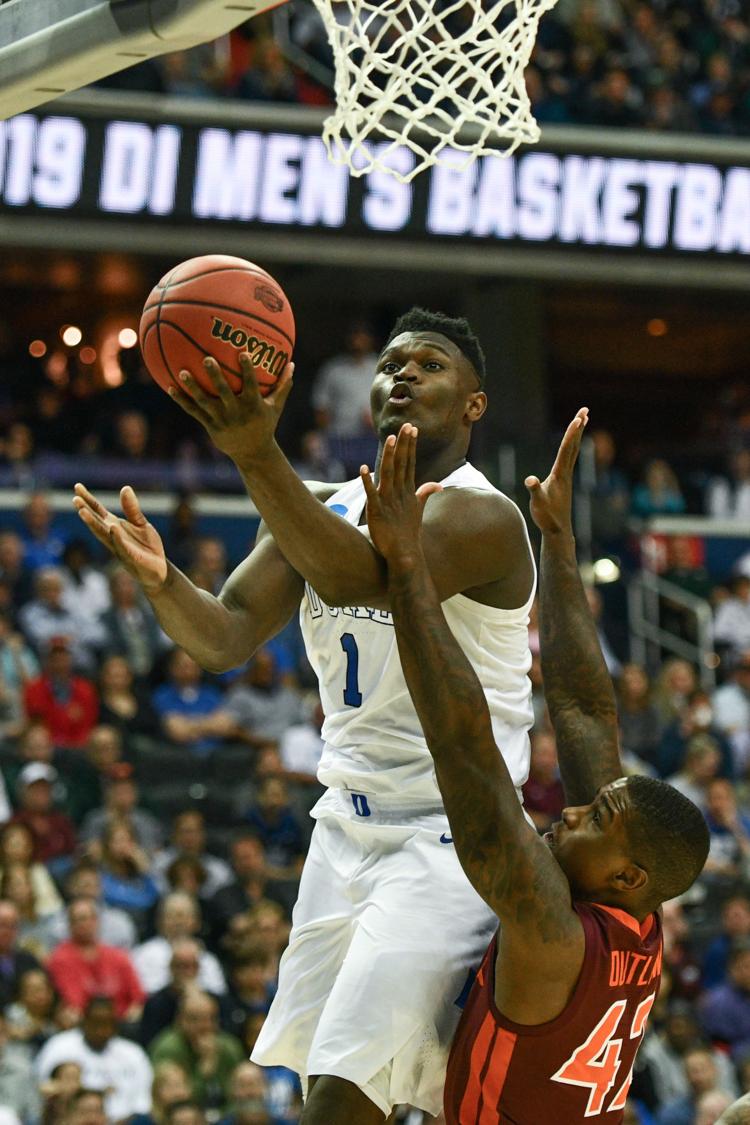 Overall the Hokies played about as good a half as one can expect against the No. 1 overall Blue Devils, defending their star freshmen well and taking advantage of forward Cam Reddish's absence. Reddish's replacement, sophomore Alex O'Connell, was held to just four first-half points that ended up being his only points in the game.
In the second half, Duke came out on fire led by R.J. Barrett, who scored seven of the team's first 10 points in the half; Barrett scored 15 second-half points on 6-of-11 shooting. Duke held the lead and momentum for the majority of the second half, highlighted by a powerful Williamson alley-oop that capped off a 7–0 run with 10:31 left to extend Duke's lead to 58–52.
Tech managed to hang on and keep it close for the remainder of the game, never letting Duke run away with the lead. With 3:51 left in the game, it almost felt as if Duke would ultimately pull away after Jones hit his fifth three of the game and Williamson followed it with a two-handed slam to make the score 77–66. The Hokies managed to keep the game alive with a 7–2 run that gave them an opportunity for the final shot after a missed free throw by Jones to potentially seal the game for the Blue Devils.
The first attempt was a deep 3-pointer from Ty Outlaw that airballed and landed out of bounds, though the Hokies retained possession. The second was the ill-fated pass-in play to Ahmed Hill, one that was an open enough look for Hill to potentially tie the game up and send it to overtime. With the miss came the buzzer and ultimately the end of Virginia Tech's historic season. Though it of course hurts now, head coach Buzz Williams saw that his team got the look they wanted and the performance he was expecting of them.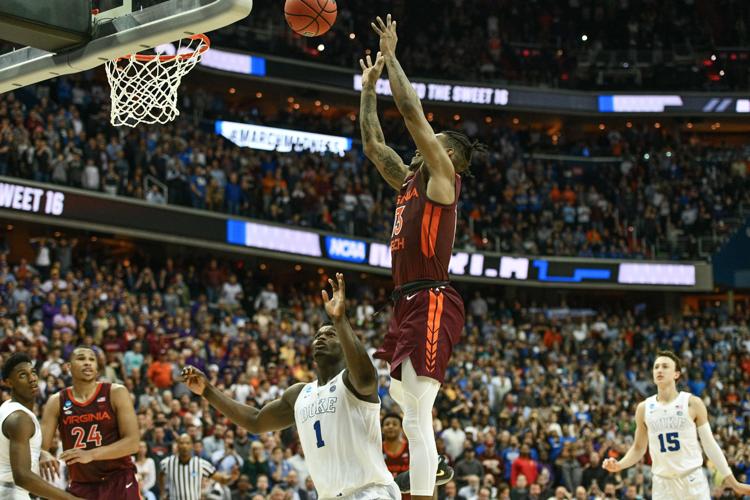 "I thought it was perfect. Ty Outlaw shoots one. (Hill) shoots one. And both passes came from (Robinson). I thought that was perfect," Williams said. "But if we were to replay it again right now, I would call the same exact things, because of my faith and trust in those guys."