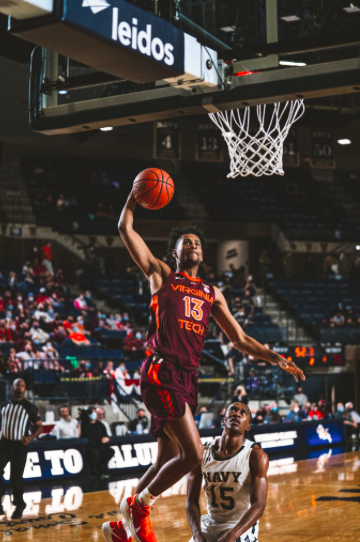 Virginia Tech men's basketball defeated Navy 77–57 to conclude the Veterans Classic on Nov. 12.
The Hokies were led by forward Keve Aluma. The senior had 20 points and six rebounds while shooting a perfect 10–10 at the free-throw line. Junior guard Hunter Cattoor also pitched in with 19 points as he shot 5–7 from 3-point range.
The Hokies started the game strong, hitting their first five shots as they started the game on a 17–4 run. Navy responded with a 11–2 run of its own to cut the lead to seven.
The Hokies shot 50% from the field in the first half and used their efficient shooting to extend their lead throughout the rest of the half. The Hokies led Navy 45–27 at halftime.
The Midshipmen opened the second half on a 12–4 run to cut their deficit to 10, but the Hokies responded with a 9–0 run of their own to keep Navy at bay. The Hokies' hot shooting continued in the second half as they built a huge lead over the Midshipmen and put them away.
The Hokies were also very active defensively. Navy, who shot 52% from 3-point range against UVA on Tuesday, was held to 3–25 shooting from 3-point range.
Head coach Mike Young was happy with his team's effort.
"I knew I had a pretty good team going in. I think I have a pretty good team going out," Young said.
The Hokies moved to 2–0 in the early season and look to continue their success against Radford on Nov. 15 and make their case for a spot in the top 25.