After winning their first game of the season against Clemson, the Hokies returned to Blacksburg for their home opener against the Coppin State Eagles. The first game in Cassell Coliseum this season was a success, as Virginia Tech dominated the entire game and walked away with a 74-42 victory.
Virginia Tech was on fire right out of the gate. Sophomore Isaiah Wilkins and junior P.J. Horne set the tone early for the Hokies with two quick back-to-back threes in the first minute of gameplay. Virginia Tech continued to pour it on throughout the first half, going on an 18-0 run and enjoying a 27-3 lead at one point. The team's defensive prowess was on full display, holding Coppin State to only one made shot through the first 13 minutes of the game. At the half, the Hokies were up 35-12.
Coppin State started the second half by scoring 5 straight points and it looked like they were regaining some hope. As a defensive leader of the team, guard Wabissa Bede made it clear how important it was to not let them get back in the game, telling his teammates, "Don't let up, keep going." After the game, Bede said, "We were slowing down, letting them come back and giving them confidence again." He emphasized the importance of staying on track, saying, "We're a very young team, so focus is a big thing."
The Hokies amped up their intensity and went on to outscore Coppin State 39-30 in the second half and coasted to a 74-42 win. Freshman Nahiem Alleyne was very strong offensively in the second half, scoring 11 of his 18 points and knocking down three three-pointers. Defense was a major reason for this victory, as Coppin State was limited to an abysmal 19.7% shooting from the field.
Virginia Tech has solid scoring distribution, with Nahiem Alleyne, and redshirt freshmen Landers Nolley II and Tyrece Radford all scoring double-digit points. Bede also put up a strong performance, posting nine rebounds, 10 assists and two steals.
This game also proved to be a great opportunity for some young players to gain experience. Head coach Mike Young stressed how crucial it is for players like forward John Ojiako and guard Jalen Cone to get game-time experience. Ojiako and Cone logged 15 and 16 minutes respectively, after only playing 12 minutes combined against Clemson.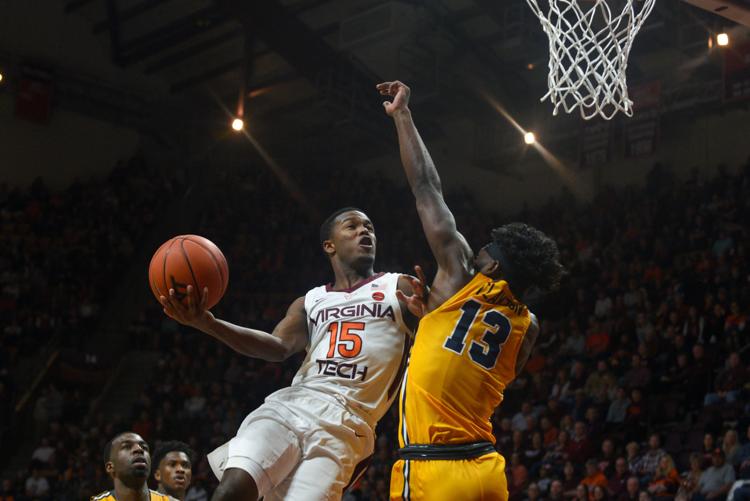 "You can't put a price tag on how valuable that is for him and his development," Young said when referencing Ojiako's time on the court.
Through the first two games this season, Landers Nolley and Nahiem Alleyne have proven to be very effective scorers; while the team definitely does lack experience, the Hokies have put up two impressive outings. As the six freshmen on the roster and the team as a whole become more experienced and comfortable together, the outlook and future for them should only come to be more positive.
Next, the Hokies will continue their four-game home stretch and they will face the University of South Carolina Upstate at 7 p.m. on Wednesday, Nov. 13.