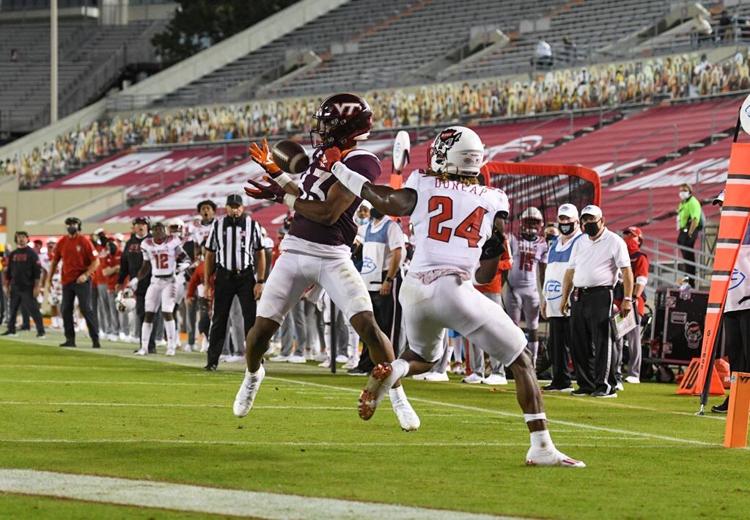 Despite the absence of quarterback Hendon Hooker, the Hokies executed a dominating game against N.C. State with a final score of 45-24. 
Virginia Tech scored 17 points in five minutes during the first to capture the lead early. Khalil Herbert scored the first touchdown for the Hokies after running 37 yards. Barely over a minute later Raheem Blackshear acquired the second for the Hokies from 8 yards out. 
Hooker's QB replacement, Braxton Burmeister, was key for the Hokies in the first. The Oregon transfer completed six of his first seven passes. Tech was able to use this momentum to maintain the advantage throughout the entirety of play.
Heading into the second quarter, the Hokies led 17-0. Quincy Patterson II stepped in after Burmeister suffered a right hand injury. Patterson was responsible for three of the Hokies' touchdowns. N.C. State scored and the Hokies responded with another touchdown making it 24-7 with 2:48 left in the first half. Tré Turner had an incredible 51-yard run which ultimately led to a touchdown by James Mitchell to end the quarter. The Hokies entered halftime with a 31-10 lead.
With 1:17 left in the third, freshman Khalid Martin of the Wolfpack suffered a hip injury and was taken by ambulance to Montgomery Regional Hospital.
Play resumed and the Wolfpack was unable to overcome the Hokies' tactics. Virginia Tech rushed more than 314 yards to secure the victory; the second most for the team since Justin Fuente became head coach. Jalen Holston, Herbert and Blackshear each had runs of 12 yards or more. Herbert accumulated the most yardage with 104; the 11th time a running back has had a 100-yard game since 2016. 
The Hokies, who were ranked No. 20 in the nation, will likely move up when the new polls are released. Virginia Tech looks to carry this energy with it when it faces Duke in North Carolina on Oct. 3 at 4 p.m.