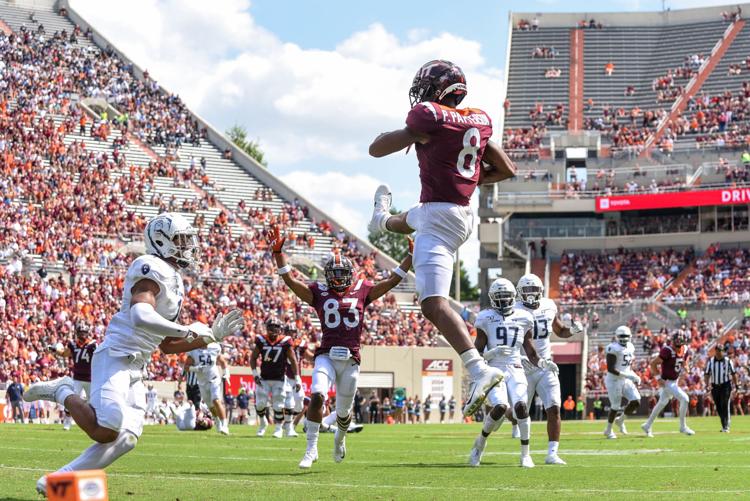 Virginia Tech was fired up for its home opener against Old Dominion on Sept. 7, a game that Hokie fans have waited for since the infamous 49–35 upset in Norfolk a year ago. Since then, both teams have revamped, and the play from last year's game gave no indication on the possible result of the 2019 matchup. However, Tech saw some familiar faces on the field in Eric Kumah and Chris Cunningham, ODU's game captains, who were hungry for one last victory in Lane Stadium.
Quarterback Ryan Willis said that "coach Fuente was stressing that it's the 2019 Virginia Tech Hokies versus the 2019 Old Dominion Monarchs" and believes that last year's result had no effect on team during this year's game.
The Hokies were able to get their revenge with a final score of 31–17, but it was certainly not done in dominating fashion. Tech still has not proved it can play consistently for a full 60 minutes as it began to break down in the fourth quarter. Once again, defensive coordinator Bud Foster acknowledged that Virginia Tech needs to become a 60-minute football team.
"It was sloppy," said receiver Hezekiah Grimsley about the game as a whole.
Within the first three minutes and 30 seconds of play, freshman Keshawn King recorded his first career rushing touchdown with a carry of 4 yards. On that first drive, King and Tayvion Robinson showcased their rushing game while Willis completed a few long passes. The Hokies' first possession was very efficient, and it was able to get the offense rolling early.
ODU's response outsmarted Virginia Tech's defense, and the Hokies missed many blocks, allowing the Monarchs to run the ball 37 total yards and letting kicker Nick Rice make a 34-yard field goal.
After a couple of overthrows by Willis, the Hokies found themselves at third and goal on their second possession and decided to go for the field goal. Brian Johnson's 24-yard field attempt was good, and Tech ended the first quarter up seven.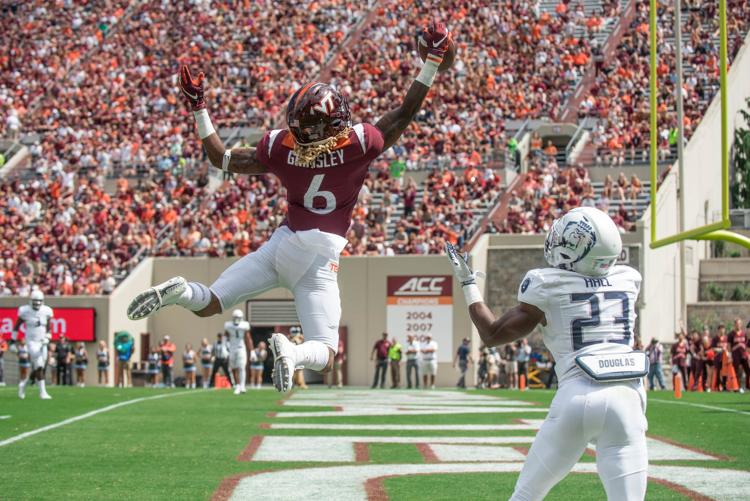 During the second quarter, Willis connected on many of his passes, and receiver Grimsley impressively caught the ball with one hand in end zone to make the score 17–3 at the half.
The Hokies' offense came out strong to start the second half with a 93-yard drive. Tré Turner received long, Deshawn McClease rushed 46 yards and Willis pushed through the defense at the 1-yard line for his first rushing touchdown of the season. ODU answered with a touchdown of its own off a 75-yard drive in 10 plays. A pass interference call on Caleb Farley helped set up the touchdown.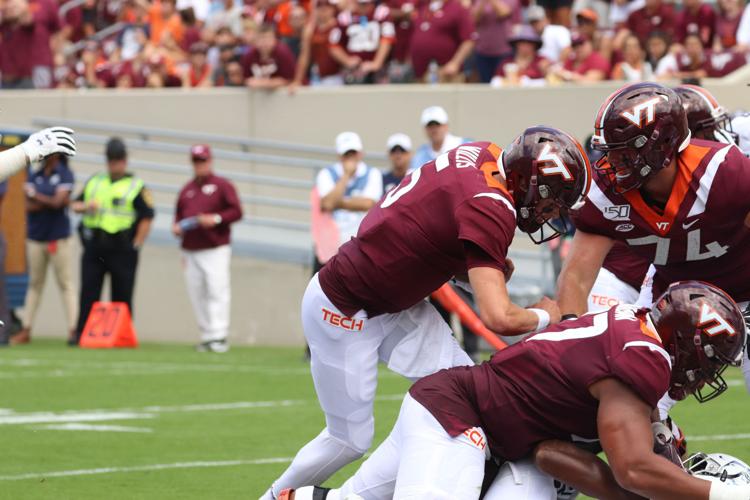 Quarterback Stone Smartt was able to record another touchdown for ODU to keep the game within seven. Virginia Tech's defense let the Monarchs breakaway with the ball three times on the drive, and ODU managed 78 yards in only five plays.
But, immediately after, running back Terius Wheatley ran for a 71-yard return to put the Hokies in the red zone quickly. Phil Patterson received a 13-yard pass from Willis in the end zone to extend Tech's lead to 14 with just under 12 minutes to play in the fourth quarter.
Willis and McClease both gave ODU possession on lost fumbles in the fourth quarter, but the Monarchs were not able to convert either of those into points or score again before the game ended.
Foster was not particularly happy with his defensive line's performance; it allowed the Monarchs 202 rushing yards.
"I thought our tackling … was just kind of average today," Foster said. "You see some missed tackles and [ODU] guys outrun [Virginia Tech] guys".
However, it did come up with six sacks on the game, and Rayshard Ashby led the Hokies in tackles again with 10. Defensive lineman Jarrod Hewitt was impressed with how some of the younger players on defense showed up.
Up next, the Hokies take on Furman at home again at noon on Saturday, Sept. 14. Last week the Paladins beat Charleston Southern 46–13. Head coach Fuente has another game against a non-power five program to work out some flaws in his team's play. Old Dominion has another ACC matchup in store as it plays Virginia on Sept. 21.