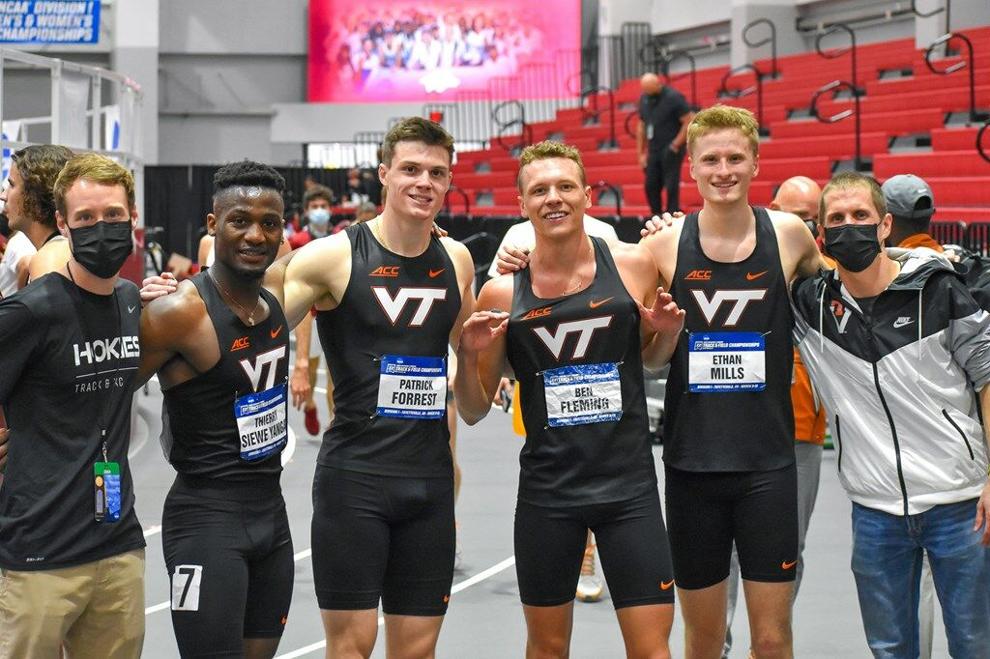 The Virginia Tech Hokies finished out their already impressive indoor track season with a grand finale showing on the national stage. Remarkable numbers and record-breaking events were the name of the game for this year's team. The Hokies finished with two school records, an NCAA bronze medal and multiple first team All-American recognitions as they closed out the NCAA Indoor Track Championship meet.
Day One
The two field competitors, Essence Henderson and Rachel Baxter, both placed fourth in their respective events. Baxter leaped 4.36m in the women's pole vault, capturing her fourth straight All-American honors. Henderson broke her record (and school record) once again as she threw 17.36m in the shot put. She was also nominated for the first team All-American team.
In the one-mile prelims Ben Nibbelink broke the school record for the mile with a time of 3:58.24. He placed seventh in his heat and the entire race but, due to the automatic qualification of the top four runners in each heat, he unfortunately missed out. Bashir Mosavel-Lo, Jacory Patterson and Lindsey Butler all advanced to the finals in their respective events.
The men's DMR composed of Ethan Mills, Patrick Forrest, Thierry Siewe Yanga and Ben Fleming finished fifth overall with a new school record of 9:27.67. The relay team crushed the original record by almost three seconds. They received first team All-American Honors after their solid performance.
Day Two
To start off the day, Patterson finished third in the men's 400m finals with a blistering time of 45.14. Once again, he broke his own personal record and further shattered the school record that he already held. With his third-place finish, Patterson was able to capture the bronze medal. Mosavel-Lo finished eighth in the men's 800m finals. He, too, received first team All-American Honors. Finally, ending the night and the championship meet for the Hokies was a fourth-place performance by Butler. Butler ran a 2:02.15 to finish out her indoor season.
Despite a global pandemic, the Hokies maintained their speed and tenacity and held it together to have another successful season. With the conclusion of the indoor season, the Hokies hope to keep that same energy for the outdoor track season in the spring.