Virginia Tech could see at least one first-round pick in May's NFL Draft and should see several others drafted.
The program held its annual Pro Day on Wednesday, giving athletes looking to break into the league a chance to showcase their skills. While two players didn't participate, 15 other Hokies did as scouts from all 32 NFL teams were in attendance.
Let's take a look at the draft stock of some notable Hokies looking to head to the NFL.
Kendall Fuller
Fuller should be a first-round pick, but it isn't guatanteed. There are plenty of good defensive backs in this draft, and he is one of them.
After missing most of last season with a knee injury, Fuller elected to not participate in Virginia Tech's Pro Day as he continues to rehabilitate.
"I feel really good," Fuller said. "Rehab is going well, training is going well. I'm getting that strength and power back."
Fuller has spent his time training in Pensacola, Florida, with EXOS, an athlete training company. Fuller said that though he wanted to participate in Pro Day, he will be working out with teams individually.
"When I'm 100 percent, we'll contact them and let everybody know," Fuller said. "The main focus right now is just getting to 100 percent."
Fuller's health is definitely a concern. NFL teams don't want to use a first-round selection on a player who can't stay healthy. However, Fuller's talent is too much to pass up on. He's a physical corner who can make big plays in the secondary.
That being said, Fuller is not in the first round of CBS Sports' Mock Draft 2.0. Instead, he falls behind defensive backs Eli Apple from Ohio State and Williams Jackson III from Houston.
Fuller will find himself either a late first- or early second-round pick. If he falls out of the first round, any team who drafts him gets a steal.
Dadi Nicolas
Nicolas did participate in Virginia Tech's Pro Day and flashed his already obvious physical talents. At the NFL Combine in February, Nicolas led all defensive linemen with a 41-inch vertical, which is just crazy. He ran a 4.74 in the 40-yard dash at the Combine and ran a 4.75 in his Pro Day run.
Nicolas was excited with his performance at Tech's Pro Day.
"Overall, I feel blessed," Nicolas said. "I feel confident with what went on out here today."
At 6-foot-3 and 239 pounds, Nicolas said he's at the heaviest weight he's ever been. However, Nicolas is still small for a defensive lineman, and teams are looking at him as a 3-4 outside linebacker.
"I think I will be playing linebacker most likely," Nicolas said. "If not, if I'm putting my hand in the dirt, that's fine too. I just look forward to playing football again."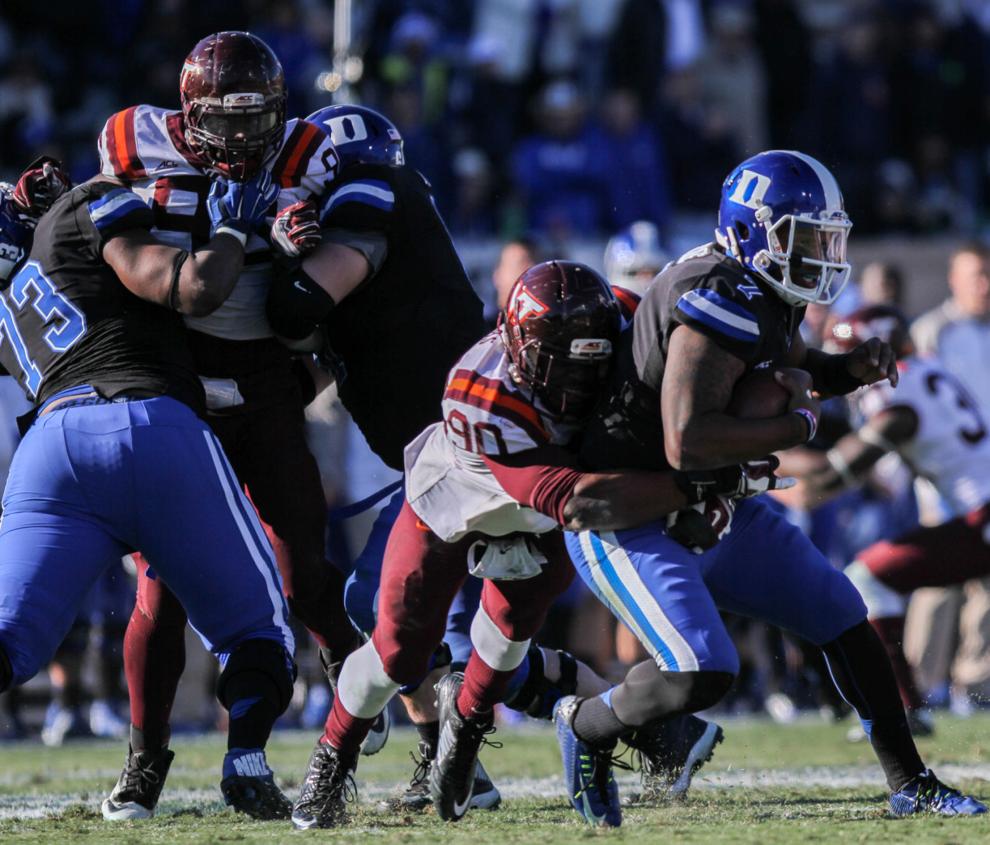 As an outside linebacker, Nicolas would need to be able to help in pass coverage in certain situations. Nicolas was rarely asked to do that at Virginia Tech, but he isn't worried about developing that skill.
"Dominating the football is my biggest focus," Nicolas said. "Just being able to start in the league and laying down a legacy for myself."
Nicolas can flat-out rush the passer. Matt Maiocco, a reporter for CSN in the San Fransisco area who covers the San Francisco 49ers, said a scout told him that Nicolas is the best pure pass rusher in the draft.
A scout tells me he believes Dadi Nicolas (Va. Tech) is best pure pass rusher in draft. The #49ers met with him last night, Nicolas said.

— Matt Maiocco (@MaioccoCSN) February 26, 2016
Even if Nicolas is the best pass rusher in the draft, which I don't believe he is, he won't go much higher than the middle of the second round. I see Nicolas as a late second- or third-round pick who comes in as a rookie in obvious passing situations.
Luther Maddy
Maddy was another Hokie who did not work out on Wednesday. Maddy said he suffered an injury to his left knee.
"It's chronic tendonitis, jumper's knee," Maddy said. "I had to get a small procedure done in the beginning of February. It will be a two-month recovery, so I'll be healthy by the time camp starts."
Maddy played with the injury throughout the season and thought that he would be able to rehab it after the season.
"I thought it would get better, but it didn't get better, and that's when I realized I needed to get the procedure done," Maddy said. "It's getting better now; I feel no pain in it. I'm making great progress."
Maddy said that he will be holding his own pro day on April 19 at Virginia Tech to make up for not participating. In the meantime, Maddy has been working out with Fuller with EXOS.
Injuries have been an issue for Maddy in his career. He missed most of the 2014 season with a torn meniscus in his right knee.
He is an experienced player who made a big impact in Bud Foster's defense. Maddy is a little undersized for a defensive tackle but is quick enough to plug gaps and rush the passer. He'll likely be a day-three pick, going in the later rounds. Maddy won't ever be an elite player, but he can definitely make it as a professional.
Ryan Malleck
Malleck ran a 4.78 on Wednesday, which isn't bad for a tight end. Malleck, a fifth-year senior at Virginia Tech, showed the ability to make catches over the middle and also be a competent blocker.
At Pro Day, Malleck said he thought running the 40-yard dash was important since he didn't run at the Combine. Malleck said that the atmosphere at Pro Day was much calmer than the Combine.
"I think it's more relaxing," Malleck said. "You're at your home facility, and I have my teammates around here and stuff, so I felt more comfortable here."
Malleck also said he received good feedback from scouts at Virginia Tech's Pro Day and spoke specifically with coaches from the Pittsburgh Steelers and Detroit Lions.
"Throughout this process, I've been getting feedback from a bunch of different teams, and I've talked to a bunch of the tight end coaches at the Combine, a few coaches here and a lot of the scouts," Malleck said.
Malleck is an experienced leader who can make tough catches. He isn't elite at any one thing, but he is good at several. He impressed physically at the Combine, leading tight ends in the vertical jump and broad jump. He's a sure-handed catcher, dropping just one pass the last two seasons. However, he isn't an elite receiving threat, such as a Rob Gronkowski.
With his well-rounded skill set, Malleck should get a call in the later rounds of the draft, and if not then, at least as an undrafted free agent.
Other news and notes
Running back J.C. Coleman, linebacker Deon Clarke and punter A.J. Hughes were some other notable players who worked out on Wednesday. Hughes worked out privately with a New York Giants scout as well.
Cornerback Brandon Facyson, who injured his knee during offseason workouts, showed up to Pro Day in crutches, wearing a brace. Facyson is expected to miss all of spring ball. Facyson has suffered multiple injuries while at Tech, including a concussion in 2013 and a stress fracture and a broken leg in 2014. Facyson was healthy for last season and should start next fall.
Former Hokies Chase Williams and Tariq Edwards both participated in workouts at Virginia Tech's Pro Day.