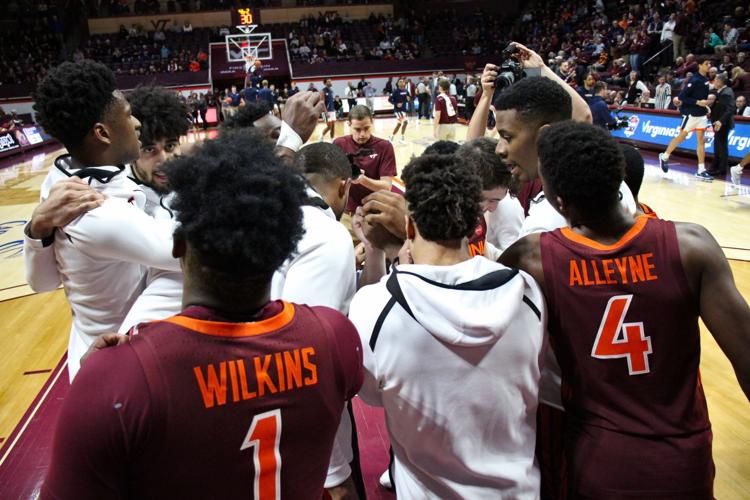 To say that last season was a roller coaster for first-year coach Mike Young and the Hokies men's basketball team would be a massive understatement. The Hokies outperformed their projection to finish 14th in the 15-team ACC, finishing 10th. Their hot start to the season included a shocking 71-66 upset of No. 3 Michigan State in Maui, and a thrilling 79-77 double-overtime victory over North Carolina, which left the team at 14-5 overall. From then on, the Hokies would lose 11 of their last 13 games to close the season, right before the pandemic forced the cancellation of all postseason play.
Before last season, the Hokies had lost many of their impact players, along with Coach Buzz Williams to Texas A&M, from their Sweet 16 team, widely regarded as the best in school history. Last year represented a youth movement and a change in offensive philosophy, as Coach Young's principles brought in much more motion, ball screens and spacing to the playbook. The Hokies played a lot of freshmen last year, including Jalen Cone, Nahiem Alleyne, Hunter Cattoor, Landers Nolley II, Tyrece Radford and John Ojiako, to go along with returning players like Wabissa Bede, Isaiah Wilkins, and P.J. Horne.
This season, out go Nolley II, Horne and Wilkins and in come Wofford transfer Keve Aluma, and graduate transfers Cartier Diarra, Cordell Pemsl and Justyn Mutts. With them come three freshmen, Joe Bamisile, Darius Maddox and David N'Guessan.
Looking ahead, the 2020-21 season will be like no other. The threat of the coronavirus has impacted football programs across the country, and it feels inevitable that it will hit basketball programs as well.
Coach Young admitted, "I think it's the realist in me that (believes) we'll all be affected at some point this season." He has said that the entire team has not been on the floor together during practice, choosing to balance distancing with 5-on-5 action as carefully as possible. Young has credited the strength and conditioning coach, David Jackson, with furthering the physical development of the team's young contributors from last season. That will prove essential in what is always a gauntlet in ACC play.
"It's going to be a grind," Coach Young said. "We know our league schedule is going to be a bear. There's a reason people consider it the best basketball league that the nation has to offer."
The conference schedule is as follows:
Dec. 15: Clemson
Dec. 29 or Dec. 30: Miami
Jan. 2: @ Virginia
Jan. 5 or Jan. 6: @ Louisville
Jan. 10: Notre Dame
Jan. 12 or Jan. 13: Duke
Jan. 17: @ Wake Forest
Jan. 19 or Jan. 20: Boston College
Jan. 23: @ Syracuse
Jan. 26 or Jan. 27: @ Notre Dame
Jan. 30: Virginia
Feb. 2 or Feb. 3: @ Pittsburgh
Feb. 6: @ Miami
Feb. 9 or Feb. 10: Florida State
Feb. 13: Louisville
Feb. 16 or Feb. 17: @ North Carolina
Feb. 20: @ Florida State
Feb. 23 or Feb. 24: Georgia Tech
Feb. 27: Wake Forest
Mar. 5 or Mar. 6: @ N.C. State
CBS Sports projects that Virginia Tech will finish 11th in the league this season, which feels awfully low, given the experience that this team has from last season and in its newcomers. It may be a stretch to compete for ACC supremacy with the likes of Duke, UNC, UVA, Florida State and Louisville, but there are certainly some winnable stretches throughout this schedule. Realistic expectations for this team could include fringe NCAA Tournament contention, as this Virginia Tech team now has the size and experience that it lacked a season ago. No one ever knows in the ACC, but especially this season, when these games are anything but surefire, as programs across the country navigate these difficult times.