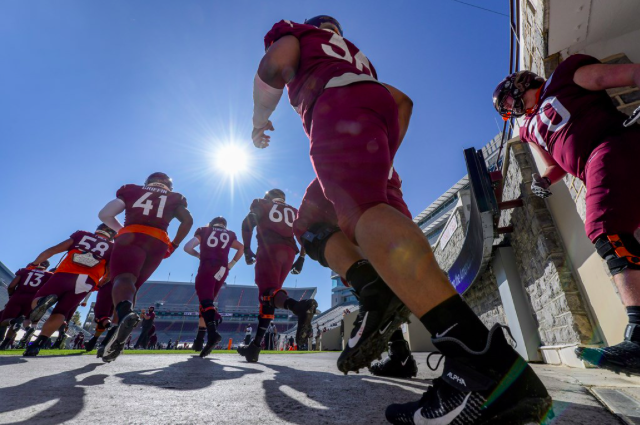 It's no secret that Virginia Tech fans have lowered their expectations for the football season after last week's loss to Liberty, but Hokie football has a chance to redeem itself with a strong performance against No. 9 Miami at noon on Nov. 14 in Blacksburg. Virginia Tech sits at 4-3, and Miami at 6-1 with its only loss coming from Clemson in week one. It's been known since August that this is going to one of Tech's biggest games of the season. A win might give the Hokies the confidence they need before playing Clemson on Dec. 5.
Virginia Tech's strong suit is running the ball, and the Hokies have gotten their best wins when quarterback Hendon Hooker and running back Khalil Herbert have put up yards on the ground. If Tech cannot get its run game rolling against the Hurricanes, it may be in serious trouble. Miami has recorded 17 sacks on the season thus far, so Hooker must make quick decisions.
Herbert was on the field for one play against Liberty and was taken out due to a hamstring injury. His status regarding Saturday is uncertain, but in the event he does not play against Miami, running back Raheem Blackshear has a lot of extra slack to pick up.
Virginia Tech hasn't had too much trouble scoring this season compared to past seasons. It averages 37.3 points a game, but the defense has also let a bunch slide. Miami quarterback D'Eriq King is on Heisman watch and can make big passing and running plays. He put up 535 total yards of offense in Miami's win against NC State on Nov. 6. However, King's top target, tight end Brevin Jordan, has missed the last three games. Defensive coordinator Justin Hamilton must be smart about his defense since King can certainly take off on the ground if given the opportunity .
Controlling King and covering receivers will be the key to success against the Hurricanes. Miami does not have much of a run attack besides King, so containing him and staying on receivers will likely take a big toll on Miami's offense.