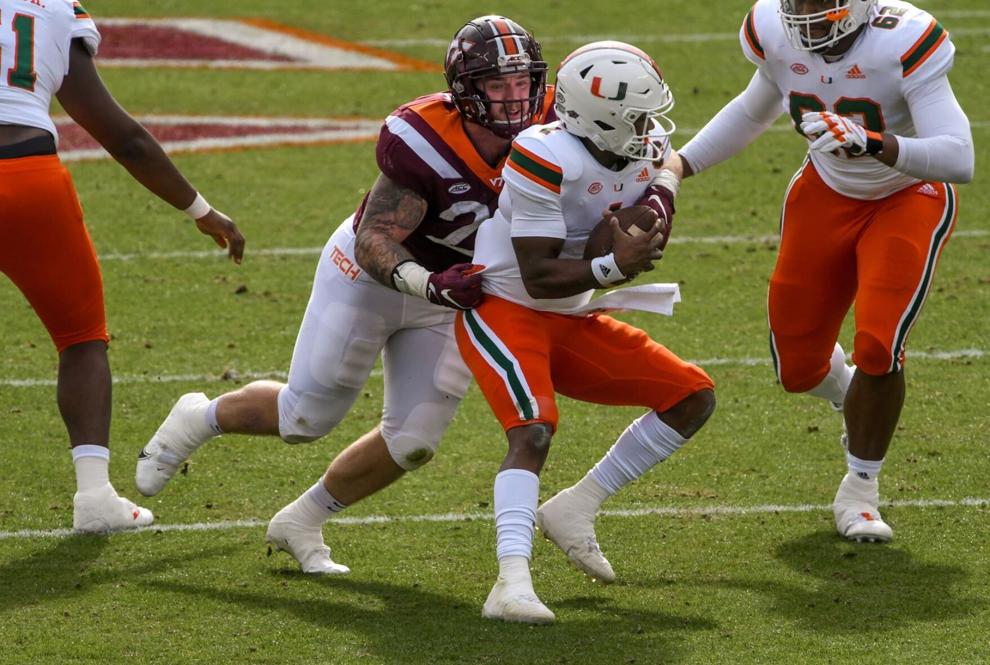 After a disappointing loss to Liberty the Hokies fell to Miami (7-1) Saturday, a top ten team, with a close score of 25-24.
The Hokies, now 4-4 for the season, held the lead in the third quarter, 24-13, after a 38-yard field goal by Brian Johnson. However, the Hurricanes scored the final 12 points to push past Virginia Tech. The Canes took the lead with almost 6 minutes left of play; their first time leading on the scoreboard in the match.
Hendon Hooker had 260 yards, throwing 201 yards and rushing for 59, for this match and scored a touchdown. Hooker tried to secure the win for the Hokies, but it wasn't enough to get past the Hurricanes.
Miami's quarterback D'Eriq King threw 255 yards, threw a touchdown and ran in for a score to ultimately outplay Virginia Tech. Miami did not allow the Hokies to score on their last five possessions.
The loss could be attributed to the season low of rushing yards, 160, and total yards, 362, garnered from the Hokies. They allowed a season-high six sacks.
Despite this, some of the Hokies displayed their talents on the field. Jarrod Hewitt had 2.5 sacks, tying his career high. Jalen Holston had two rushing touchdowns which were the first for him since 2018.
Head coach Justin Fuente commented on his team's back-to-back losses. 
" … I feel better about my football team now than I've felt at any point," Fuente said. "I'm not happy with not winning but my gosh did our guys lay it on the line today." 
The Hokies take on the Pittsburgh Panthers away next Saturday at 4 p.m.