The Virginia Tech Hokies beat the Lehigh Mountain Hawks 79–53 on Saturday. The Hokies moved to 4–0, keeping head coach Mike Young undefeated in his first year. In a game that started off rough, the Hokies went on to win handily in a team effort.
The first half started off slowly, with the Hokies only scoring nine points through the first 17 minutes. But the game took a turn with the Hokies going on a 10–0 run halfway through the first half that was topped off by a three-point dagger by freshman Hunter Cattoor.
From then on, it was all Virginia Tech. The Hokies made nine 3-pointers in the second half and completely pulled away. Lehigh just couldn't keep up as they cooled off in the second half. Landers Nolley's game-high 27 points just proved to be too much for the Mountain Hawks. Nolley also had 5 rebounds and 4 assists.
It was his third game scoring over 20 points this season, and he is quickly becoming Virginia Tech's go-to guy. His smooth shot and natural scoring ability make him a formidable matchup for most schools.
Junior P.J. Horne and Cattoor also scored in double digits, with 14 and 11 points respectively.
Virginia Tech just couldn't get much to go its way in the first half, but they fought and stayed in the game. The scrappy style of play is seemingly becoming the culture of this team instilled by coach Young.
"(Associate Head Coach) Chester Frazier did an exceptional job in preparing our team for Lehigh's actions, which are very good," coach Young said after the game.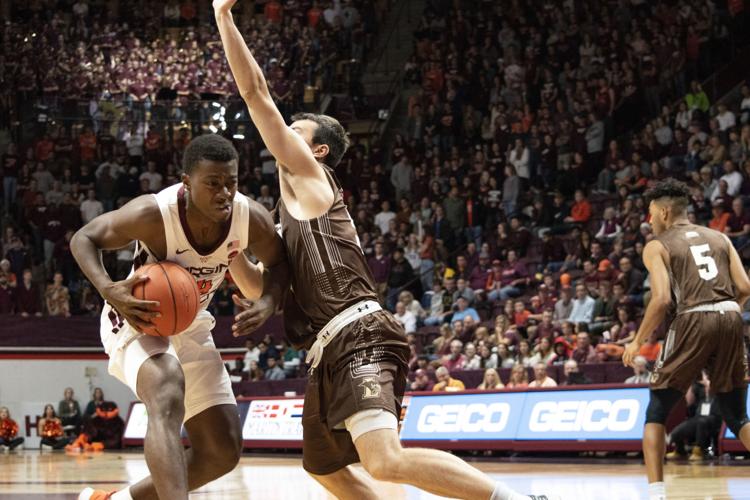 New starter Tyrece Radford led the team in rebounds with 11. The 6-foot-1 guard crashed the boards all night and his hustle was palpable all afternoon. His injection into the starting lineup definitely gave the team even more energy than usual.
"He's the king of the 50/50 ball – that ball that Lehigh's got as much of a chance to get as we do, you've got to dominate that part of it, and Tyrece Radford is a big part of that for us," coach Young said.
The defense was on point all night, forcing 19 turnovers on the day. The Mountain Hawks leading scorer James Karnik was held to just 4 points thanks to some great rim protection and double teams by Horne. After Lehigh cooled off from three, they had no answer for the Hokies' stifling defense.
Virginia Tech has one more mid-major game before they face off against a two-game slate of Michigan State and Duke. If they can play like they did on Saturday afternoon, they should have a decent chance to compete in both of those games.