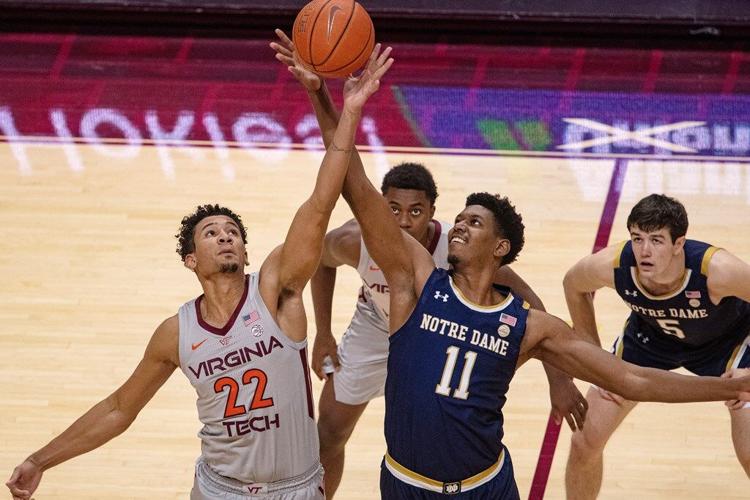 On Sunday in the first home game of the new year Virginia Tech (9-2,3-1) beat Notre Dame (3-7,0-4) 77-63 to record another conference win. The Hokies came from behind, trailing 42-35 at halftime, to take the second win in their history against Notre Dame at home.
Head coach Mike Young attributed this turnaround to the defensive adjustments in the second half.
"We guarded in the second half the way we wanted to guard in the first half," Young said. "We communicated much better."
Tech kept Notre Dame at bay in the second, with the Irish having a 10.5 field goal percentage and 10% for three-point percentage. 
Keve Aluma tallied his second double-double of the season, scoring 15 points for the Hokies. Hunter Cattoor also added 15 to the scoreboard for Tech and Jalen Cone led the team with 18 points. 
Aluma dominated the court scoring the most rebounds for Tech and tying for most assists and blocks. The redshirt-junior continues to impress and will be a player to watch throughout the season.
It was a close match, but Tech was able to keep up with and ultimately beat Notre Dame. The Hokies had 41 rebounds, 17 more than the Irish. This is a huge improvement for the Hokies who trailed in rebounds for the last two games. Tech also led in 3-pointers, shooting seven with a 30.4 three-point percentage.
The victory moved the Hokies to No. 5 in the ACC, tied with Clemson. Tech is No. 19 in the country according to the most recent AP poll, but will likely move up after this win.
"The main focus for us is one game at a time," Cone said.
Virginia Tech will take on Duke, tied for No. 1 in the ACC, at Cassell on Tuesday at 7 p.m.