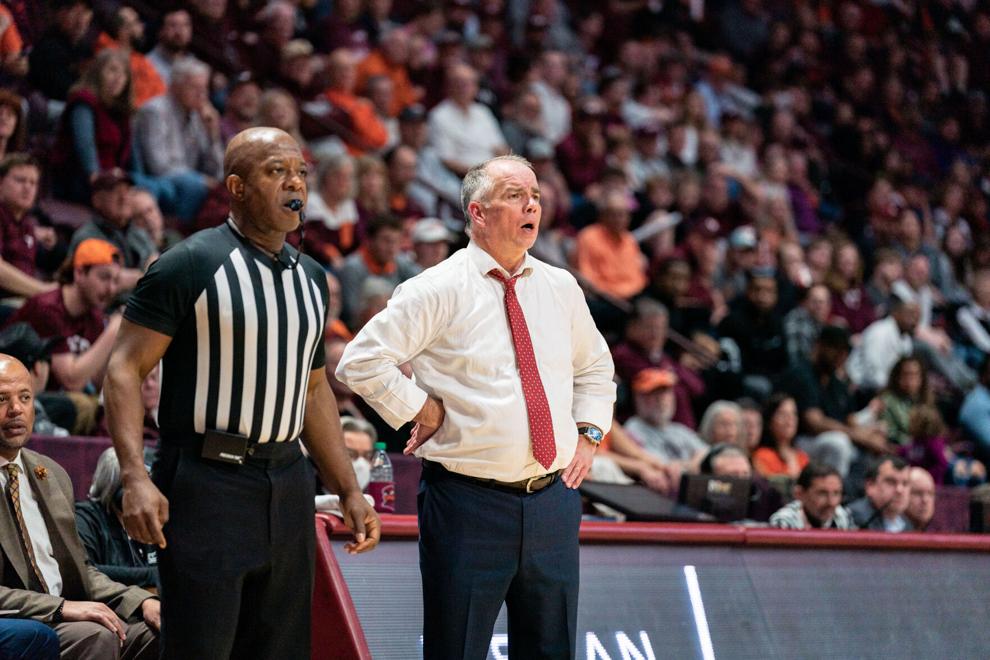 The path to the NCAA Tournament didn't fully close for Virginia Tech men's basketball on Wednesday, after falling 82–76 to Boston College, but it became significantly more treacherous. 
The double-digit underdog Eagles (12–13, 6–8 ACC) overmatched the Hokies, who shot 15.4% from behind the three-point arc during the first half, en route to sweeping the season series.
Boston College struggled early in the game, making only 33% of their shots in the first seven minutes of the game. However, they caught up to the Hokies as the half progressed, taking a lead with just under eight minutes remaining, and never looked back. Tech trailed 39–27 going into halftime, plagued by Eagles forward Quinten Post's 16 points in the period.
Both teams exchanged points throughout much of the second half, and Tech outscored their opponents 12–6 in the last minute; however, they missed many late chances to cut the scoring deficit to one possession.
But the story of the evening was the Eagles' shooting, led by forward Quinten Post, who scored 24 points and shot 64% from the field. Boston College, as a whole, made exactly half of their three-point attempts. The Hokies countered with a 41.9% field goal percentage, including 31.3% from behind the arc.
Virginia Tech head coach Mike Young acknowledged how difficult it was to cover Post, who didn't play in their first matchup on Dec. 21.
"We had a couple of busted coverages and I'll be interested — I can't say that I'm excited — but I'll be interested to see exactly what transpired," Young said. "But I'm sure as I look back, (it will be) all correctable."
Apart from Post, who fouled out with 18 seconds remaining, guard Chas Kelley III totaled 17 points and four assists for the Eagles. Guard Makai Ashton-Langford led the team with 12 assists, along with nine points. 
For Tech, forward Grant Basile led with 33 points, four assists, and two blocks. While much of the team struggled from the field, he led with a 57% field goal percentage. 
"I think we did a pretty good job sharing the ball," Basile said. "We played out of the post a lot. We got some really good looks offensively, but obviously defensively we weren't at the level we need to be."
Guards Hunter Cattoor and Sean Pedulla struggled, combining to shoot 26% from the field and 28% from behind the arc. Without two of the Hokies' top scorers, they struggled to keep up with their opponents. 
"I thought (Cattoor and Pedulla) took great shots, (but they) didn't seem to have the same pop," Young said. "I think, consequently, that's very rare for our teams."
As the Hokies approach the home stretch of the season, Young voiced optimism that the team can make the NCAA Tournament.
"We're (24) games into this thing now," Young said. "We're not reinventing the wheel. We've got good players. We've got guys that can really shoot the basketball. We just have to do it better on Saturday at Notre Dame."
Despite the string of tough ACC losses, Basile remains hopeful that the Hokies can go on a postseason run.
"I think we have a lot of really good players and we'll continue to scout and lock in," Basile said. Obviously, there's been stretches (where) we've played really good basketball, but we've just had a few games that we have just let slip away."
The Hokies have yet to win a road game this season, which they will have a chance to correct on Saturday at Notre Dame (10–14, 2–11 ACC). Going forward, Tech has seven games remaining and likely needs a successful ACC Tournament run to extend their NCAA Tournament streak to six seasons.
"We've got seven (games) left: four on the road, three at home," Young said. "Load it up. Let's go play."
The Hokies are scheduled to play the Fighting Irish on Saturday, Feb. 11 at 2 p.m.