Facing the threat of not making it to a bowl game, the Hokies came out to Lane Stadium with a renewed sense of energy Saturday night against Miami, sparked by a 45-yard catch from Tre Turner that would set up the offense to score a touchdown on their first drive of the game. After that, despite momentum and energy that hadn't been seen in weeks, the Hokies fell into a familiar pattern of defensive play. A consistent first half suddenly turned into a game filled with small mistakes that would ultimately lead to the frustrating final score of 38–14.
It's hard to talk about the good during a game that dashed so many hopes, especially with stats that say it has been over a year since the Hokies beat an FBS team in Lane Stadium, or that tonight marks their fourth straight loss in Lane, something that hasn't been done since 1992. It has been a tough season, but that doesn't mean the team is doomed for life.
"That's all part of coaching, and it's part of developing young men," said defensive coordinator Bud Foster. "The key to it is these young men understanding that we have really quality coaches ... and that if they will trust the process, trust their training, and come out and go to work every day and work with a purpose, that good things are going to come."
This game was unlike others Lane Stadium has seen this season, however. Though hard to see through the 'Canes' three touchdowns in the third quarter alone, bright spots emerged on offense and defense in the form of budding freshmen. These fresh faces to the college football scene have been regulars on Tech's starting lineup, as the injury bug hit the defensive unit hard in particular. With a good chunk of the season under their belts, these freshmen were able to put their stamp on the contest, and set a tone for the rest of their careers as Hokies.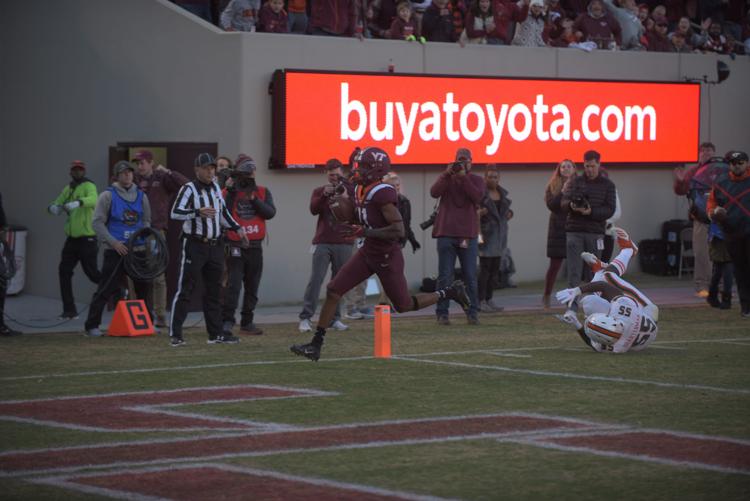 The freshman wide receiver Turner helped set the tone for a productive Tech offense Saturday afternoon. Though on the stat sheet his 64 total yards by the end of the first half looked small, his gains came at key times, putting the Hokies in opportune position to score. Though not as explosive through the air as redshirt-sophomore Damon Hazelton, the Greensboro, North Carolina native finished Saturday with four receptions for 80 yards in a game that saw only 335 yards of total offense for the Hokies as a team. Turner was also effective on the ground, racking up 25 rushing yards, capped off by a touchdown in the second quarter that put the Hokies in the lead for nine and a half minutes.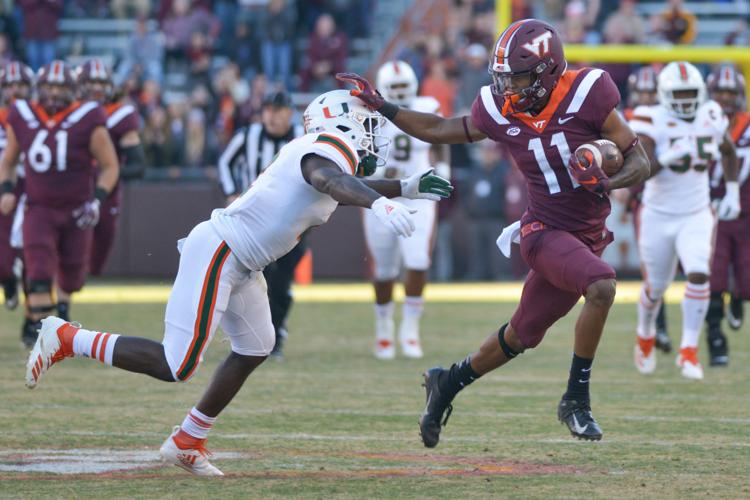 Turner was able to make his difference with the help of an offensive line corps that kept leading tackler Shaq Quarterman somewhat at bay. Quarterman was held to just four total tackles for the night compared to his average of 6.6 per game. Their security as a unit started to falter in the second half, however, allowing Ryan Willis to be sacked four times through the last three quarters.
On defense, which was once again led by senior defensive back Ricky Walker, there was another freshman who put some life back into the Hokies. Linebacker Dax Hollifield was also key during the defense's energetic showing in the first half, posting six total tackles that included a team-leading three tackles for loss and one sack.
"He's one of the rare people in life that whatever endeavor they take upon them, they put their mind, body and soul into it," said Justin Fuente about Hollifield. "Whether it's his grades or whether it's football."
The Shelby, North Carolina native racked up 23 yards on his tackles for loss, and added a quarterback hurry to his stat sheet. Foster remained critical of his team, but praised the freshman for his impactful performance.
"Not to throw him under the bus, but he'd be the first one to tell you he busted the coverage on the goal line," Foster said. "But, the young man brings a tremendous energy and enthusiasm that is genuine that rallies his teammates."
With a tough season coming to an end, it's difficult to focus on what good may have come out of it. Looking at players like Hollifield and Turner makes that a little easier.