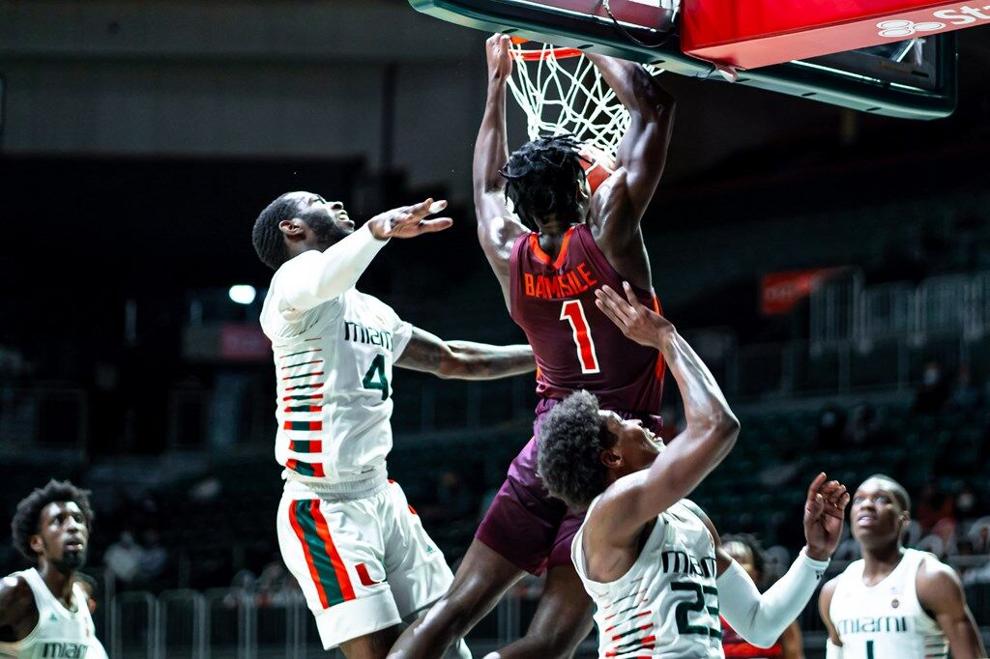 Following a disappointing loss to Pitt, the No. 16 Hokies Men's Basketball team traveled to Miami to take on the unranked Hurricanes (7-11, 3-10 ACC). Virginia Tech won by a score of 80-76 in overtime thanks to big plays from Hunter Cattoor down the stretch on both ends of the floor. This marks Miami's fifth loss in their last six games and with this victory the Hokies improve to 14-4 on the season and 8-3 in the ACC. 
Both teams got off to a slow start, and the game was scoreless throughout the first four minutes. But once they got going, it was a hard-fought battle until the final buzzer. Keve Aluma kickstarted the offense for the Hokies in the first half, scoring the first seven points for Virginia Tech. Aluma would finish the game with 16 points, six rebounds and five assists.
The Hokies sported a 31-28 lead after the back-and-forth first half. The second half proved to be just as competitive. With time winding down in regulation, Miami guard Isaiah Wong hit a three-pointer to put the Hurricanes up by three with only 2.1 seconds remaining. Needing a three to tie the game, Hunter Cattoor caught the inbound pass and sank a buzzer beater three-pointer to send the game into overtime. 
Cattoor continued to play the hero in overtime, drawing a controversial charge call to give the Hokies possession with a few seconds left. He then drained two clutch free throws to give Virginia Tech a four point lead and put the game out of reach. 
Justyn Mutts had a huge game, nearly notching a triple-double with 22 points, nine rebounds and seven assists. Four other players reached double-digit scoring for Virginia Tech including Aluma with 16, Cattoor with 14, Joe Bamisile with 11 and Nahiem Alleyne with 10. 
"Great effort from Joe Bamisile, who is going to be a very good player for the Hokies for years to come. Today was only the start for him," said coach Mike Young. 
Bamisile replaced Jalen Cone early on and logged 25 minutes, the most of his career so far. Taking into account Jalen Cone's recent struggles and his early exit against Miami, we may see Bamisile start to take on a larger role for this team in the coming weeks. 
Next week, Virginia Tech will take on the Louisville Cardinals in Cassell Coliseum at noon on Saturday, Feb. 13.