Just as they were a little over a year ago in the last night game played at Lane Stadium against No. 4 Clemson, big plays were No. 24 Virginia Tech's Achilles' heel in its 45–23 loss to No. 6 Notre Dame, giving the Fighting Irish their first win at Lane Stadium and just their second road win against a ranked opponent in their last 10 tries. Virginia Tech hasn't beaten a ranked team at Lane Stadium since 2009.
"The way I see it, we have yet to knock off a top five team at Lane Stadium," said head coach Justin Fuente. "That's the truth. I don't think the narrative that we don't play well on the big stage is true. I was told the West Virginia game was a big game last year, until we won. I was told the Florida State game was a big game, until we won. The facts are what we haven't done is beat the cream of the crop at Lane."
With roughly a minute left to go in the first half and the Fighting Irish clinging onto a 10–9 lead, Notre Dame defensive end Khalid Kareem, after being pushed down to the ground, got up and stripped Virginia Tech quarterback Ryan Willis of the football as cornerback Julian Love scooped it up and returned it 42 yards for a touchdown, putting the Fighting Irish up 17–9 and silencing the Lane faithful.
Following the devastating lost fumble, Fuente tried to console his quarterback with some tough love: "I said, 'Ryan, you don't have to put a cape on your back and make six guys miss and throw a post down the field.'"
But the Lane faithful would not stay silent for long, as Willis responded to Fuente's tough love as he marched Virginia Tech right down the field, spearheading an eight-play, 75-yard touchdown drive and reviving Lane in the process. The Hokies headed into the locker room at the half down 17–16, but with momentum on their side.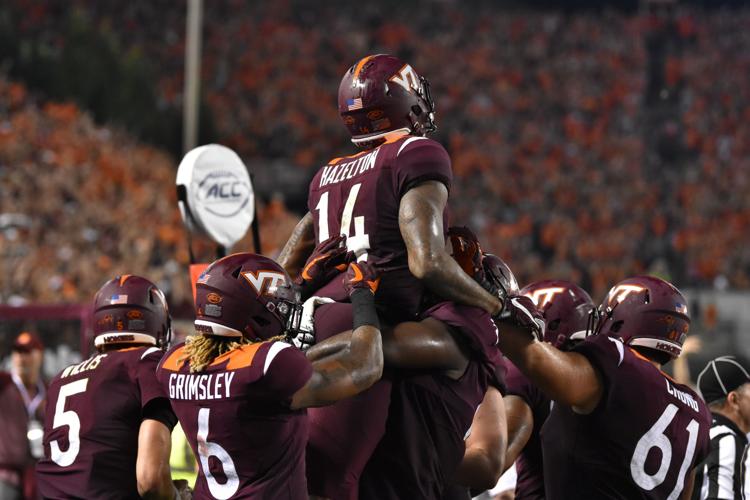 In the first half, the Virginia Tech offense looked a lot like Bel-Air Prep from "The Fresh Prince of Bel-Air," but instead of the game plan being "pass it to Will (Smith)," it was "pass it to Damon (Hazelton)." Hazelton ended the half corralling in eight receptions for 92 yards and a touchdown. Hazelton's first-half touchdown marked his fifth touchdown in five games, a mark previously reached only by Isaiah Ford. The Ball State transfer finished the game with 12 catches for 131 yards and a touchdown.
Ryan Willis followed up his first three-touchdown performance of his career in last week's 31–14 win at Duke by completing 31 of 52 for 309 yards, two touchdowns and one interception, registering back-to-back 300-yard passing games for the first time in his career.
Unfortunately for Virginia Tech, no one outside of Hazelton stepped up at wideout, leading the Fighting Irish to quell the Hokies' momentum, take back control of the game and open up the floodgates.
After the Fighting Irish forced the Hokies to punt, Notre Dame running back Dexter Williams found an open hole on the outside off a halfback stretch play, dashing downfield for a 97-yard touchdown, the longest touchdown run from scrimmage given up in Lane Stadium.
On Virginia Tech's next possession, kicker Brian Johnson missed a 47-yard field goal, providing Notre Dame with great opening field position, which the Fighting Irish would convert into points. Notre Dame quarterback Ian Book connected with a wide-open Miles Boykin for a 40-yard catch-and-run and a Fighting Irish touchdown.
To put the nail in the Hokies' coffin, Williams broke loose once again, this time for a 31-yard scamper, cementing Notre Dame's 45–23 win. The 45 points Notre Dame scored is the most points given up at Lane Stadium since Virginia Tech's 49–12 loss to Houston in 1974.
"They made some plays early, their quarterback made some plays and we settled down," said defensive coordinator Bud Foster.
Virginia Tech (3–2, 2–0) will now travel down Tobacco Road to Chapel Hill for an ACC showdown with the North Carolina Tar Heels (1–3, 1–1) on Saturday, Oct. 13 in Kenan Stadium.
VT Football vs Notre Dame, Oct. 6, 2018.